Banter to bashing, appreciation from apathy, adjectives and emotions irrespective of their categories got associated with Deshapriya Park Durgautsav who proudly campaigned and presented their 88 feet Durga idol which became a laughing stock and an object of sight from distance. The decision of stopping the Durga visit was taken by the Kolkata Police after a near stampede situation on Panchami night.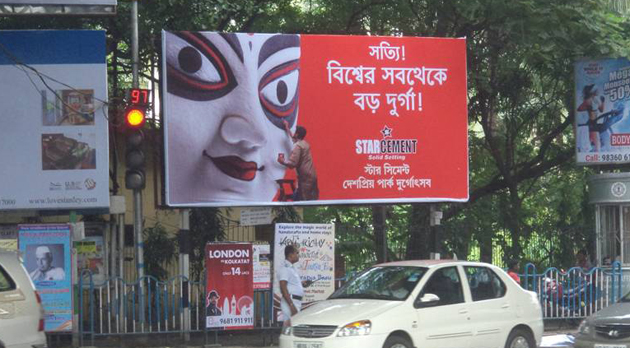 Thanks to the puja organizers who make the idol so big and their campaign so loud that the idol was visible from rooftops, roads and windows of moving vehicles. Even Ganesh's little mouse did not escape crowd's notice.
Read Also: World's Tallest Durga idol at Deshapriya Park with Guinness Book Record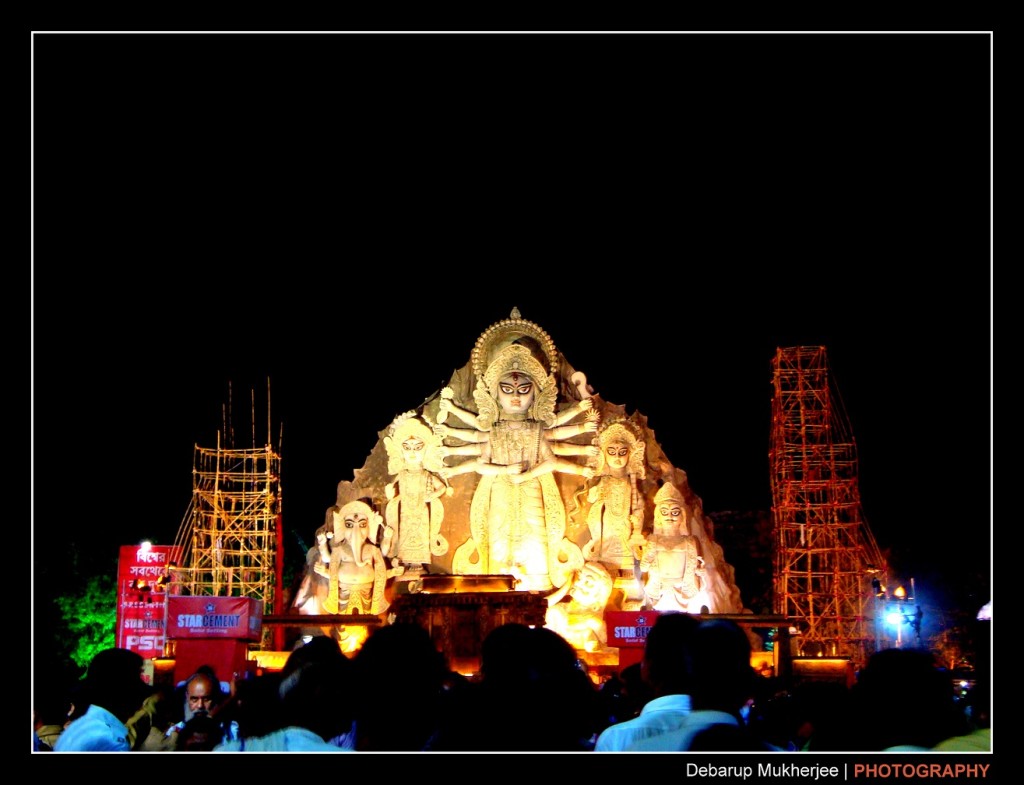 Kolkata finds it's new gimmick who painfully gives five undeniable lessons. Here they are –
#1. Beauty is Truth and Truth…
As per Keats Truth is beauty.But,the bard did not get the chance to put his focus on the "Big Truth" or "Ato Baro Satti". Bad luck for him.An experience of Deshapriya Park's Durgautsav's mayhem would have changed his perception. Crowds wrestled with each other,new apparels tore apart,city came to standstill, CP took a metro ride and it was all because of one BIG TRUTH. Is the Truth Beauty?
#2. Parde Main Reheno Do, Parda Na Uthao
When Truth collapses,decision was taken to veil it up. It was again a BIG and intelligent decision. By the way,who is going to question their decision? But,the aftermath was ludicrous.People (read devotees of Truth) queued at there.All they want a glimpse of World's Largest Durga Idol. Result, for greater good the veil was lifted but the visitors were not allowed to enter into the ground. Such plot change, such steps, such agility. Raj Kapoor was right. The Show Must Go On.
#3. After all, Grapes Are Sour
When the excitement was settled, people learned to deal with the Biggest Truth through negligence.Images were widely shared in social networking sites. So, there was nothing to loose. From Saptami onward,conversation becomes like "Ki ba dekhar acche?", "What is there to see?" from "Vai, amon kicchu o hoi ni.", "Bro,this is not a big deal.". Truth was literally outfoxed.
#4. United We Stand, Divide We Close the Door
That old proverb "United We Stand,Divide We Fall" is known by all. Superstars Aamir Khan (remember Lagaan), Shah Rukh Khan (Chak De India) practiced it with sheer brilliance. They emerged as heroes. While in Deshapriya Park,the situation was Tagore's "Amra Sabai Raja Amader i Rajar Rajwate". Soon after the unfortunate incident, age old blame game started. No one was eager to take the responsibility. Like everytime, common people was at the loss.Better show next time?
#5. Koi Mujhe Jangli Kahe
That was literally the scene on Panchami night at the Deshapriya Park. Devotees turned competitors. Ma Durga was stoic at her place but worshipers were not ready for a peaceful settlement. Chaos was an understatement. Allegation can easily be hurled at organizers. Administrative heads can comfortably be brought under guillotine. Will that cover general public fault? Considering the fact there was massive crowd and congestion, did we calm down ourselves from not having the glimpse of Truth,  err Ma Durga. It was just Panchami, after all. And we behaved like it was the doomsday. Result was greater loss.
Past may be a dark. But, past is also a learning curve. When there is a big campaigning,there should be a better management and better behavior from our side too. At the end of the day, Durga has to return from her home after experiencing sorrow faces,bruise and broken hearts.Is that all we want? What is your "Truth"?
How this post make you feel?