Have you ever imagined sitting by one of the highest lakes of the World and listening to your favorite song, as you enjoy the breath-taking beauty of untouched nature?
It was my dream before I went to Ladakh and I did it! Listened to my favorite song "Shine on you crazy diamond" by Pink Floyd at Pangong Lake under the galaxy of glittering stars. I went, I saw and I lived the moment.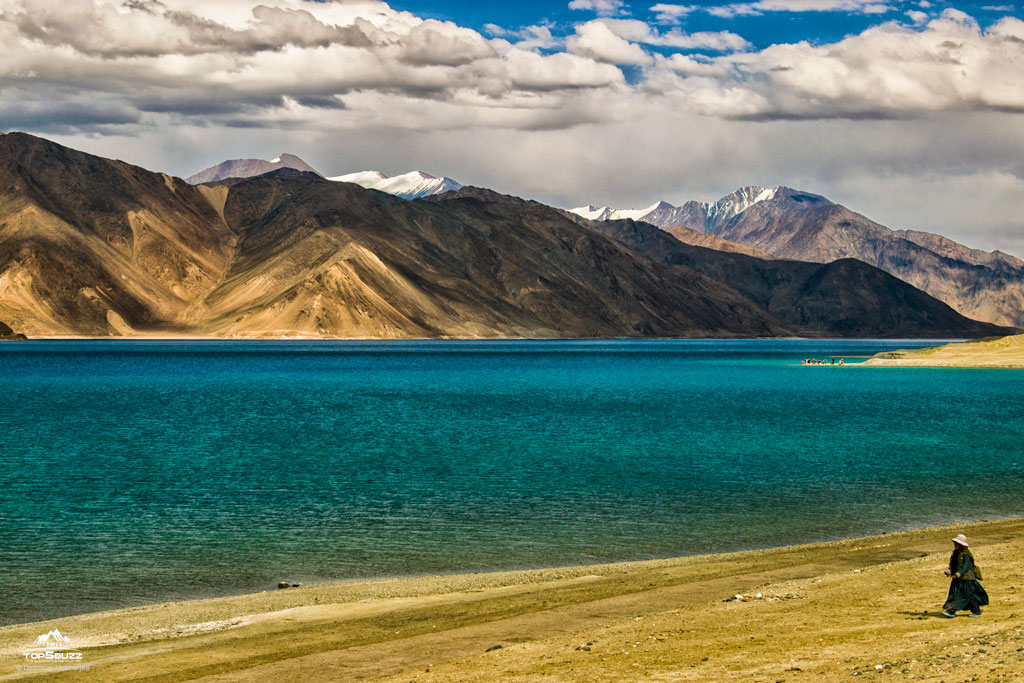 Sounds Awesome Right!?
Thanks to my camera Nikon D5300 by which I clicked many beautiful pictures of the stunning landscapes, the warm and welcoming local people and the breathtaking breeze of a lifetime experience. Upon returning from the trip, I could not wait to share my experiences with my Facebook friends.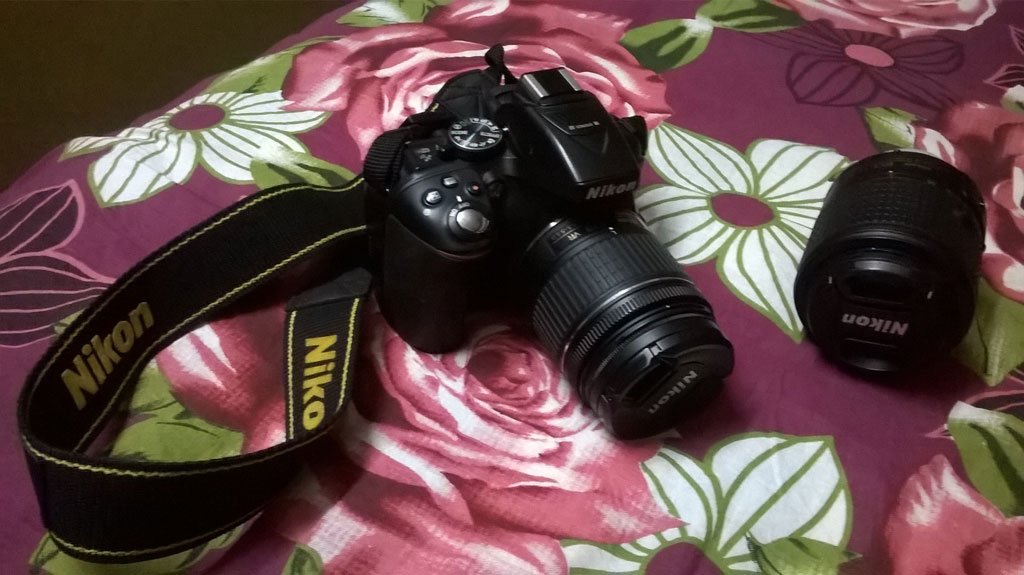 Gradually, many of my friends and other unknown people began asking me regarding the tour plan in Ladakh. They still do. Well I know many of you want to go Ladakh and are searching for right info with real, genuine experience over the Internet. So then I thought, "Why not share with you my full Ladakh experience here?" Maybe I could be of some help to you.
Coming to the Point
We began our trip to Ladakh in July 2016. However, the thought of traveling to Ladakh first came to my mind in 2015 after seeing some breathtaking photos of Ladakh in an album shared by one of my Facebook friends. That was when I decided that someday I will also go there. But later, I realized that a full road trip in Ladakh would be quite expensive. Anyways there was nothing which can stop me from visiting Ladakh, so I started saving money from January 2016.
My Full Ladakh travel itinerary:
Day 1: Kolkata to Delhi, Started journey to Manali from Delhi by Bus
Day 2: Stay in Manali and sightseeing
Day 3: Manali to Sarchu
Day 4: Sarchu to Tsomoriri
Day 5: Tsomoriri to Leh
Day 6: Leh sightseeing
Day 7: Leh to Nubra Valley
Day 8: Nubra Valley to Leh
Day 9: Leh to Pangong Tso
Day 10: Pangong Tso to Leh
Day 11: Leh to Kargil***
Day 12: Kargil to Leh
Day 13: Rest in Leh
Day 14: Fly out from Leh to Delhi, Delhi to Kolkata
*** Our original plan was to go from Leh to Kargil, then Kargil to Srinagar and fly out from there to Kolkata. But we had to change our plan because of the political unrest in Srinagar caused due to the Burhan aftermath. The curfew resulted in the cancellation of many flights during that period. So we didn't take any risk of entering Srinagar. We returned from Kargil and flew out from Leh.
Day 1 (2nd July, 2016)
Kolkata – Delhi
The Start: It was a very warm morning in Kolkata. Me and my wife were very excited – the journey was about to start finally. We reached Kolkata airport early in the morning. Our IndiGo flight took off on time and we reached Delhi around 1 PM. Our Delhi – Manali bus boarding time was 6 PM from Majnu-ka-tilla, Delhi. We took local taxi from Delhi airport to Majnu-ka-tilla.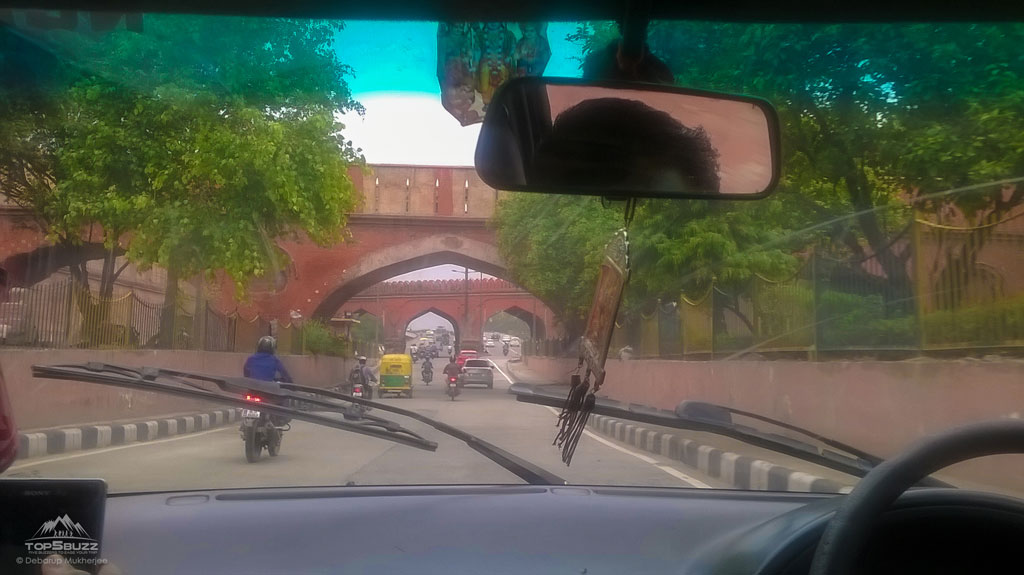 TIPS: Do bargain with the taxi driver regarding the fare as they can ask for a rate higher than the normal fare.
We reached Majnu-ka-tilla at 2:30 PM. The place is quite far from the city. We satisfied our appetite at Waho Tenzin Hotel, the only Chinese restaurant, there. After the lunch we decided to roam the area and came across a Tibetan Refugee Colony. It was a very interesting place where we got the chance to explore the Tibetan culture.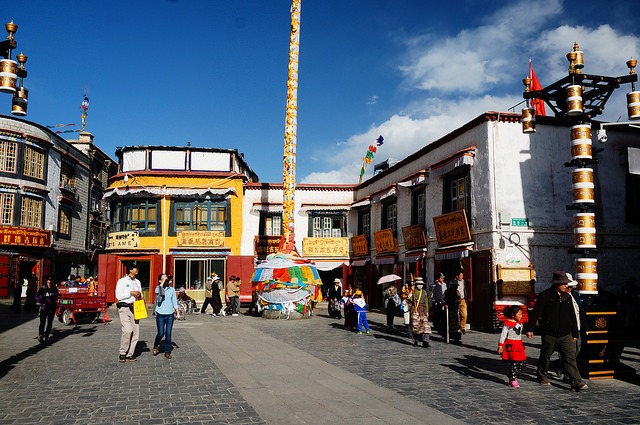 After some quality time there, we took an HRTC Volvo bus from the bus stop (from the opposite side of the road, where the Waho Tenzin Hotel was situated) that would take us to Manali. Finally our journey from Delhi to Manali started around 6:30 PM.
TIPS: You can find many other good hotels and restaurants in the Majnu-ka-tilla area. Taking rest before starting your overnight bus journey is good I feel. Also if you get some time, do explore the Tibetan Colony there.
Night Journey: The distance from Delhi to Manali is 548 Km and it takes minimum 12 hours 30 minutes to reach Manali. Because of no rainfall, the condition of the NH 21 was quite good, though Delhi experienced heavy rainfall before 2-3 days of our journey. Anyways, we entered Ambala around 9 PM and had our Dinner there. The foods of the dhaba called Haveli at Ambala were delicious.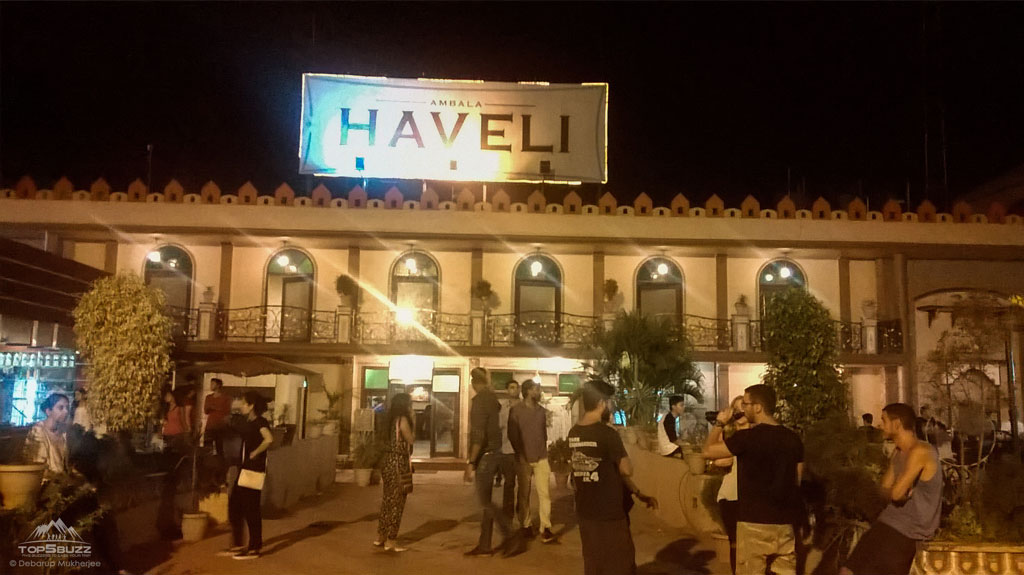 One thing I remembered that I lost my headphone there and my plan to listen to music during the rest of the journey to Manali was deserted.
Day 2 (3rd July, 2016)
In Manali
Fresh Day: I woke up at the beautiful sight of the green mountains as our bus paced down the road, while The River Beas flowed along with us.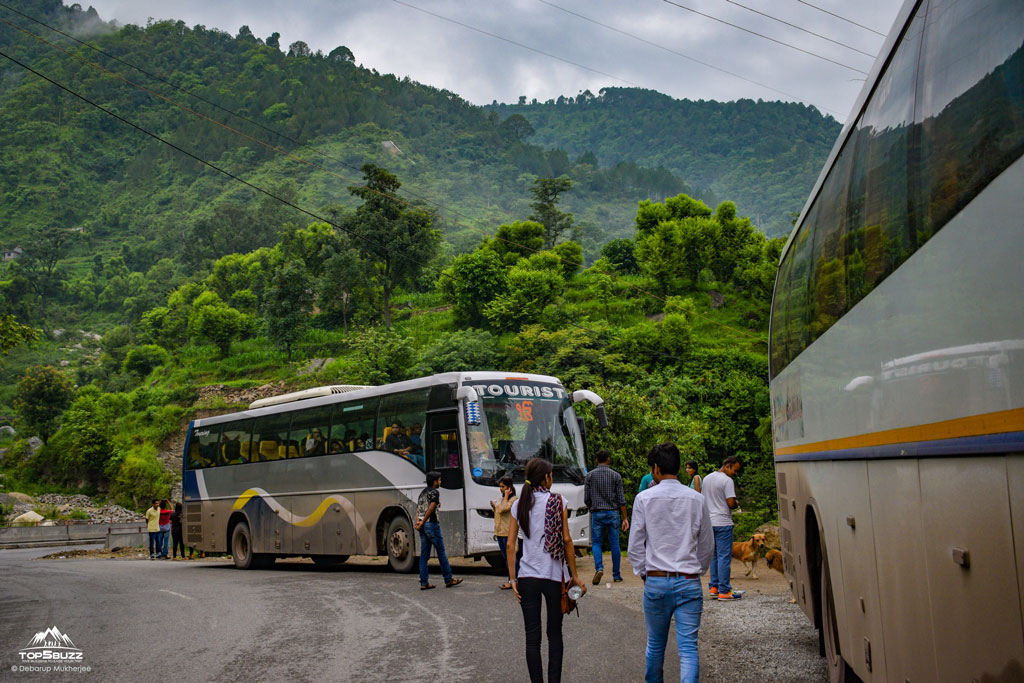 Our 2nd day of the trip was bright and sunny. We had our breakfast before we entered Manali and at 10 AM we checked in our hotel there.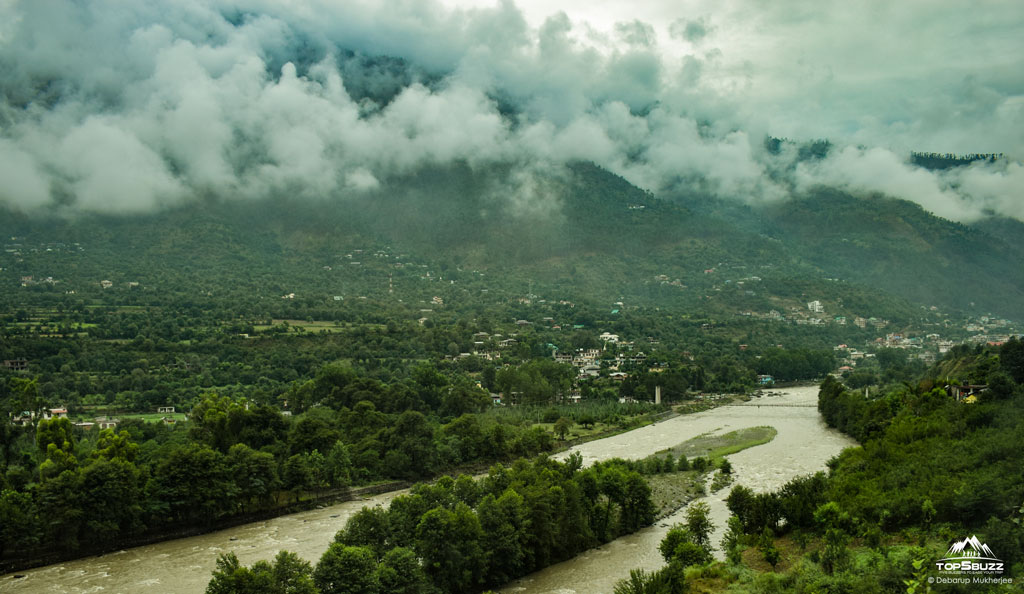 The name of our hotel where we checked in is Shuru Heights – a very beautiful valley side Hotel. We got some stunning views from our room balcony.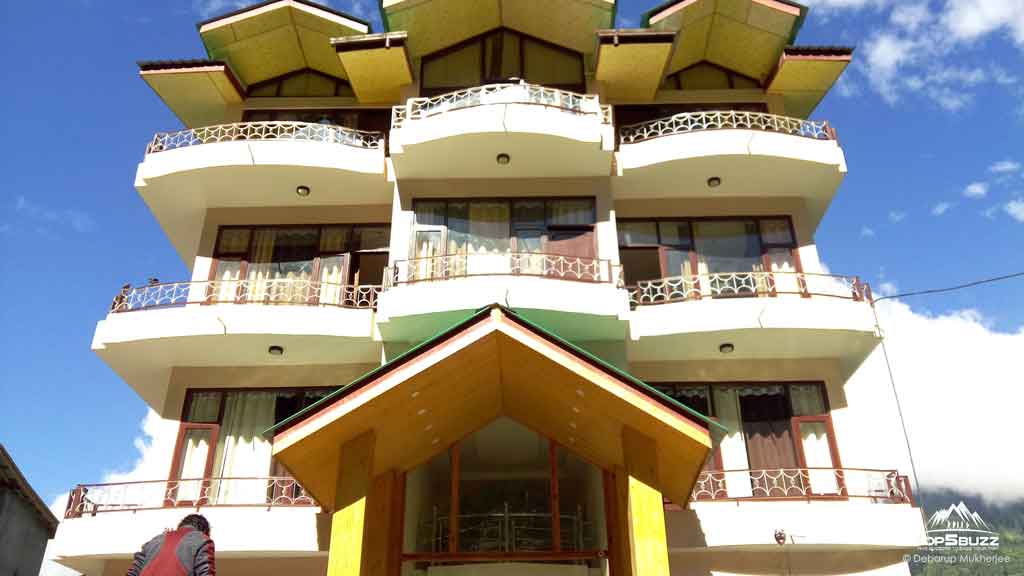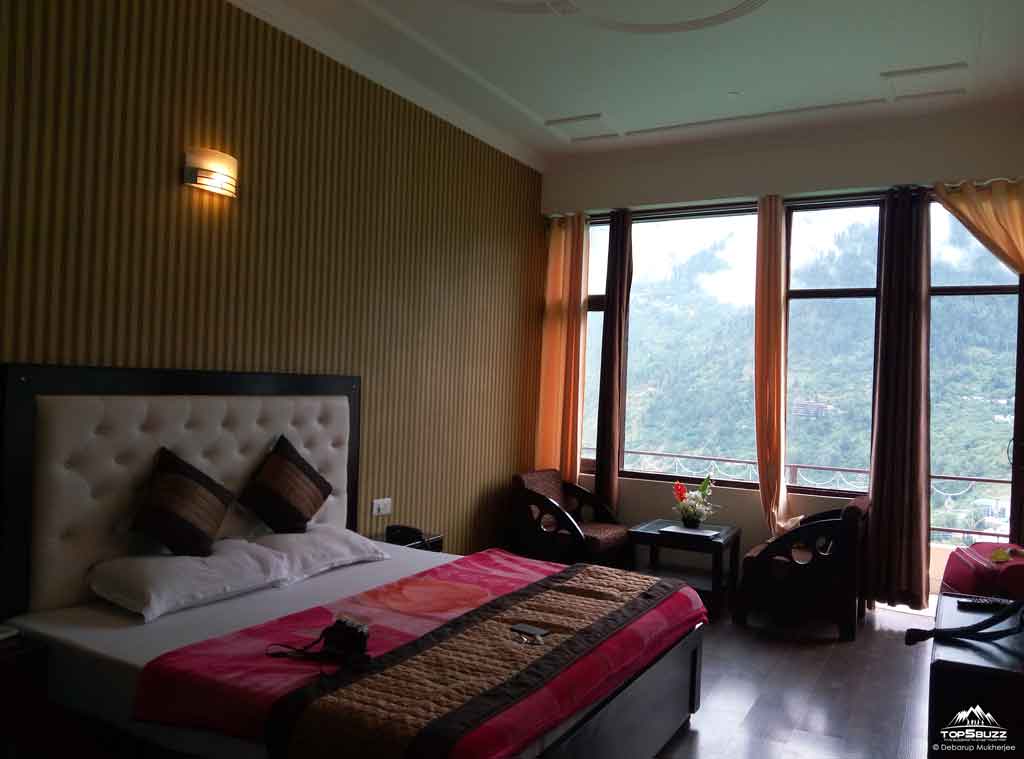 Because of the rain, our sightseeing plan was cancelled. Nevertheless, we had managed to visit the nearby places like the apple garden and the Vashisht Temple – a very beautiful temple with carvings on wood.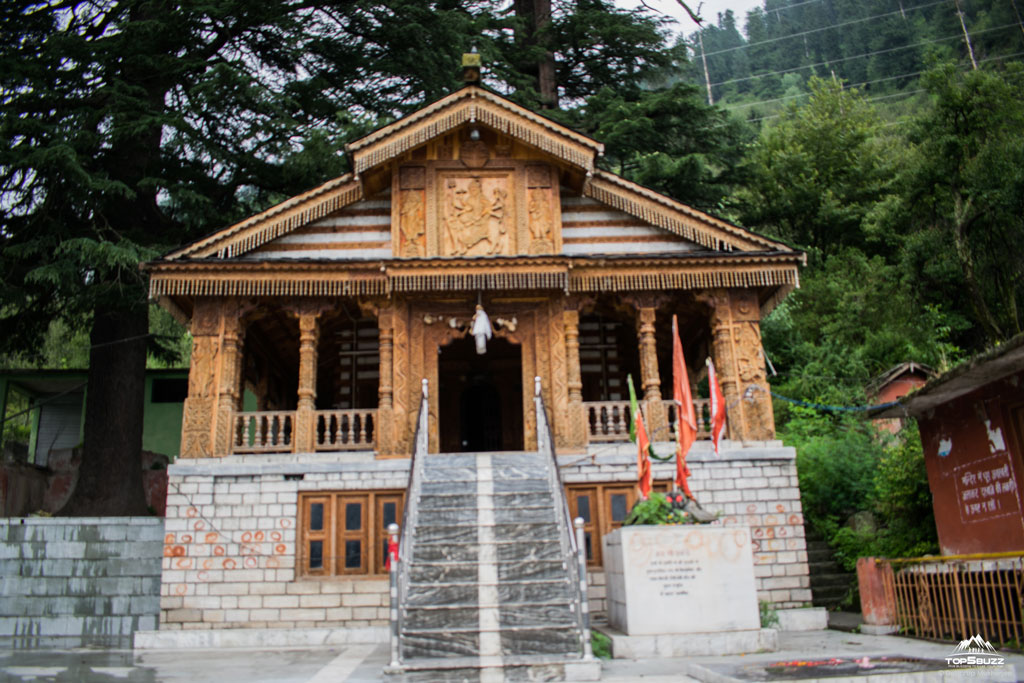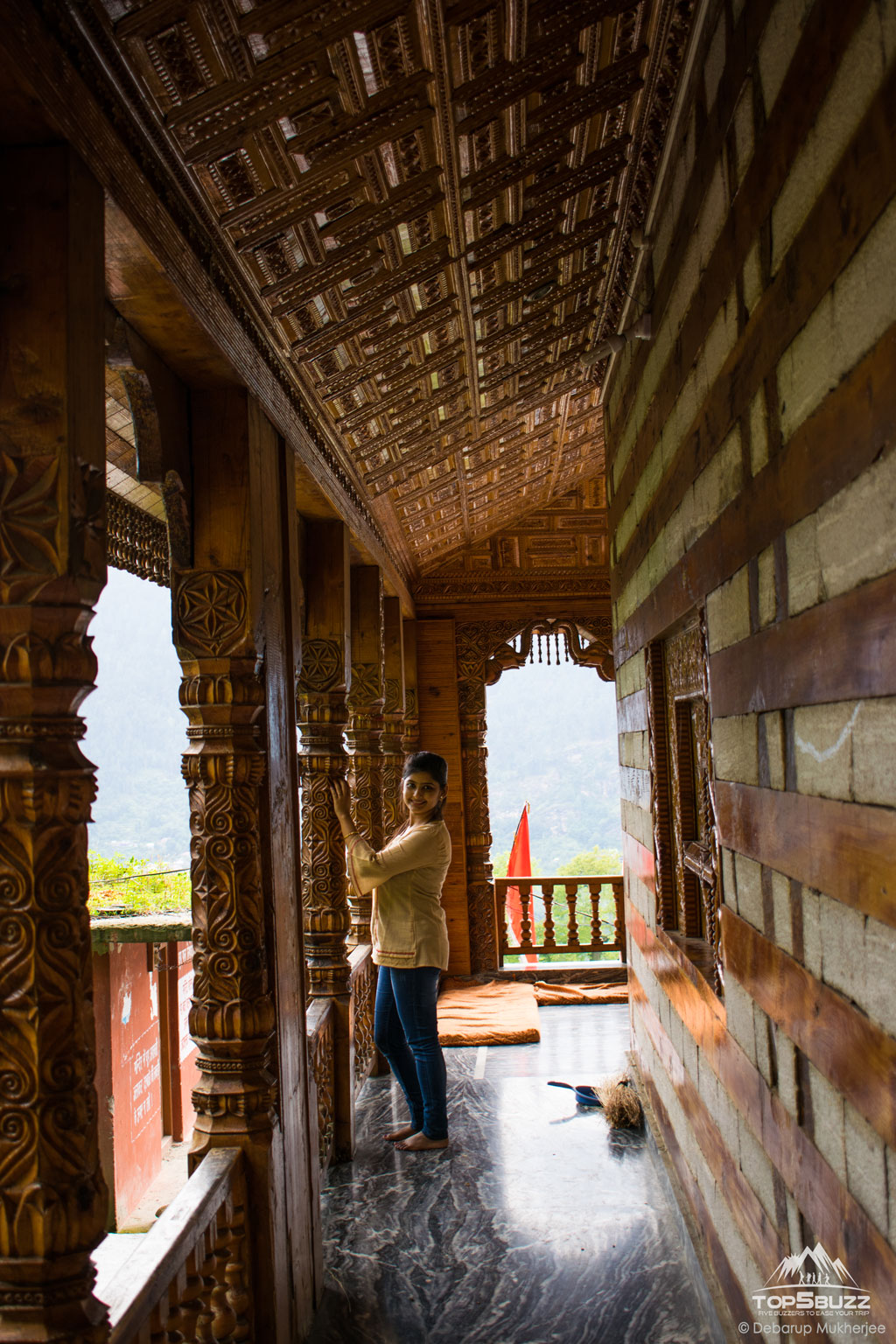 TIPS: Before going inside the temple, do remember to cover your head with scarf. In addition, the authorities do not allow any kind of leather items like belts and purse to be permitted inside this temple.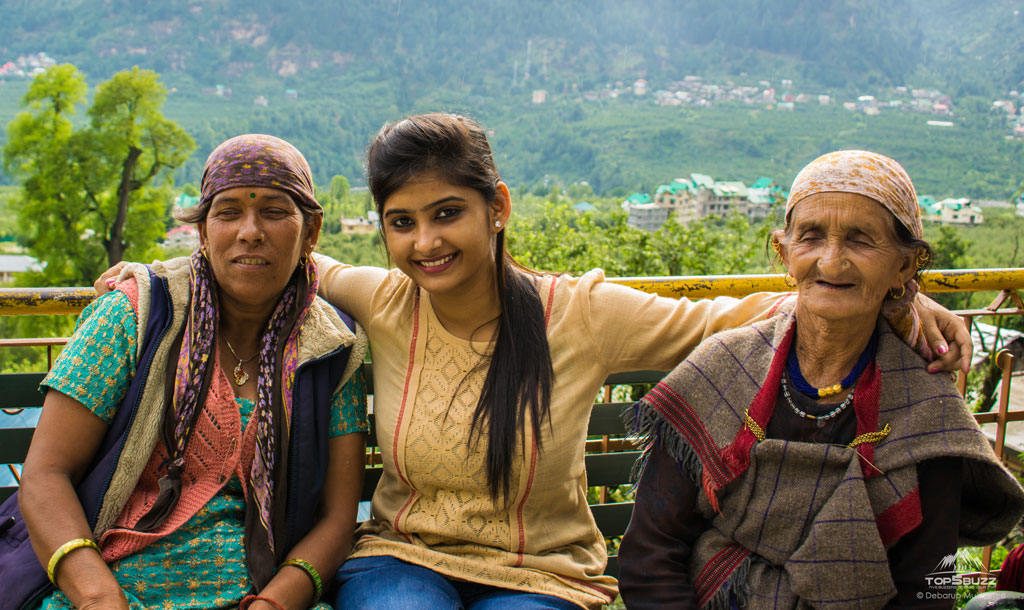 The locals there were very friendly and nice and we spent some time chatting with them. After a whole day of non-stop rain, we finally got a clear sky in the afternoon and were able to see the snow clad mountains from the valley.
Day 3 (4th July, 2016)
Manali to Sarchu
The Most Awaited Road Trip: Next day after breakfast we headed towards Sarchu.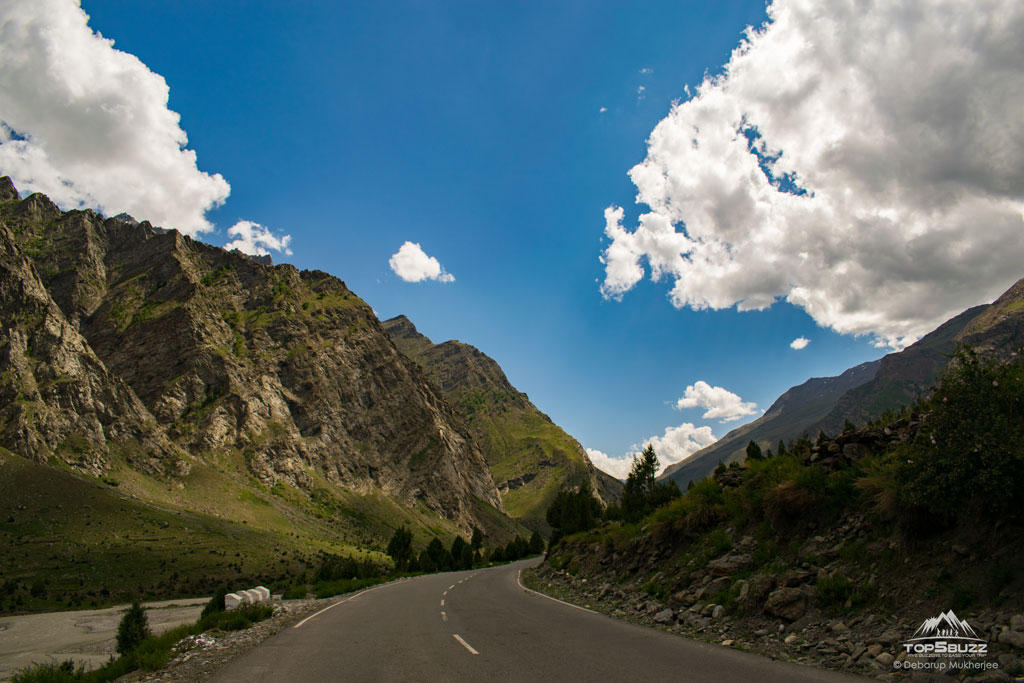 To reach Sarchu you have to cross two passes. The first one is very popular and crowded – the Rohtang La or Rohtang Pass, situated at about 3900m from the Sea level. Be careful as from here you might get caught by a fit of AMS (Altitude Mountain Sickness). So you need to take care of yourself. See the tips below to avoid AMS below.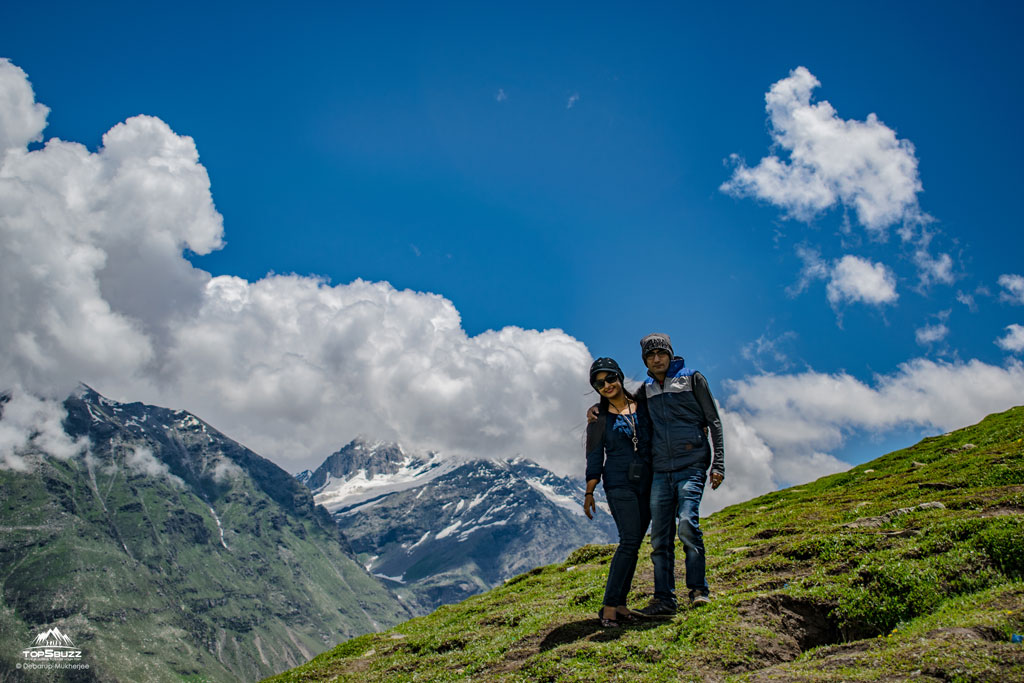 We spent some time at the Rohtang Pass and then started for the second pass Baralacha La (4,890 m).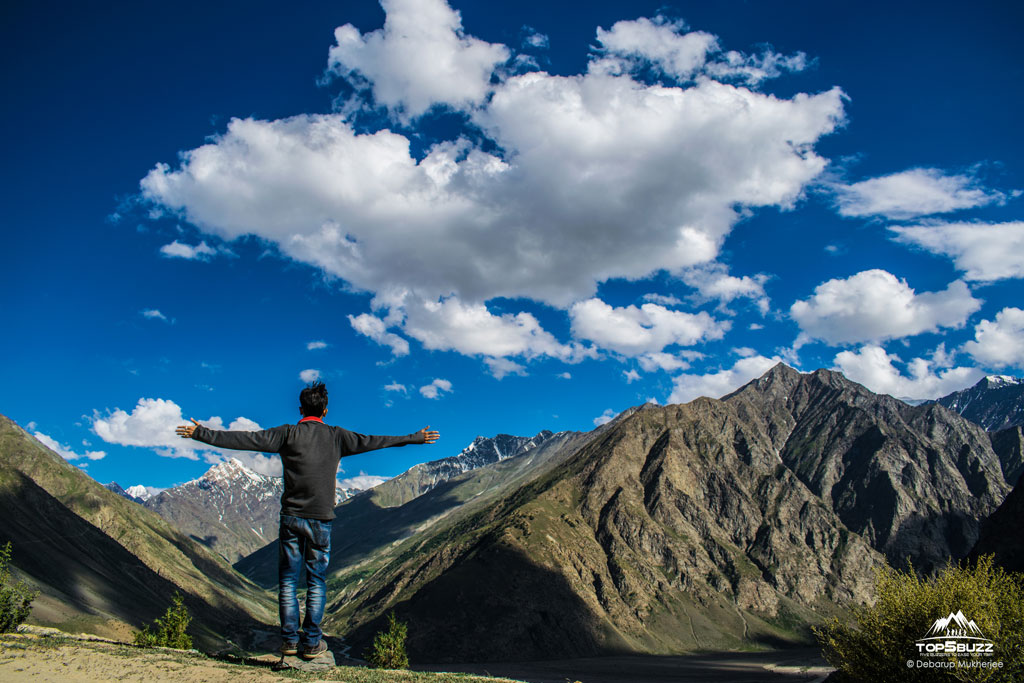 First High Altitude Lake: The first high altitude lake on our route was Deepak Tal. It is a small lake at the height of 12,300 ft in Patseo. It is just 50 km from Keylong.  A very beautiful blue sapphire colored lake, many cyclist and bike riders spend their night at the Deepak Tal that also has tented accommodations.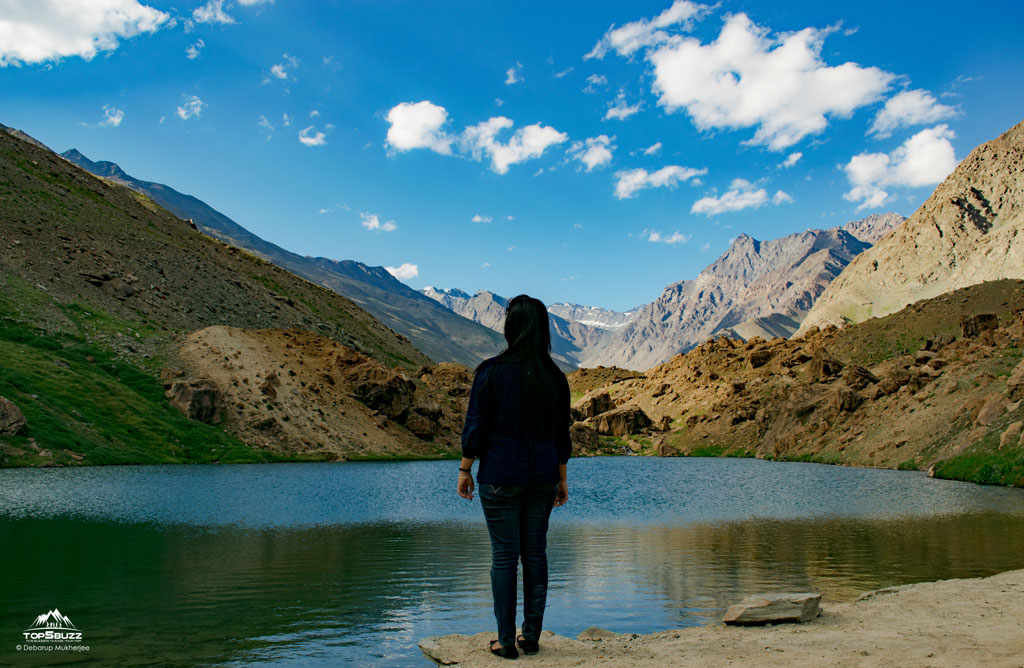 This is pretty high in altitude. Before reaching Baralacha La, we passed Keylong, Jispa & Darcha. In Keylong we passed the last petrol pump on our route to Leh.
Second High Altitude Lake: After crossing the Baralacha La, we came across the second high altitude lake on our route which is called the Suraj Tal, also known as Surya Tal.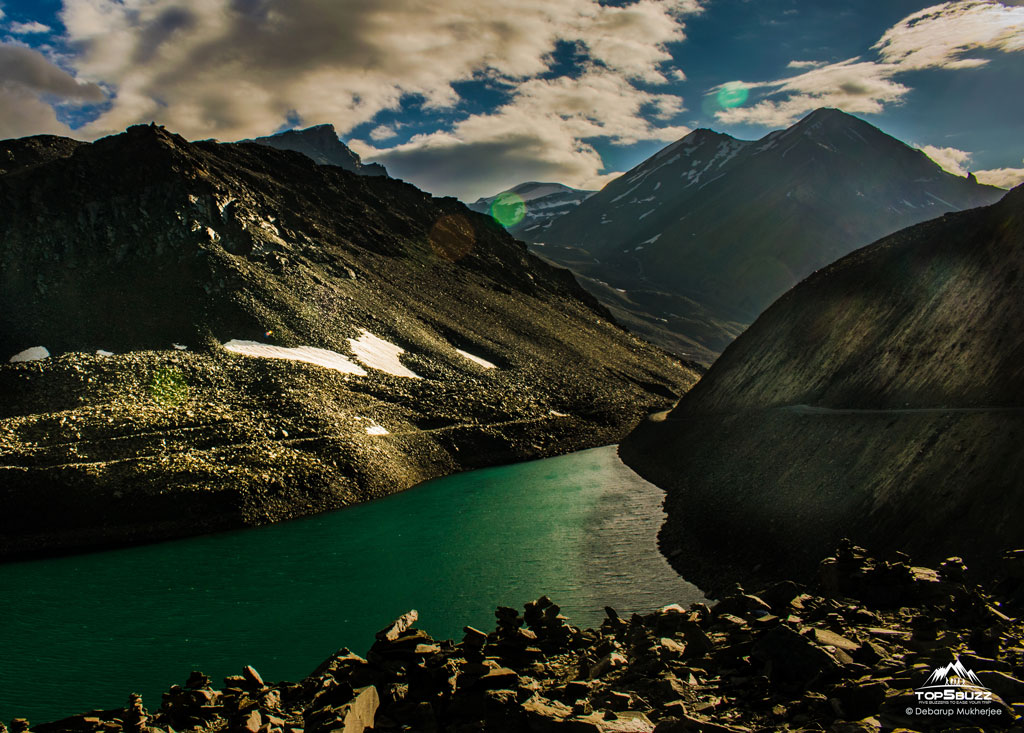 It is the 3rd highest lake of India and 21st highest in the World. The green water looks so amazing that we didn't want to leave the place. Suraj Tal is the water source of Bhaga River.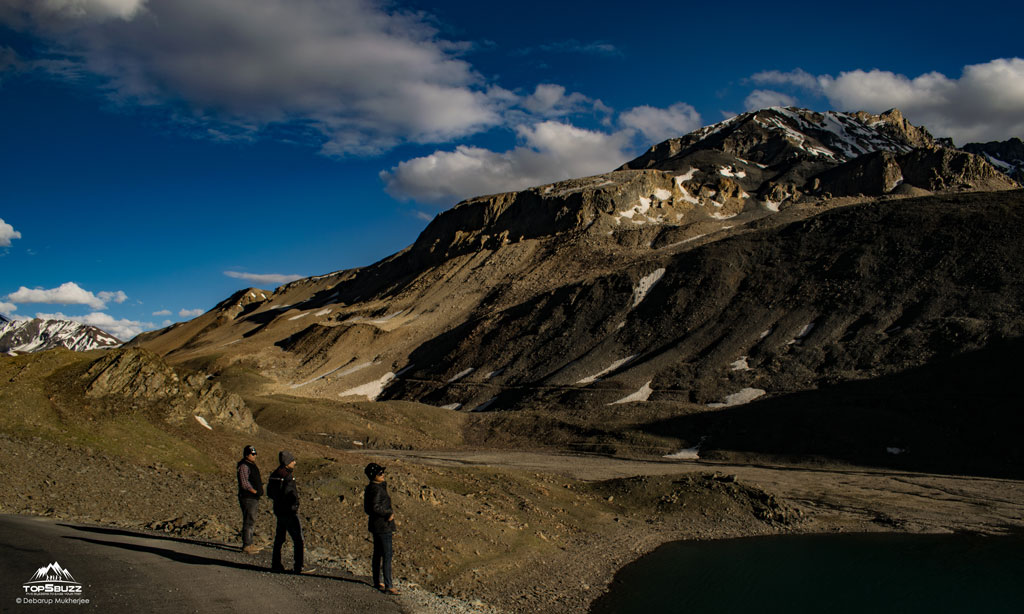 Another information we got that, in 19th October, 2011, a MiG-29 aircraft crashed near this Suraj Tal. It was the 3rd crash in this area of Himachal Pradesh in last 50 years. Last time an army helicopter had crashed near the same place, it was a decade ago. While another aircraft was carrying 60 army personnel had crashed in the early 60s, killing all of them and the aircraft wreckage was found after 15 years.
The Garlic Energy: Before entering Sarchu we took a quick rest at a small shop. We ate garlic soup there.  Garlic soup is very good when you are traveling high altitude places. After gaining some energy we headed for our last hour journey of the day.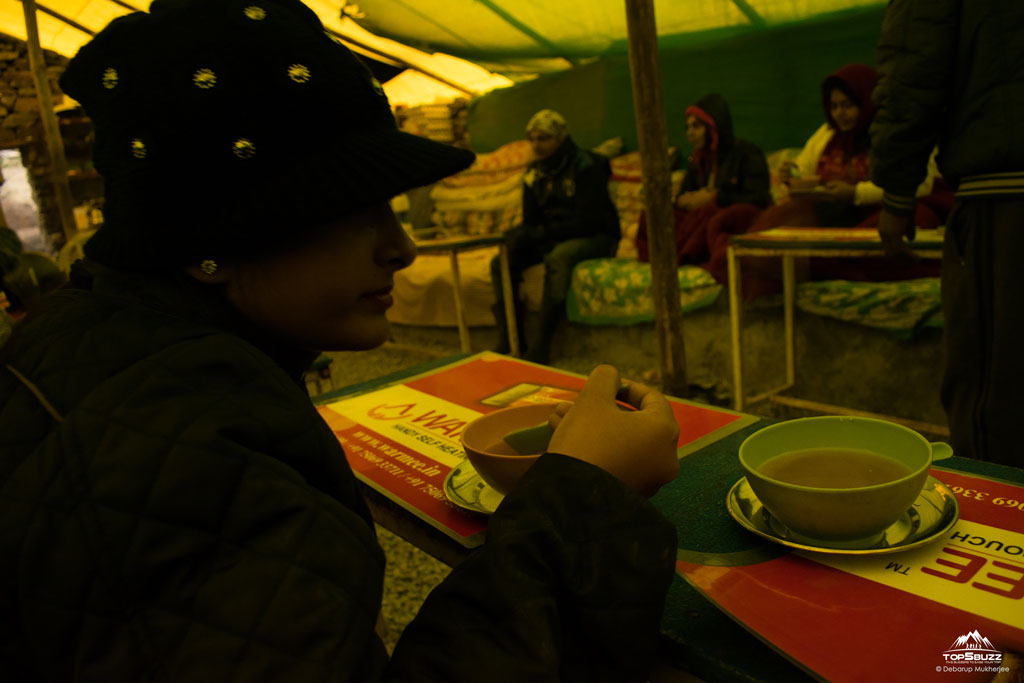 We entered an area of plains. Sarchu is the last stop before you enter Kashmir. Situated between the Baralacha La to the south and the Lachulung La to the north, Sarchu sits just on the border of Himachal Pradesh and Ladakh (Jammu & Kashmir) in India.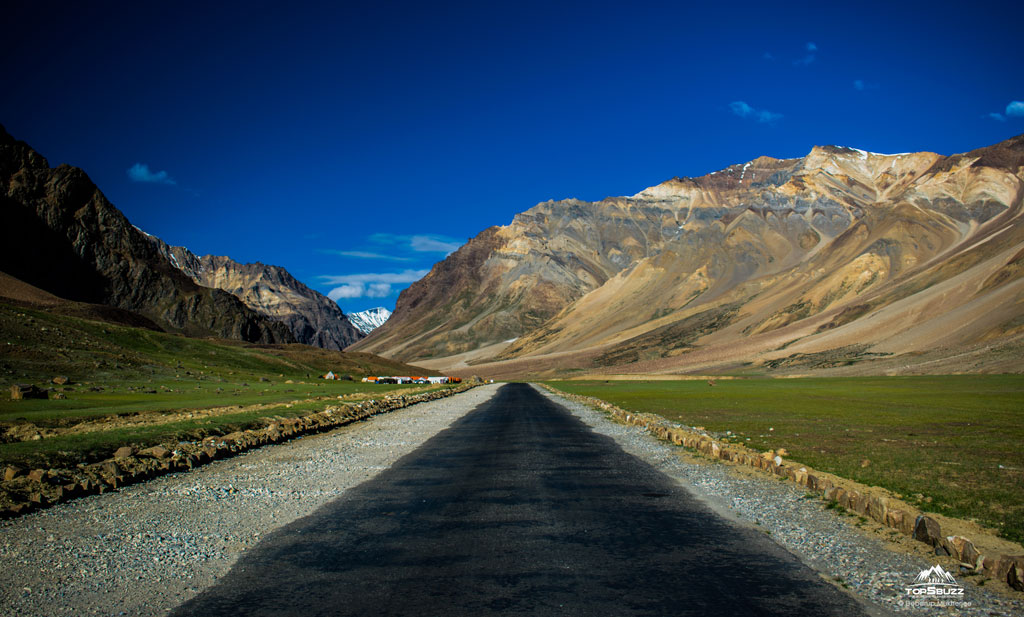 At an altitude of 4,290 m, Sarchu is also known as Sir Bhum Chun – a major halt point with tented accommodations.
First Camp Stay: At 4 o'clock we reached our camp. For our first camp stay, it was pretty good. The camp stay was arranged by Mulkila Adventures. Bathroom was attached with every tent.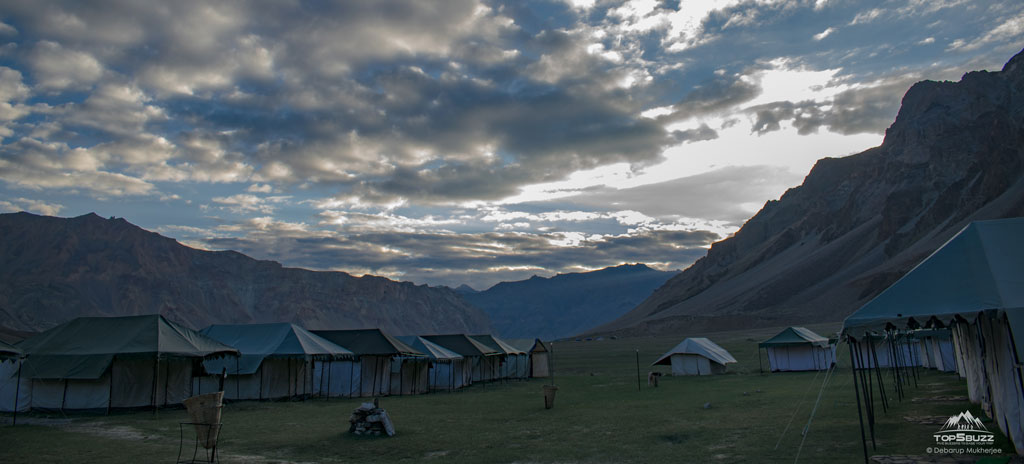 Being a rural area, all sources of electricity came from solar panels. We knew that all electricity would go off at 10'o clock so we completed our dinner by 8:30 PM.
Night Sky: In Sarchu, what I have seen for the first time and which I will never ever forget in my life is the stunning night sky. I felt the sky so near and I haven't see those so many stars in my life before.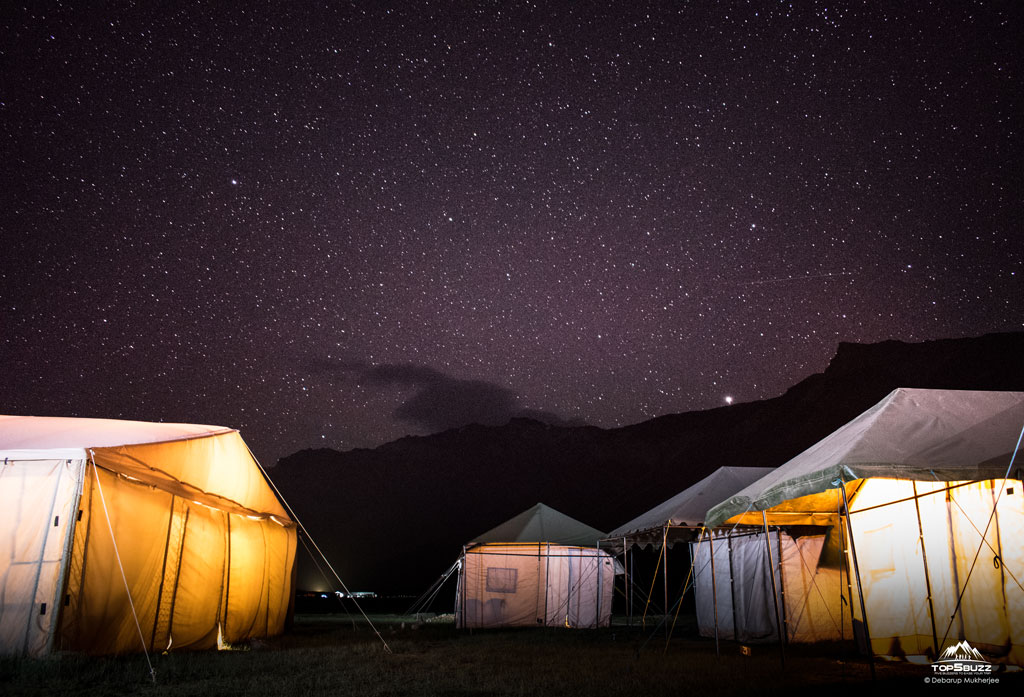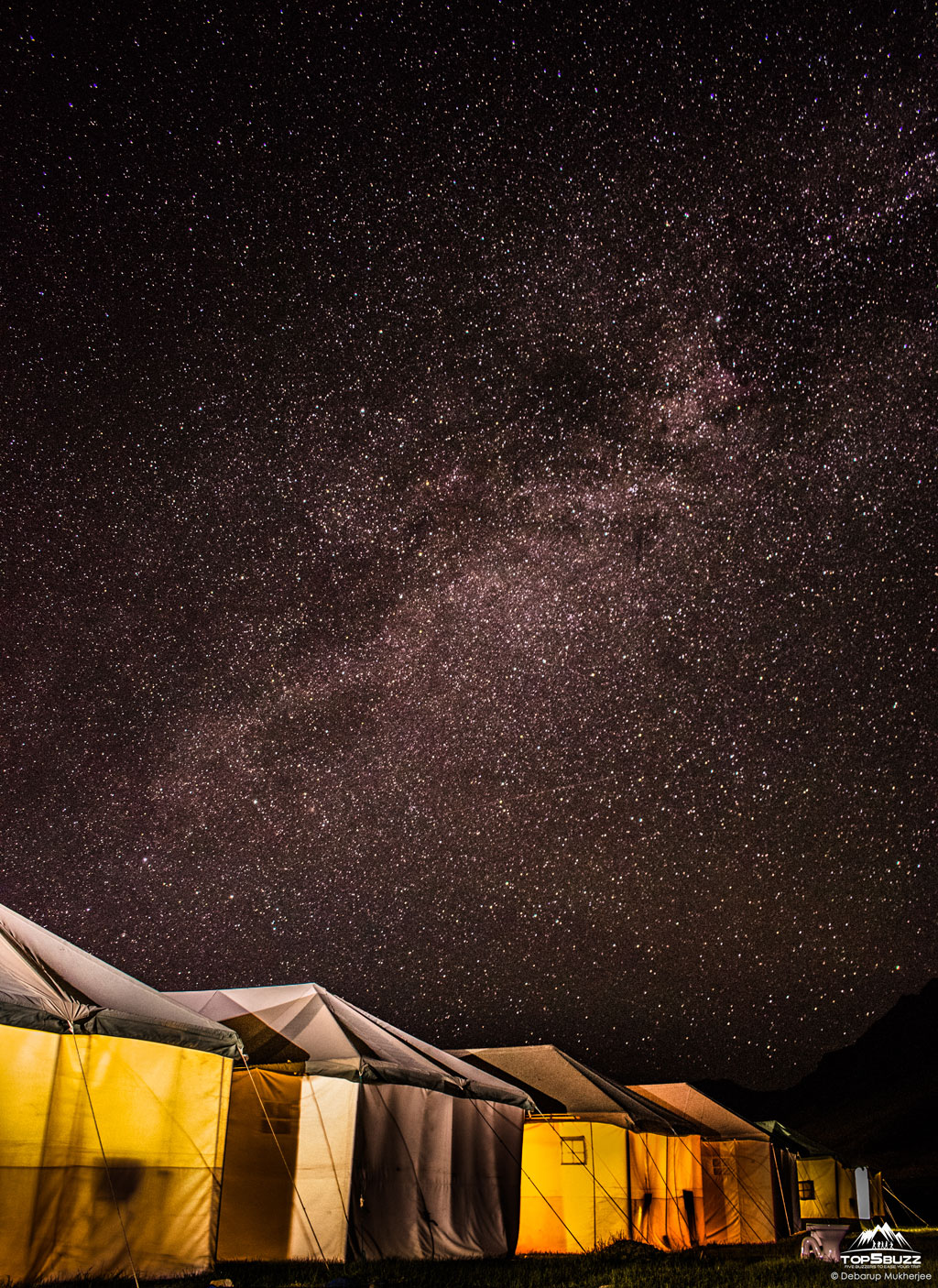 You can see the galaxy the Milky Way in the south sky clearly with your bare eyes. You can see shooting stars also. My dream was to capture Milky Way at there and I did it. Sarchu was the first surprise for me in my Ladakh trip.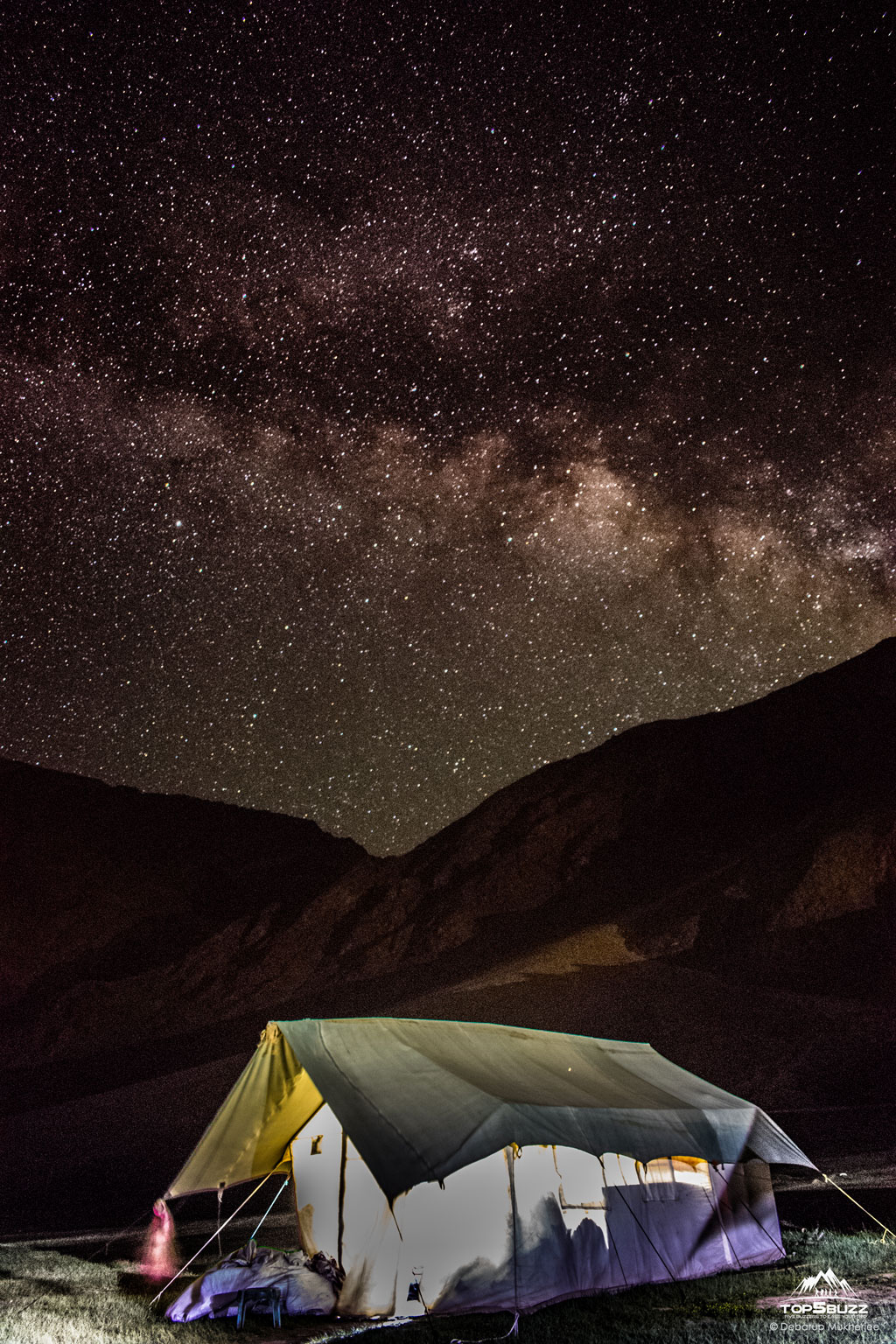 Erotic Sleep: Sleeping in tent which is almost 14,070 ft above the sea level was quite difficult, if you didn't take some precautions. Though the night was very erotic and didn't sleep well. It was very light sleep during the early morning.
TIPS: Do take a course of Diamox tablet starting from Manali. It will be a 3 days course, 2 tablets each day. This will keep you away from any kind of fits like AMS. Diamox is a medicine which can decrease nausea, dizziness, shortness of breath, headache, tiredness that can occur when you climb quickly to high altitudes, generally above 10,000 feet. We were very helpful to take this but you must consult with doctor before you take it.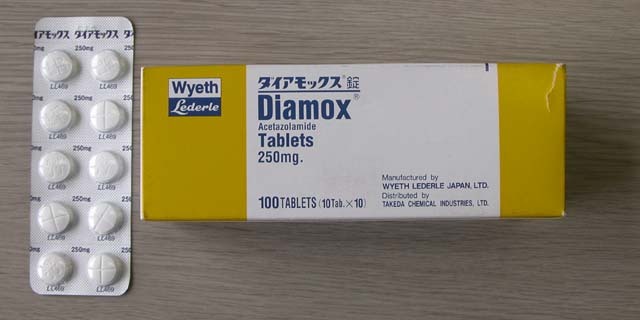 Do consume lots of water during your journey. It will prevent you from getting headaches. Sarchu is also called the Vomiting Point, but if you consume good amount of water it can be prevented, as we did.
Day 4 (5th July, 2016)
Sarchu to Tsomoriri
My 4th day started with a bit headache, though it was normal at that altitude. But all headaches just vanished when I came out from the tent and saw the heavenly beauty of Sarchu.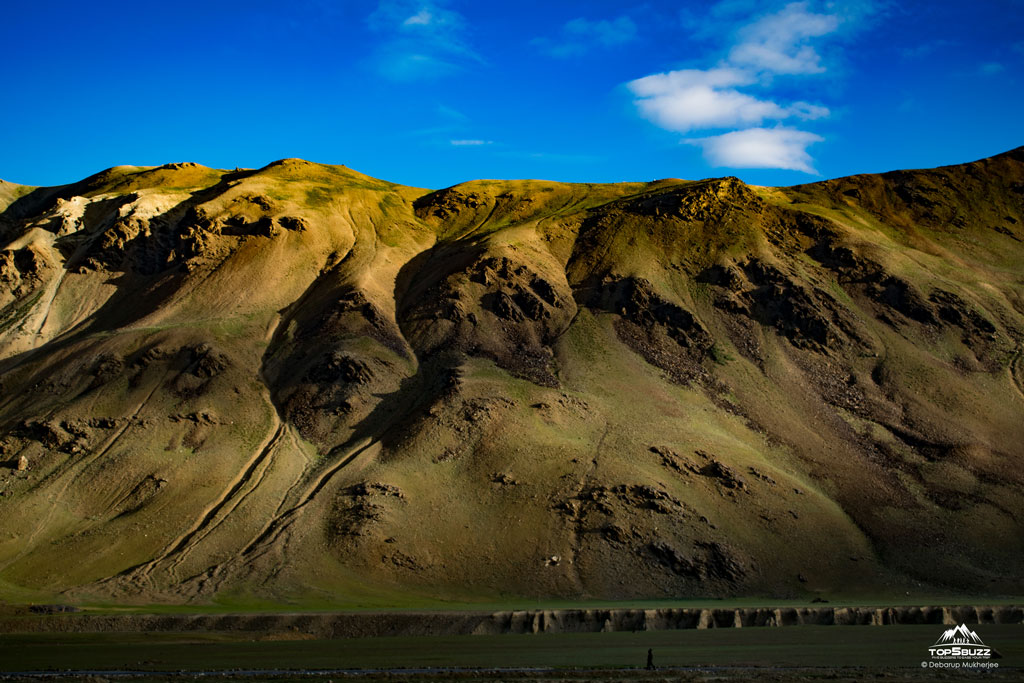 We left the place at 9 o'clock and started our journey for Tsomoriri. After leaving Sarchu we crossed another high altitude pass called the Lachungla (16616 ft)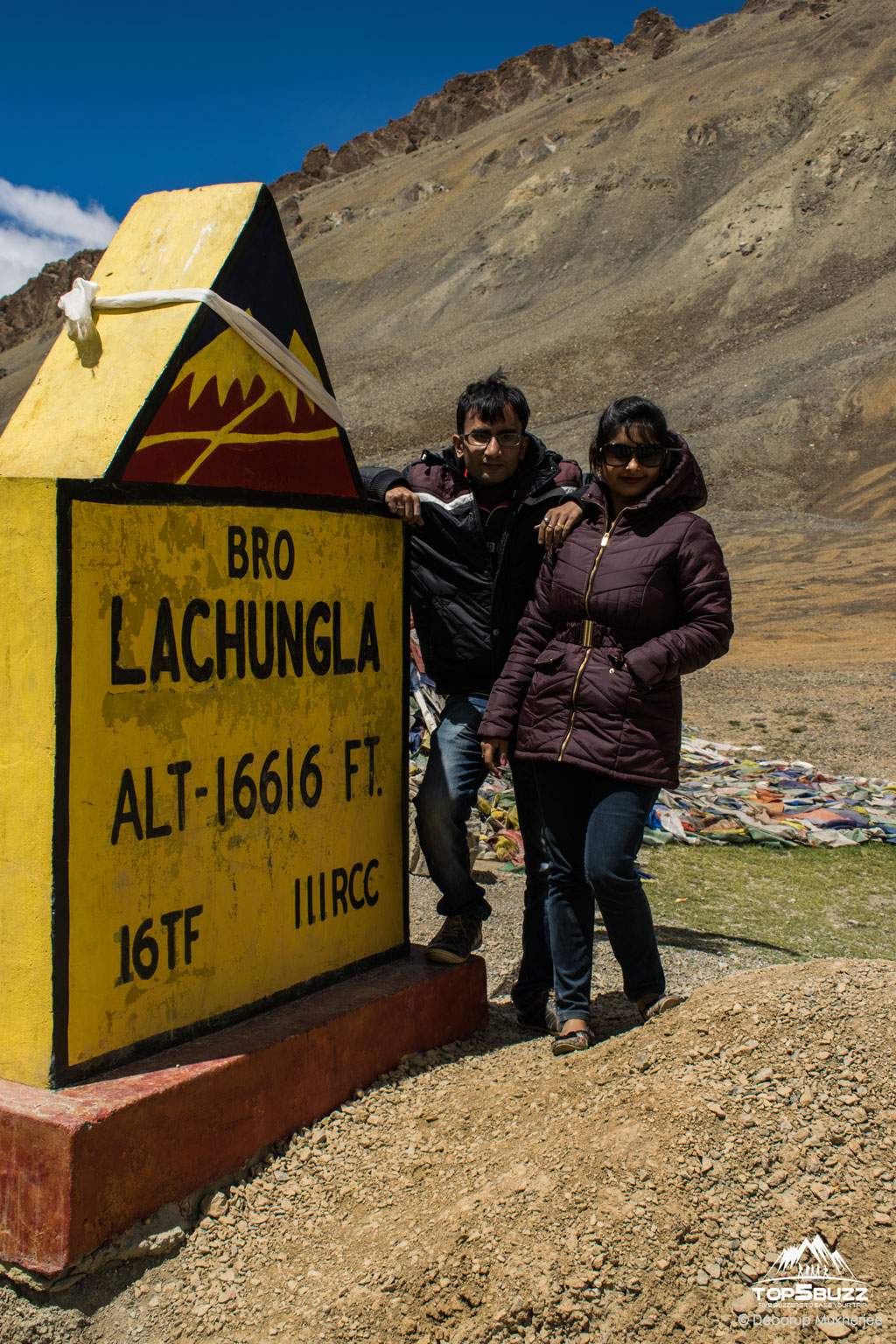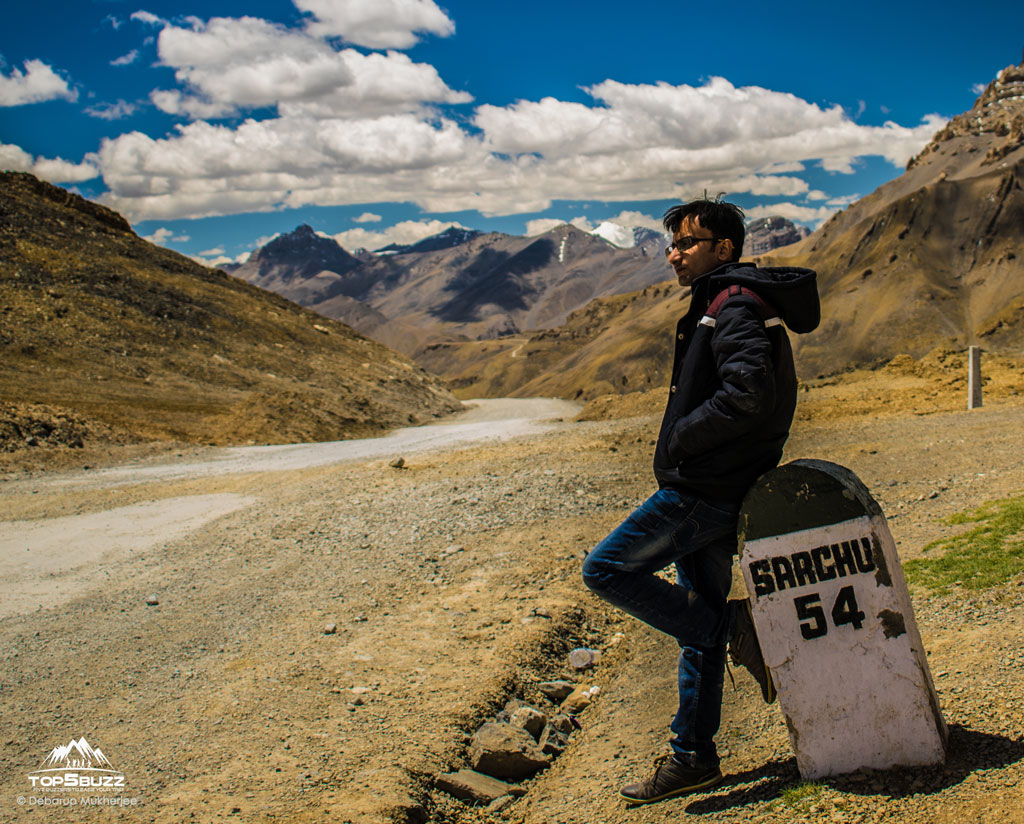 Best Road: This road was the best road I ever seen. It was going through the middle of the plains. We have experienced the beautiful light and shadow effects on the mountains due to the floating clouds. We left the road in the middle of somewhere and turned right on a bumpy road. Our driver used to participate in many car rallies, so what you can expect from him.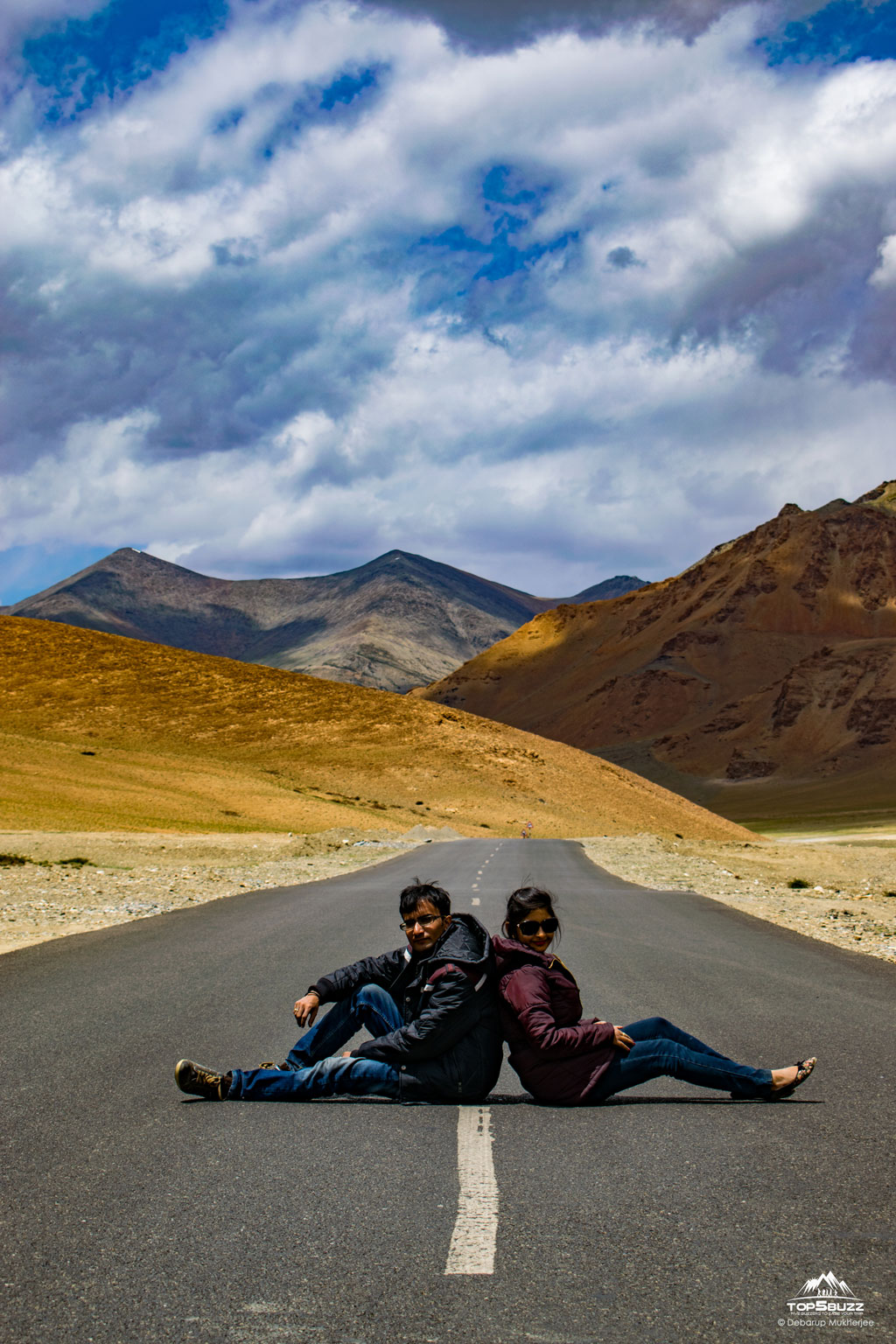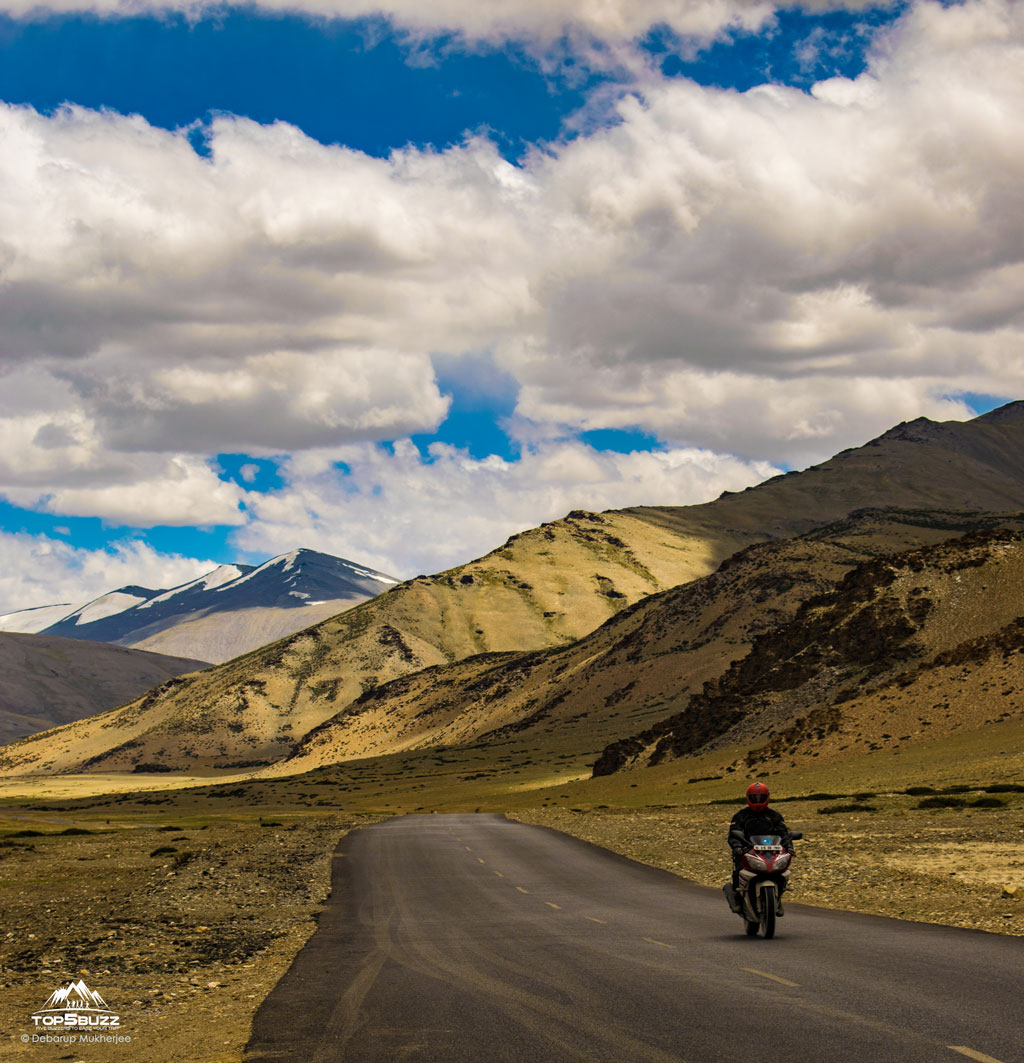 He took many shortcuts on the road which was thrilling. Total distance from Sarchu to Tsomoriri is 228 KM.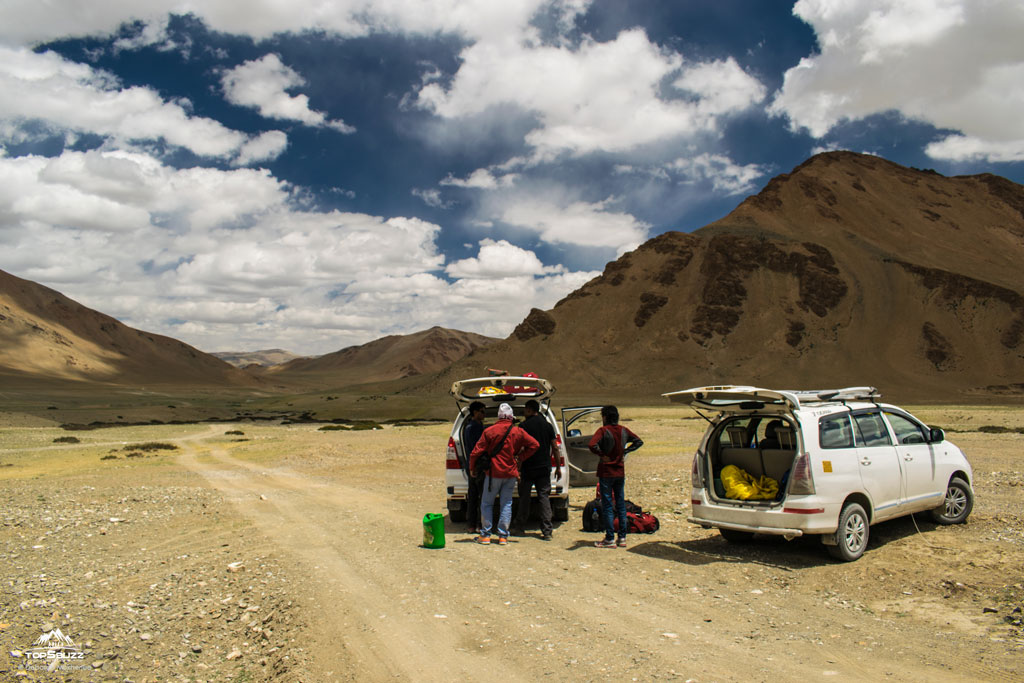 More Plains: After crossing the Pang we witnessed a place which we can't explain you by writing or by photographs. You can only realize its beauty when you come across this place. This place is called "More Plains" (pronounced 'mo-ray'). It is crossed by the road from Leh to Manali. The plain stretch of 40 kms falls in between Leh and Sarchu on Leh Manali Highway. It's just mind numbing to think that you are on such a large plain surface at an altitude of close to 16000 feet. There are simply no words to describe the Moore Plains, except to encourage others to visit.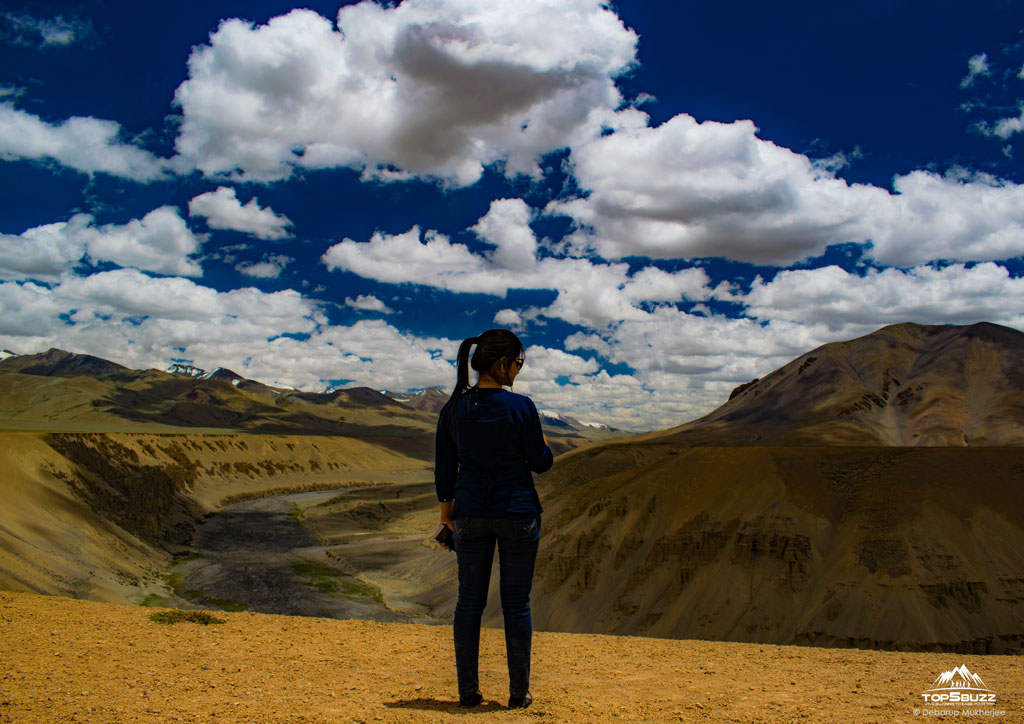 Sumdo village: We stopped at this place to take our launch. Before entering we met with a foreign couple who came from United Kingdom. Sumodo village is very beautiful place and in the green valley you can see some hot springs. We have played around with two local kids out there.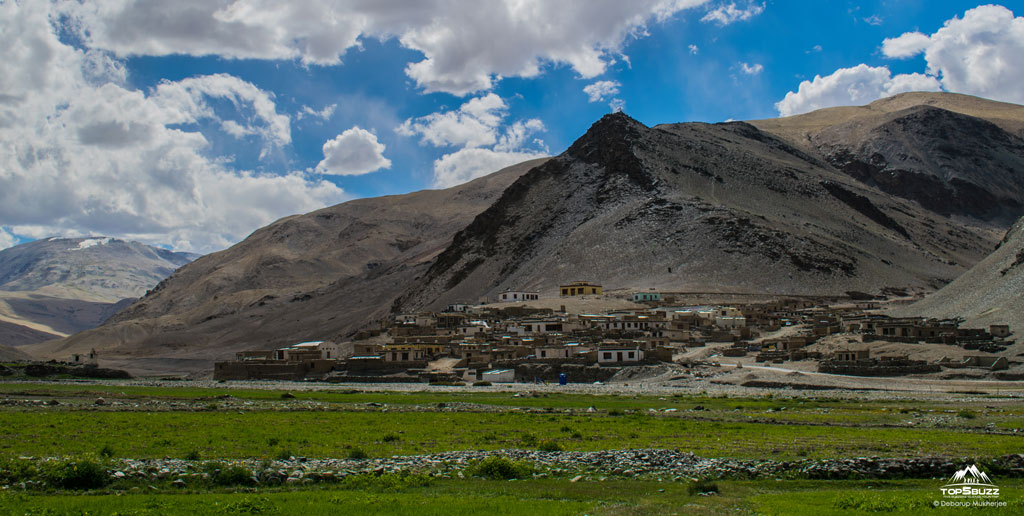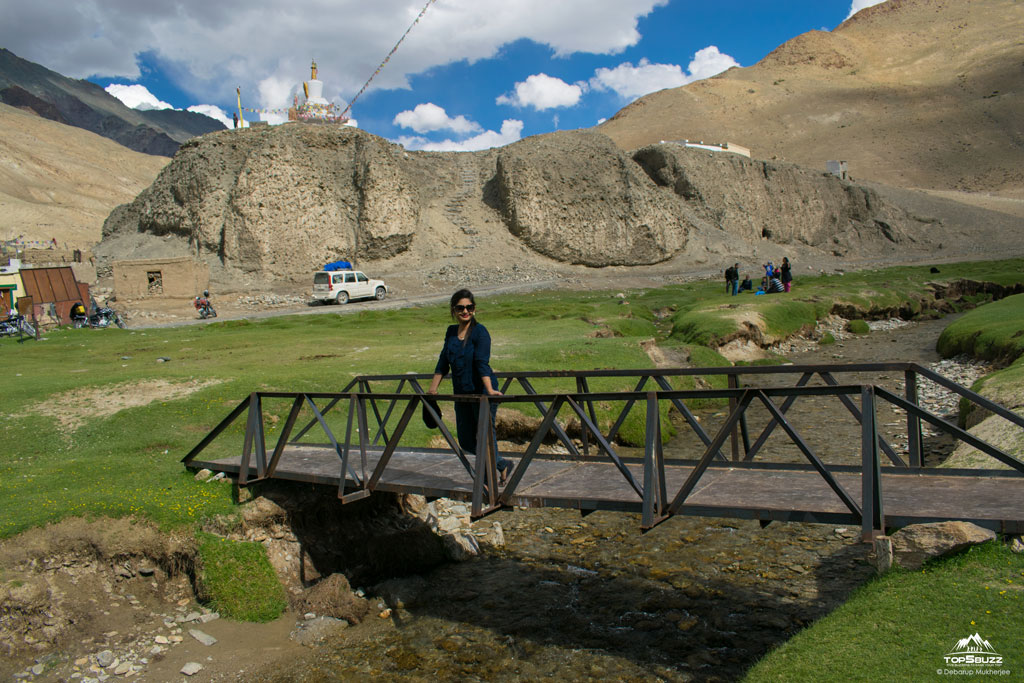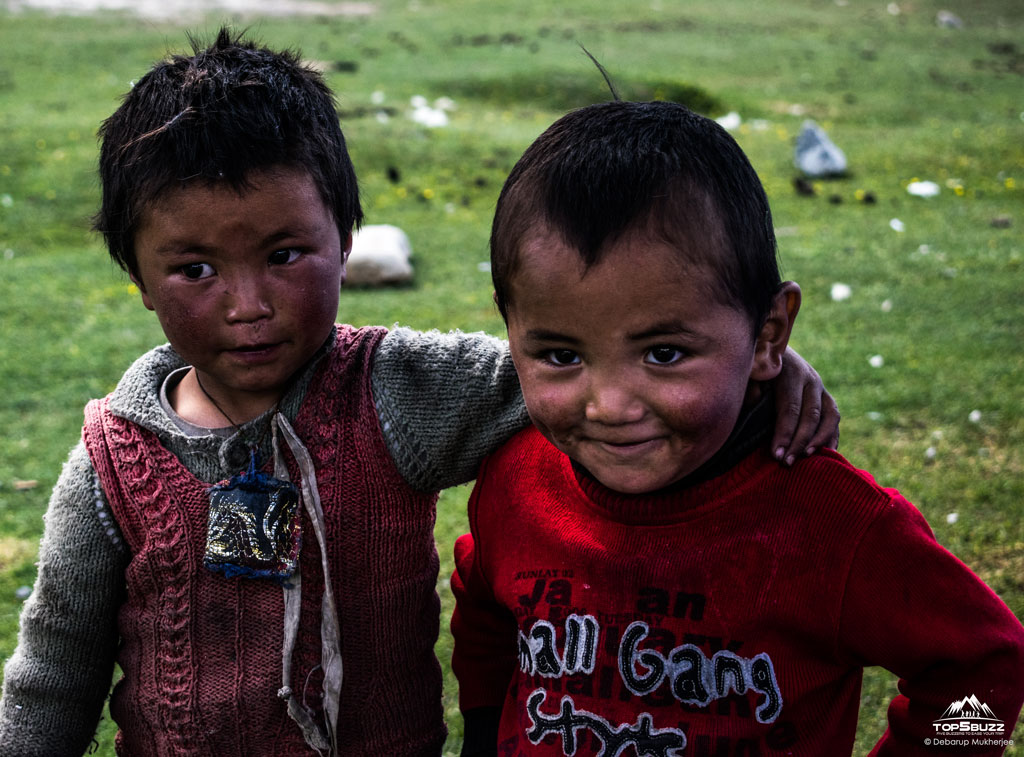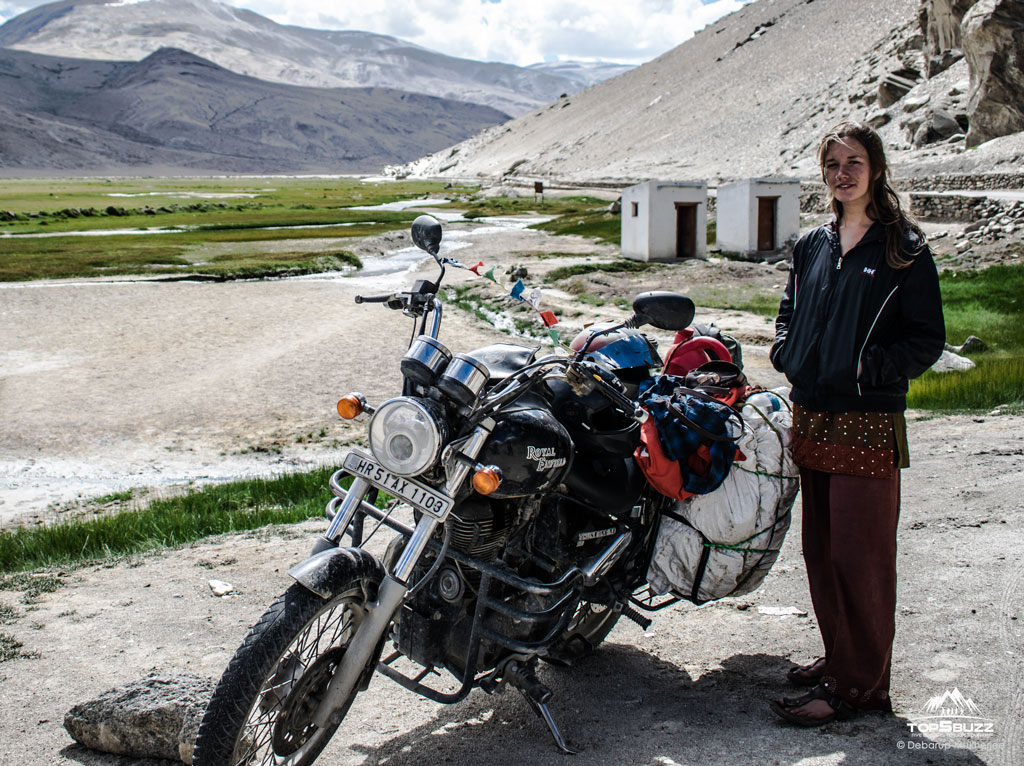 Must See: Ladakh People Photography
Third High Altitude Lake: Before reaching the Tsomoriri and after crossing the Sumdo village where we had our lunch you should see another lake called Tso Kiagar / Kiagar Tso. This was the third lake that we witnessed in our journey. We left our car behind and stepped down near the lake.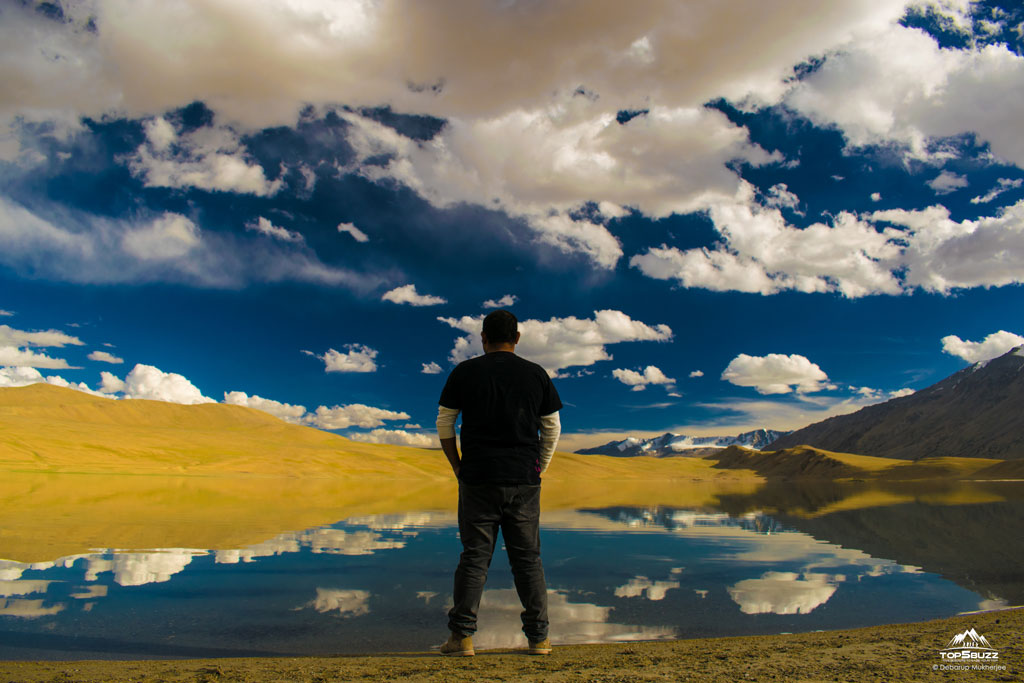 Walking down to the lake was like reaching heaven. You can't believe how beautiful it was. The still water gave away clear reflection of the mountains that made a picture perfect landscape. We clicked many photos there and came back to our car. Climbing up the road was a bit hard. But we finally reached and left the heavenly Tso Kiagar.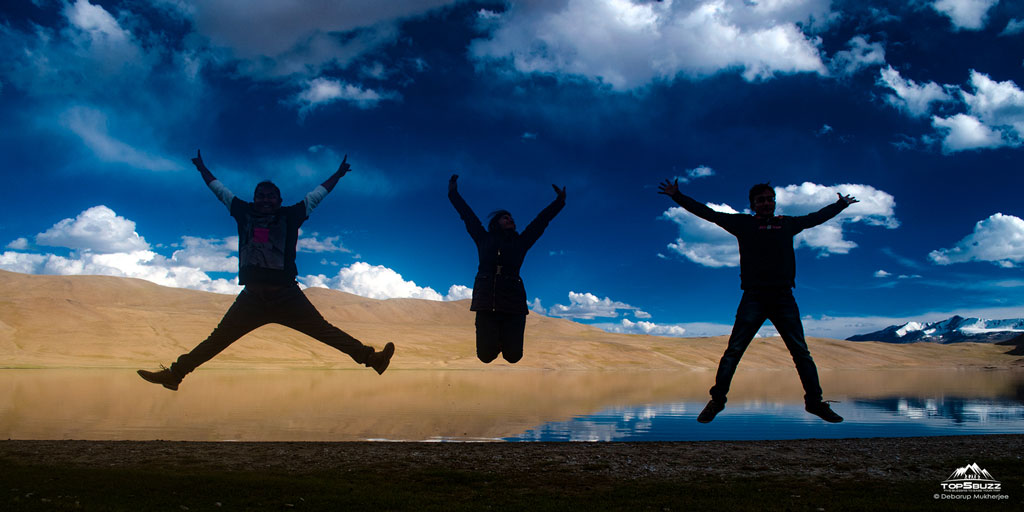 Tso Kiagar is a salt water lake enroute to the Tso Moriri Lake. This lake is located in Rupshu Valley, Changthang plateau and is home to the Changpas or the nomadic Ladakhis.  The lake is situated at a height of about 4000 m above sea level.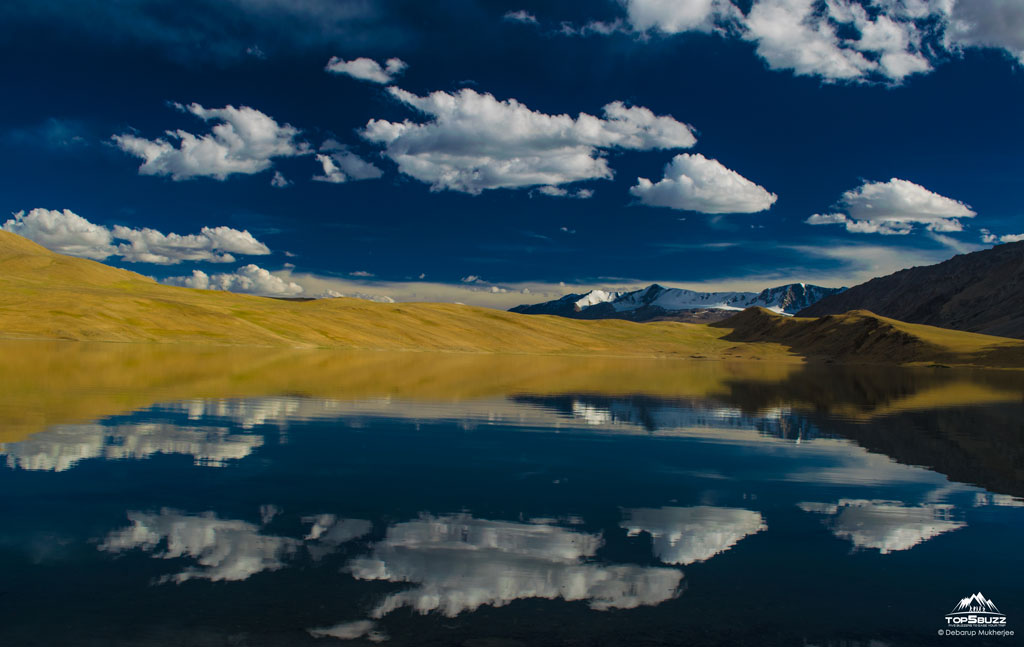 TIPS: You should go close to the lake. Don't miss it. On your way to the Tso Kiagar, you will come across some hot springs. Do experience those also.
Forth High Altitude Lake: We entered the Tsomoriri Wetland Conservation Reserve area at 5 PM. Our car drove along the edge of the lake. This lake is in the Ladakh part of Changthang Plateau. The surface elevation is 4,522m and the length is 19 KM.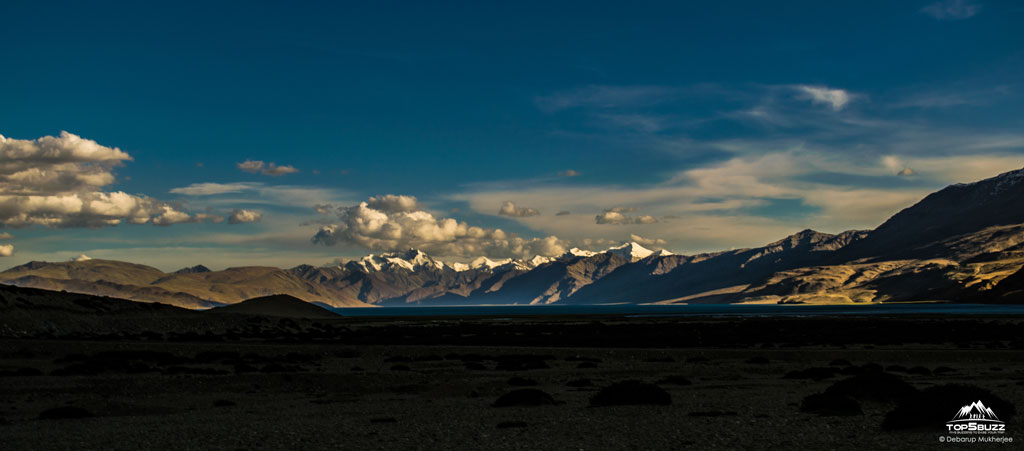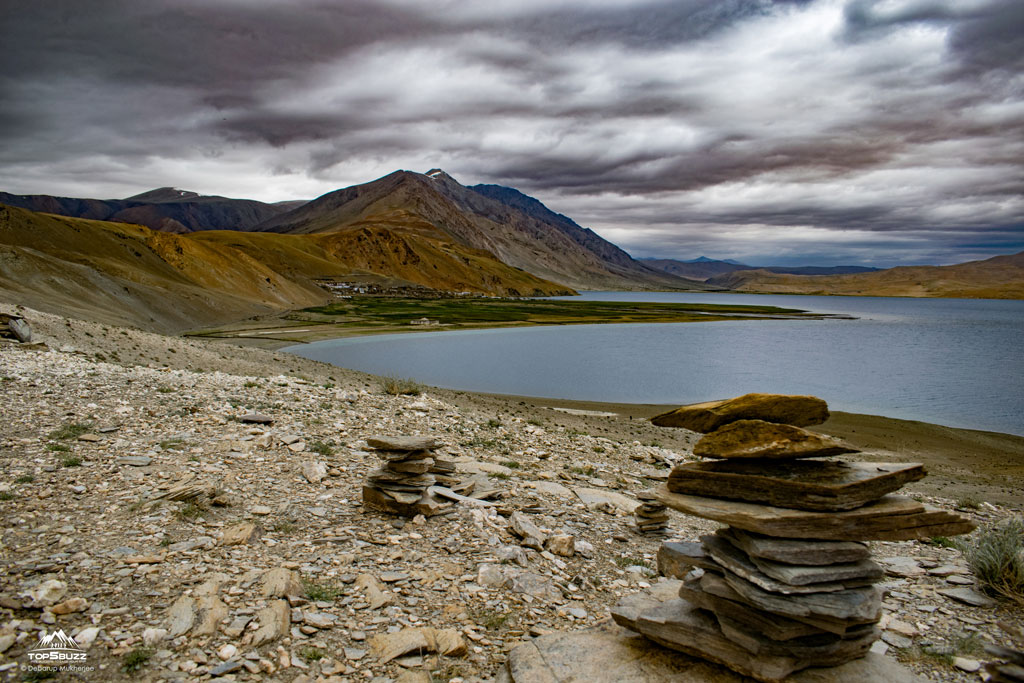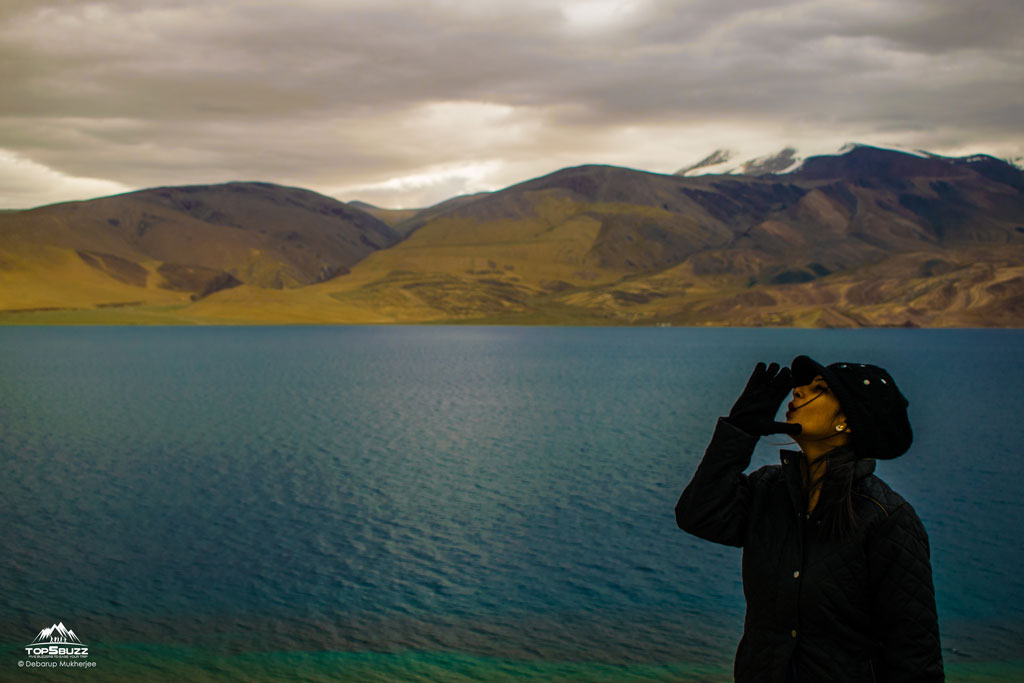 Here we lodged at YAK Camp Tsomoriri, also known as the Pink Camp at Tsomoriri. The camp is well organized but the location is very windy. As it was stood facing a valley, the wind passing through the plains were too strong during the evening time.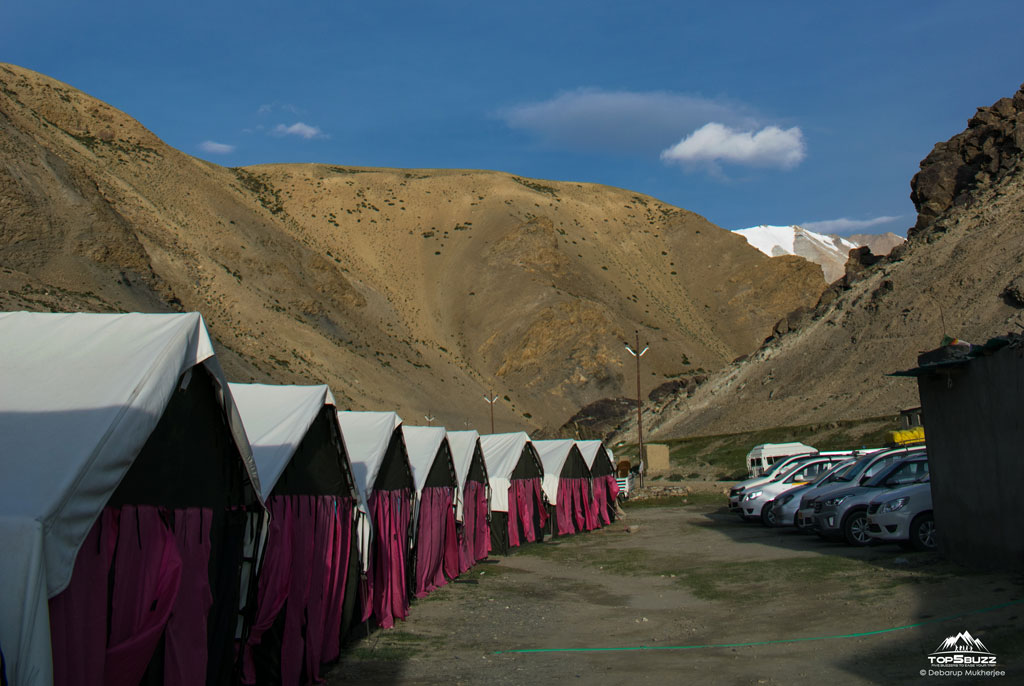 Tsomoriri was another place from where we have experienced stunning night sky view.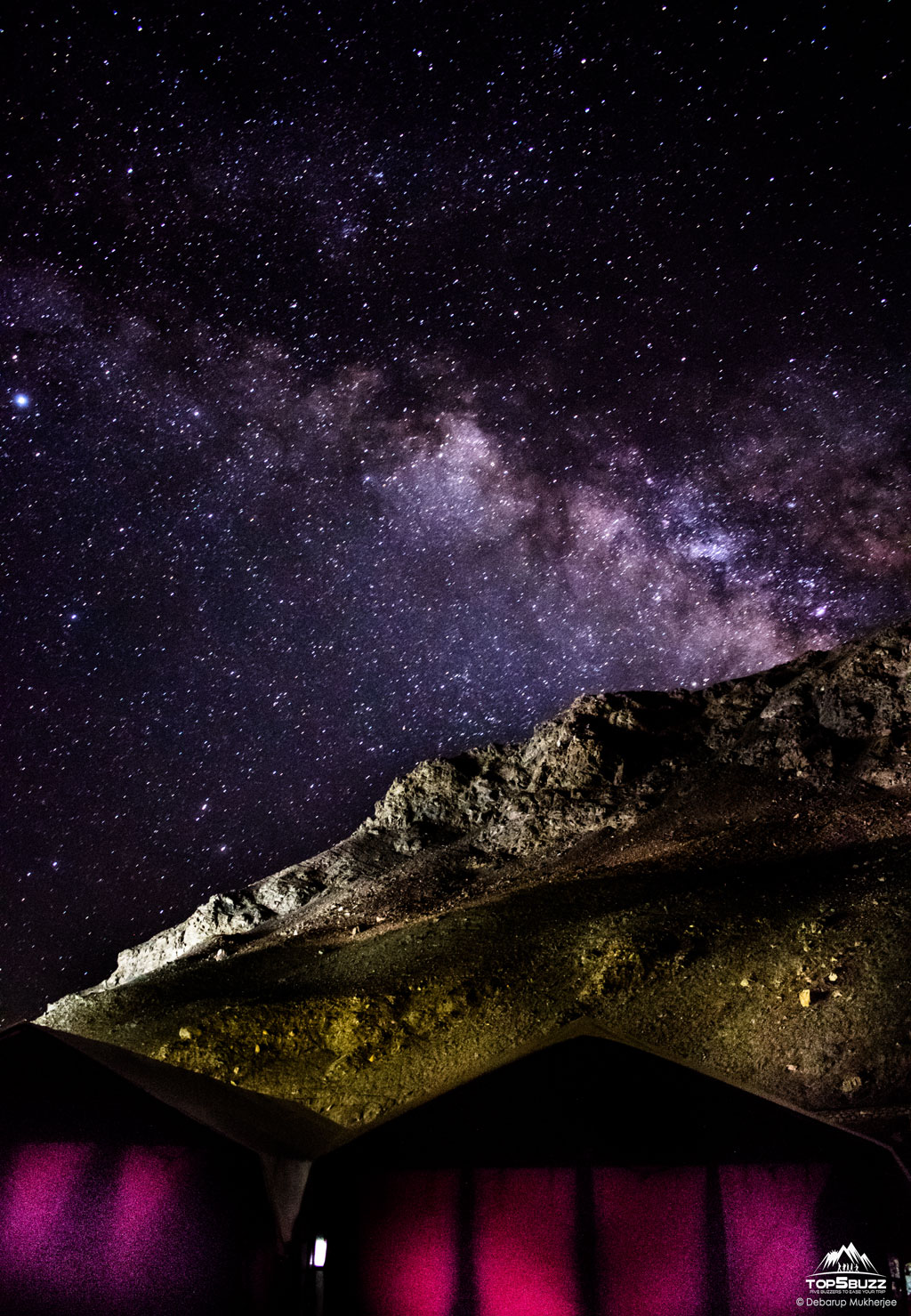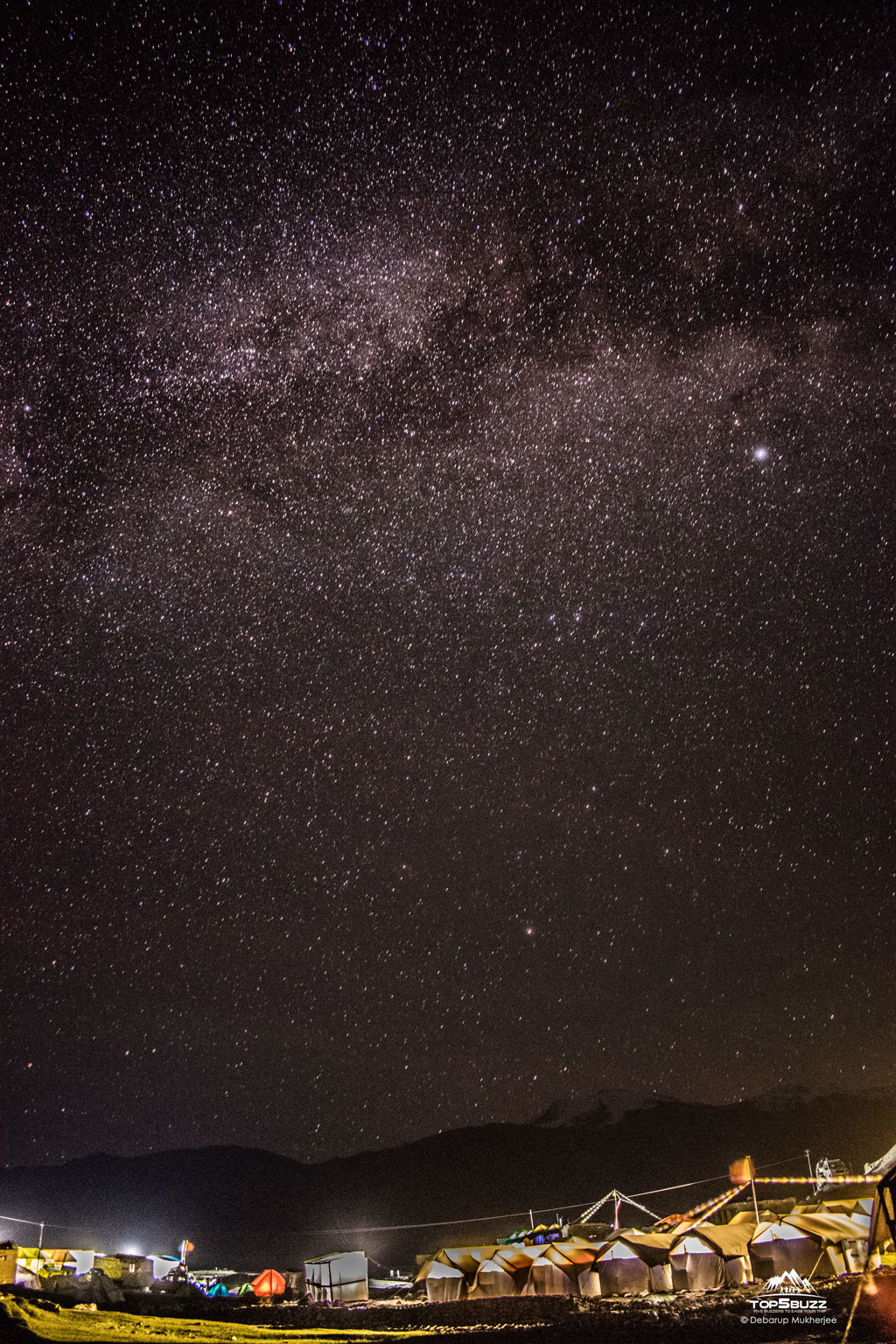 TIPS: Don't forget to take your last day dose of Diamox here.
Day 5 (6th July, 2016)
Tsomoriri to Leh
After having a delicious breakfast at the Tsomoriri camp, we headed towards Leh which is almost 220 km. It takes 4 to 5 hours to reach Leh. In this journey, we have seen some of the most stunning roads.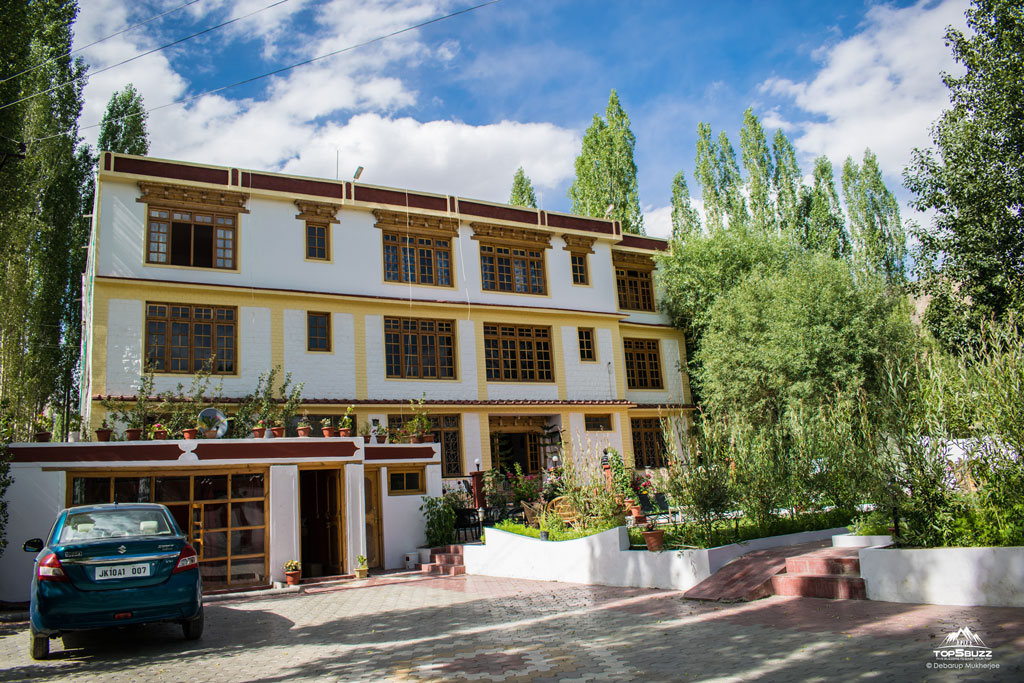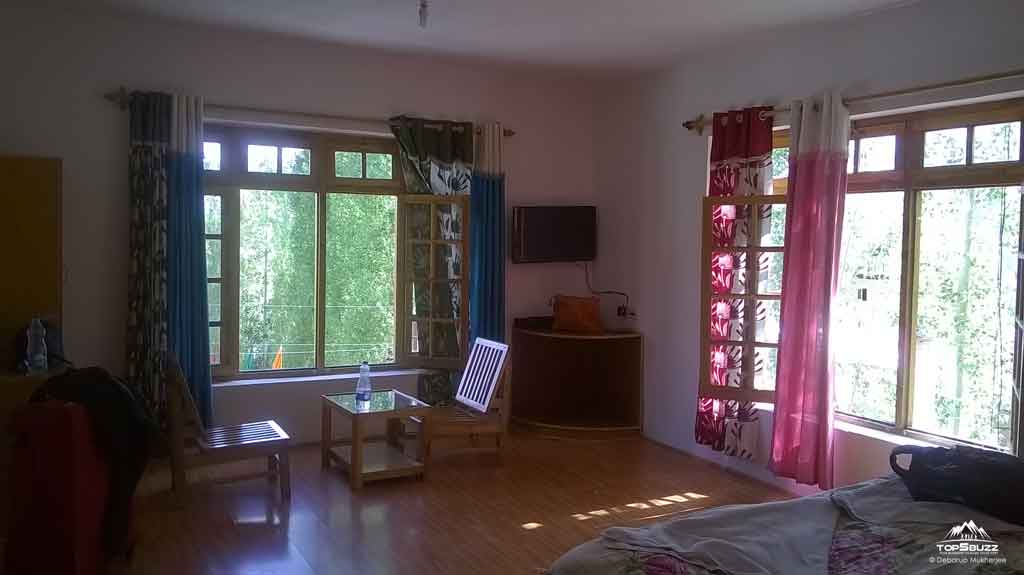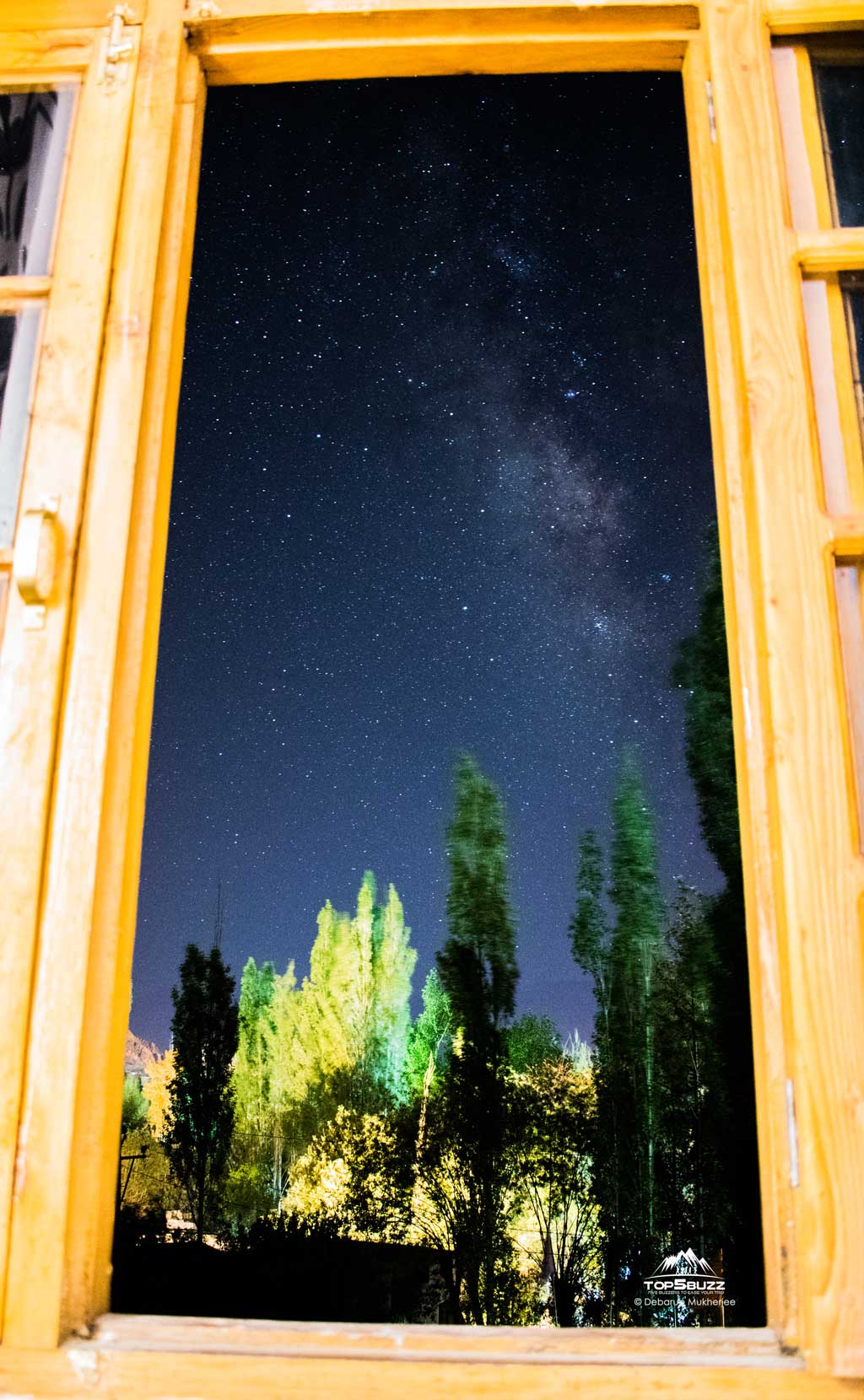 We have reached Leh at 4 O'clock that day and booked rooms at "Hotel Two Star". It was after three days that we could finally take some bath. The weather in Leh is quite dry during the months of July and August.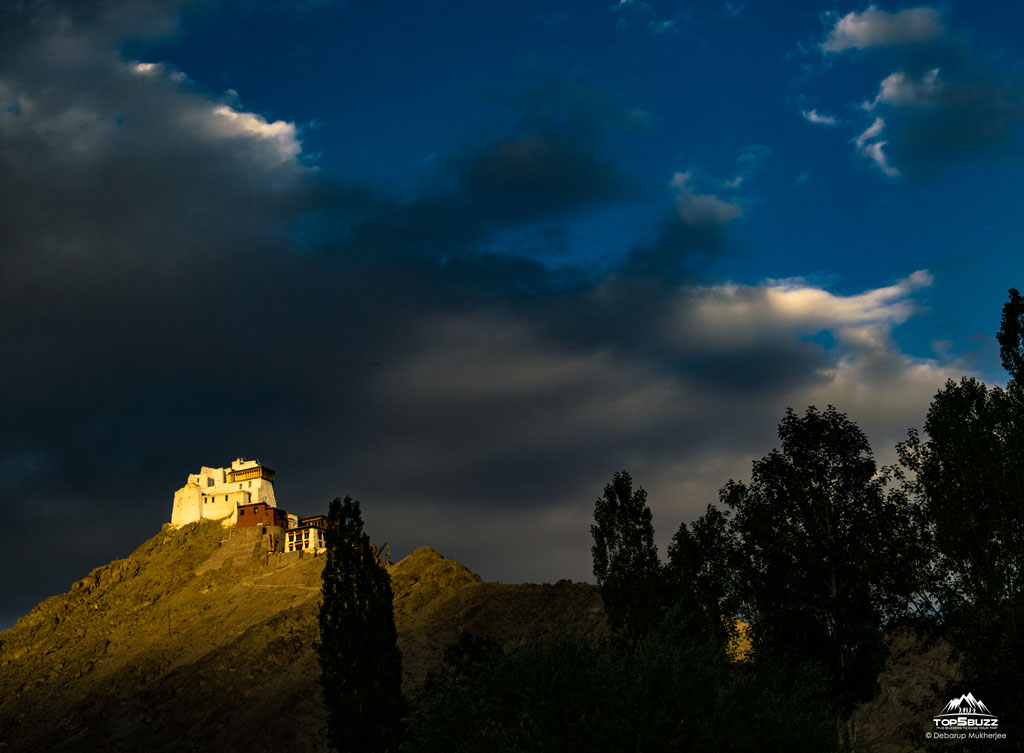 While the day time is hot, the night time is chilly cold. But overall, the weather is pleasant. We got to see blue sky with floating clouds. From our hotel room and roof we got a clear 180 degree view of the Stok Kangri Range in one side and on another side we got a wonderful view of the Khardungla Pass.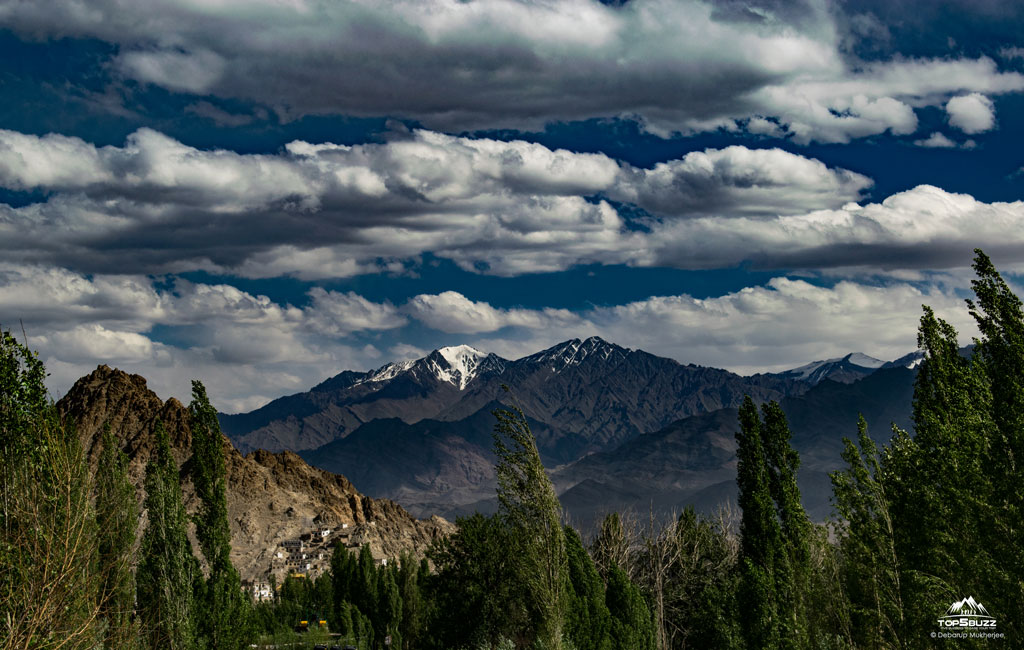 It was a magical night once again. We got the stunning view of the mighty Milky Way across the clear night sky over the Leh city. After reaching Leh, we took full rest.
Day 6 (7th July, 2016)
In Leh
Next Day we began our local sightseeing in Leh city. The following places that we visited here are as follows –
Thikse Monastery
Shanti Stupa
Leh Palace
Spituk Monastery
Hemis Monastery
Druk White Lotus School aka 3 Idiots School aka Rancho's School
For lack of time, we had to miss the Phyang Monastery, Shey Gompa, Stok Gompa & Alchi Monastery.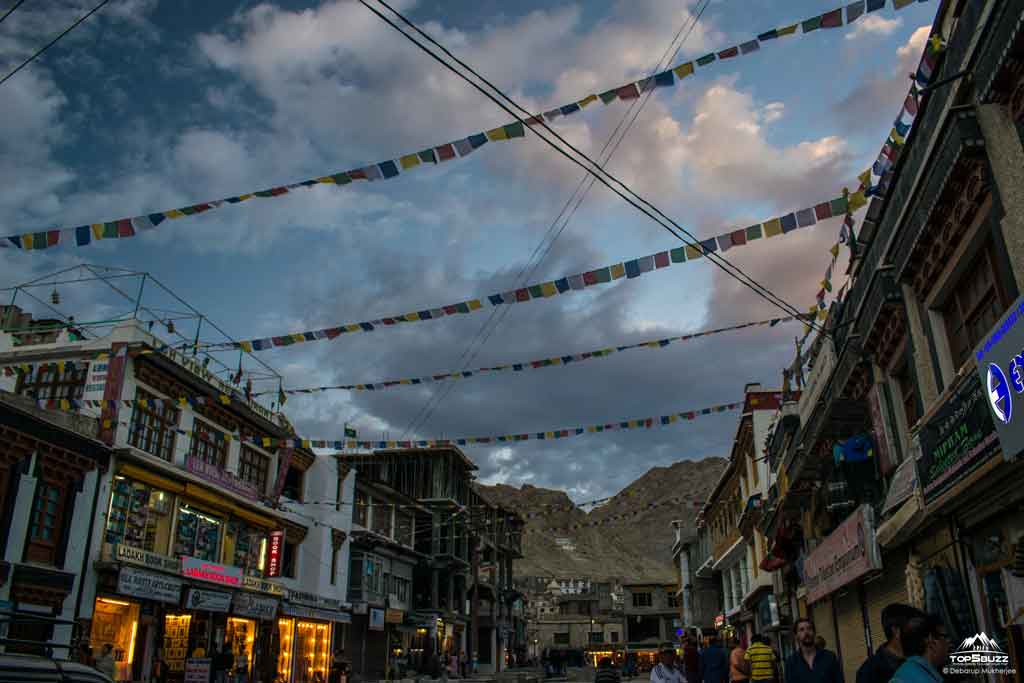 In the evening, we roamed around the Leh market area and did some "window shopping" also. There is a place called the Changspa Street, which was just a few steps away from our hotel.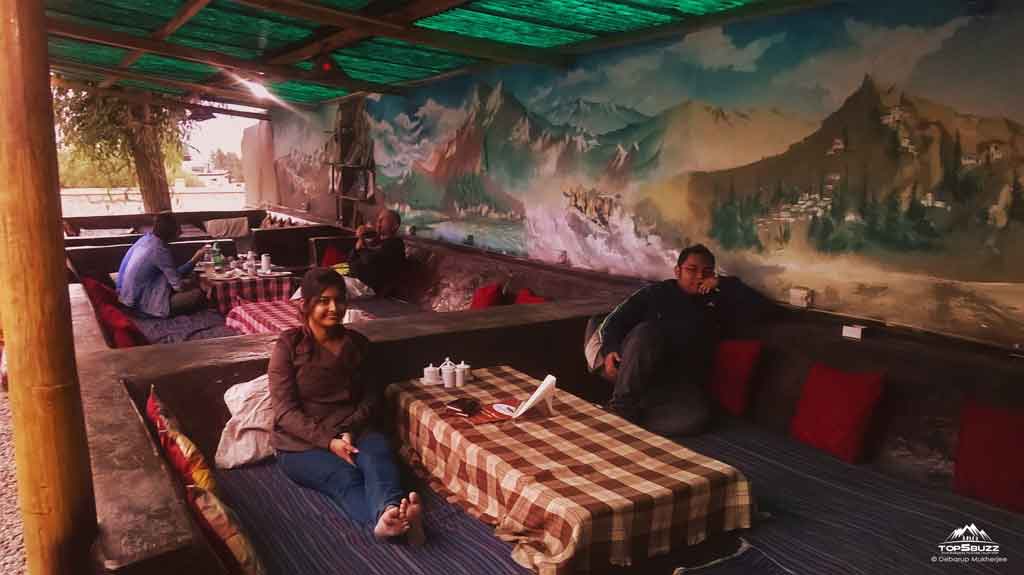 Changspa is one of the most happening areas of Leh. You can find lots of open restaurants for foreigners there.  We took some snacks from an open restaurant called "La Piazzetta". You can try the tandoori kababas which were very delicious.
Day 7 (8th July, 2016)
Leh to Nubra Valley
After taking breakfast early in the morning, we started for Nubra Valley.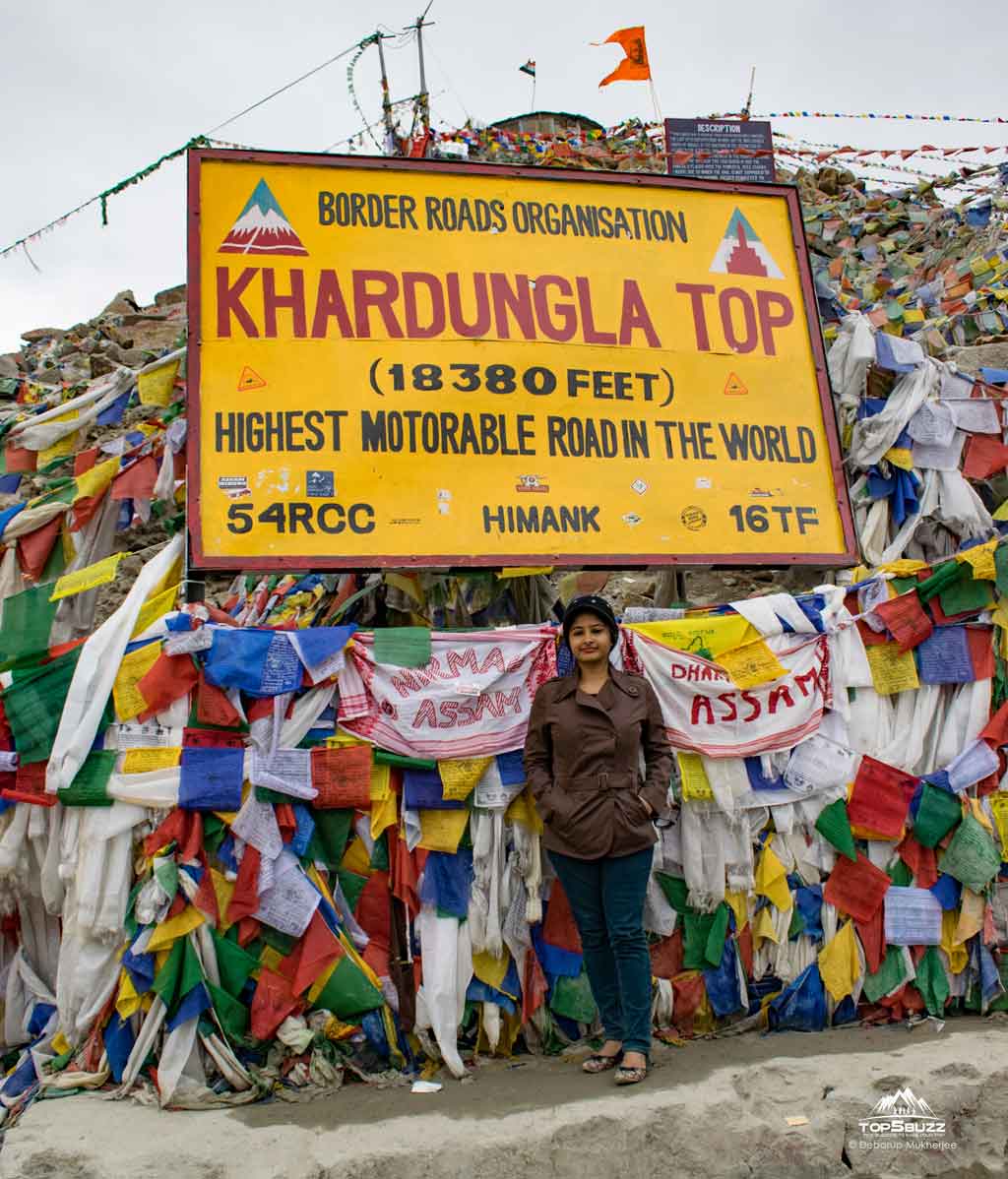 Nubra is 150 km away from Leh city. Its original name is Ldumra, which means the Valley of Flowers. Nubra is a high altitude cold desert. Here, the river called Shyok meets Siachan River and forms a large valley separating Ladakh and Karakoram Ranges. The altitude of Nubra is 10,000 ft. above sea level. Every tourist needs to cross the Khardung La pass from Leh city to reach Nubra.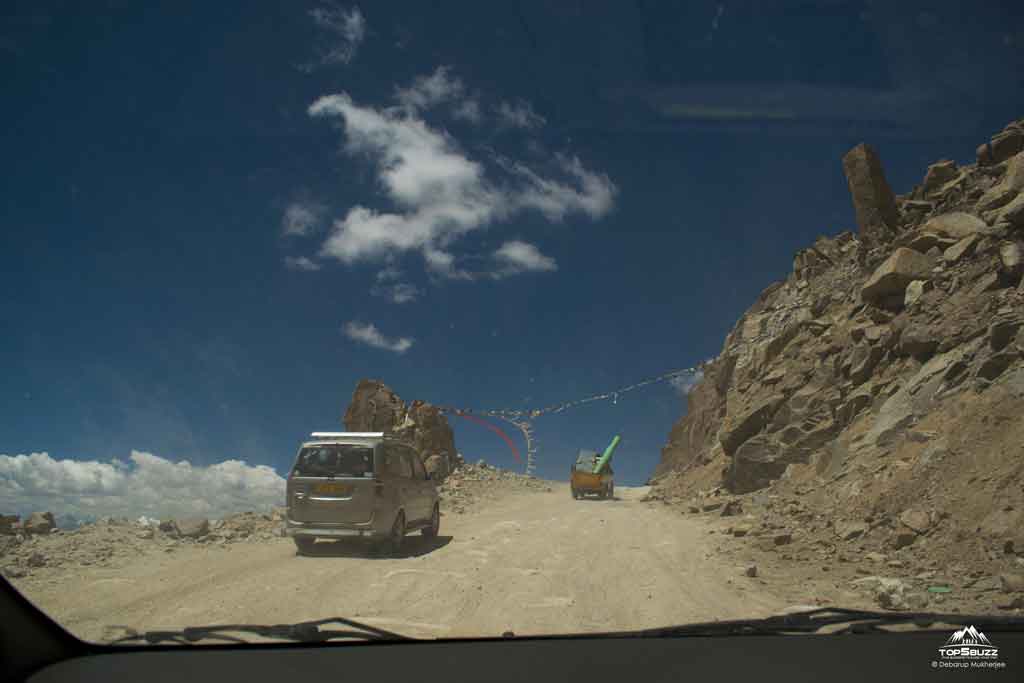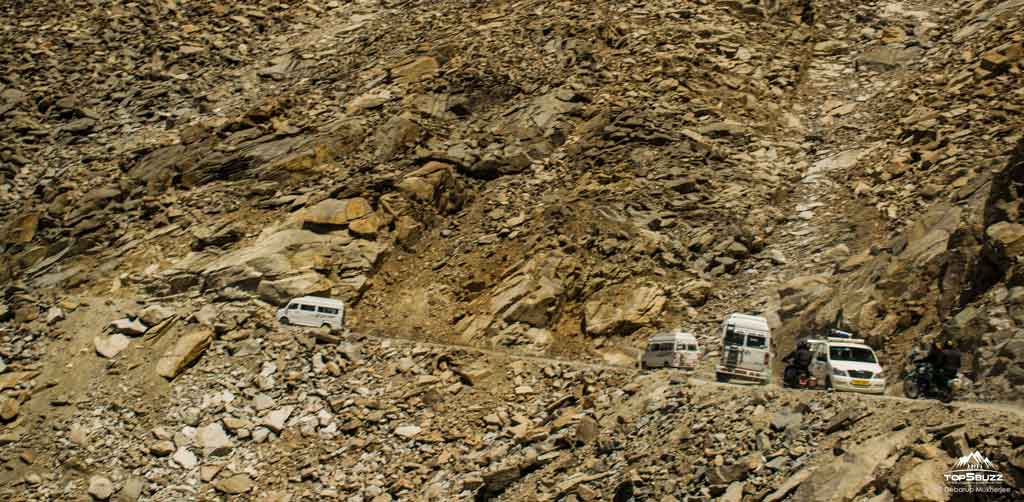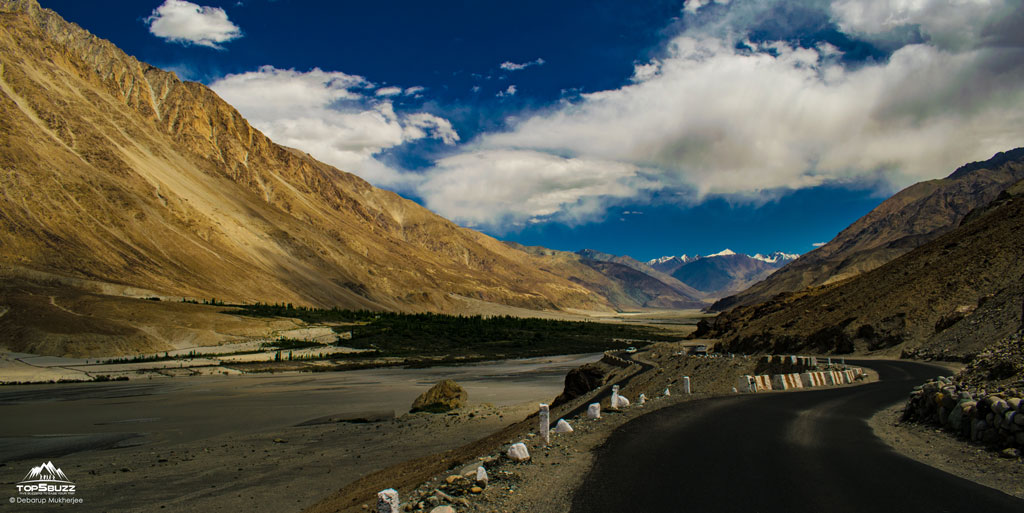 The road towards Nubra from Leh city is quite challenging. But after crossing Khardung La it is better. The enroute town is called Hunder in the Nubra Valley. You can find lots of Bactrian Camels and sand dunes at Nubra Valley. Just before entering Nubra, visit a 33 metre long Buddha statue or Maitreya facing towards Pakistan. This statue of Budha symbolizes peace. On the left side you can find Diskit Monastery.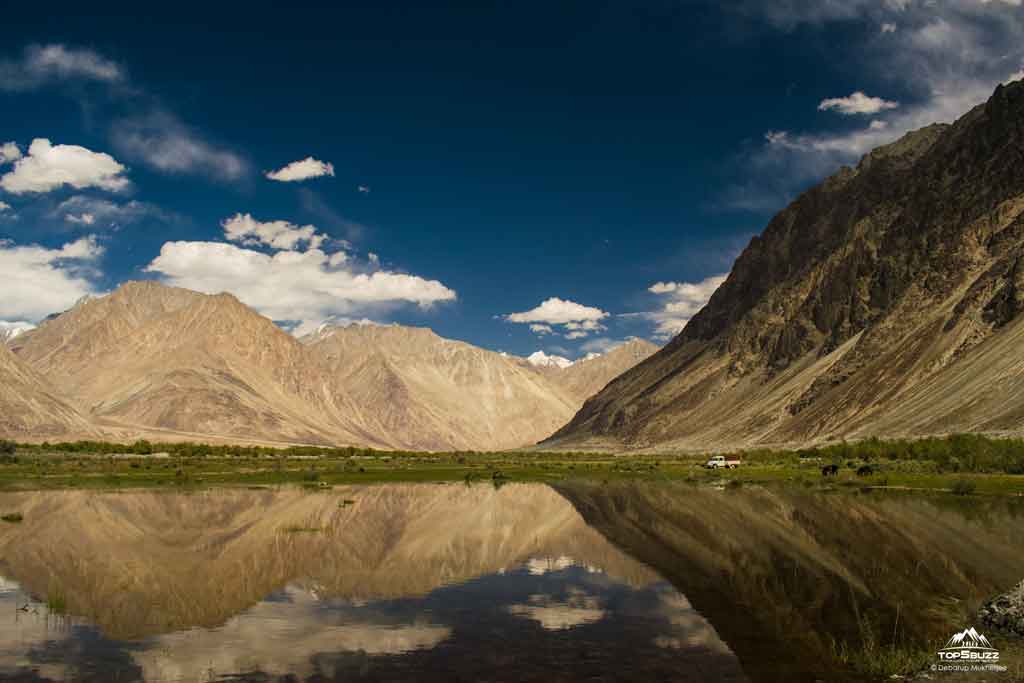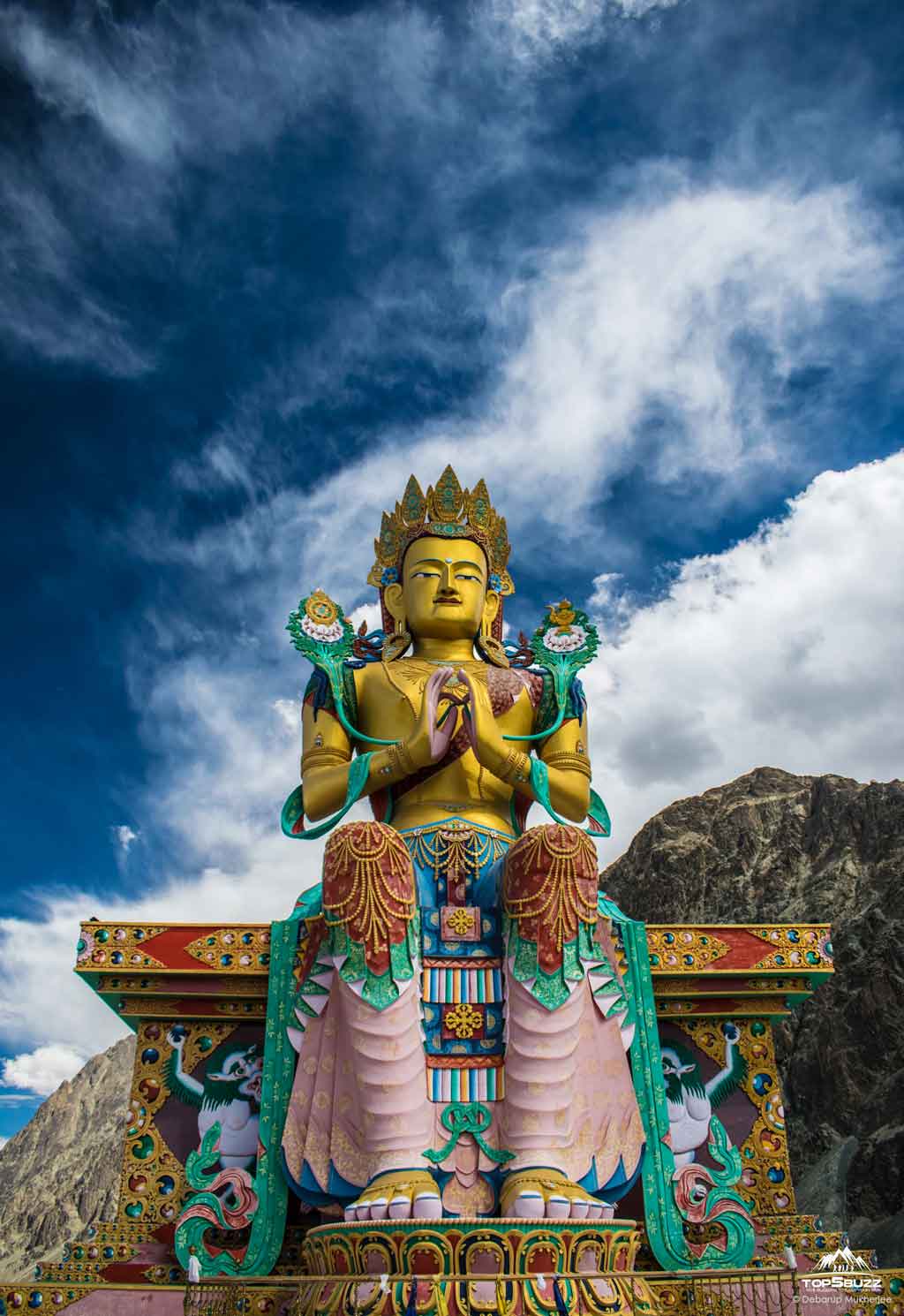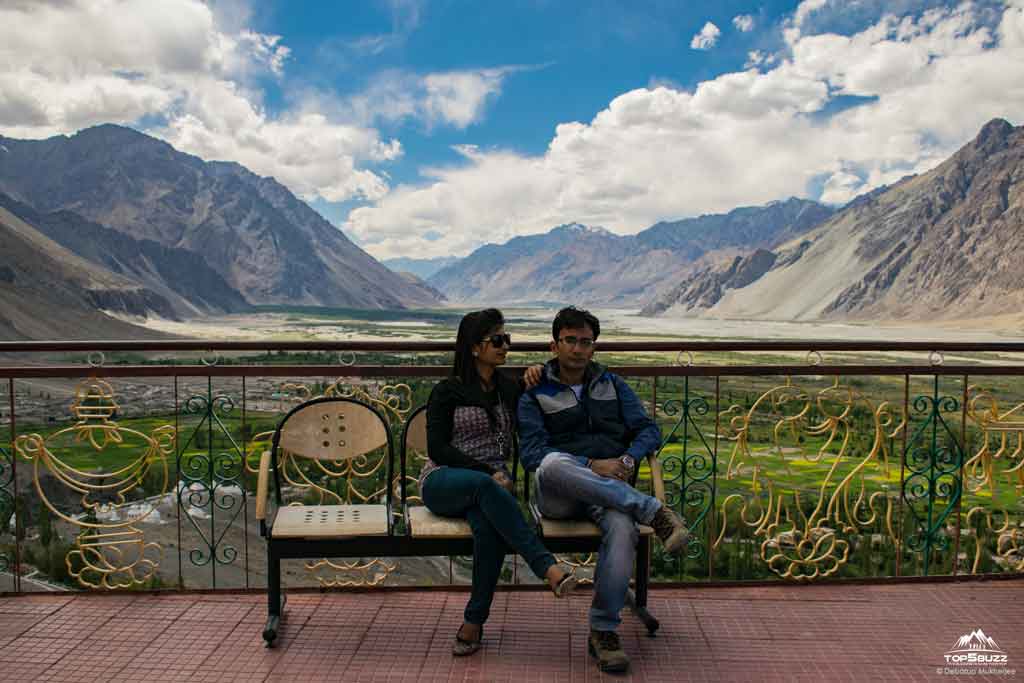 TIPS: From the base of the Buddha statue, don't forget to witness the mesmerizing view of the whole valley. You can find a 270 degree view of the valley.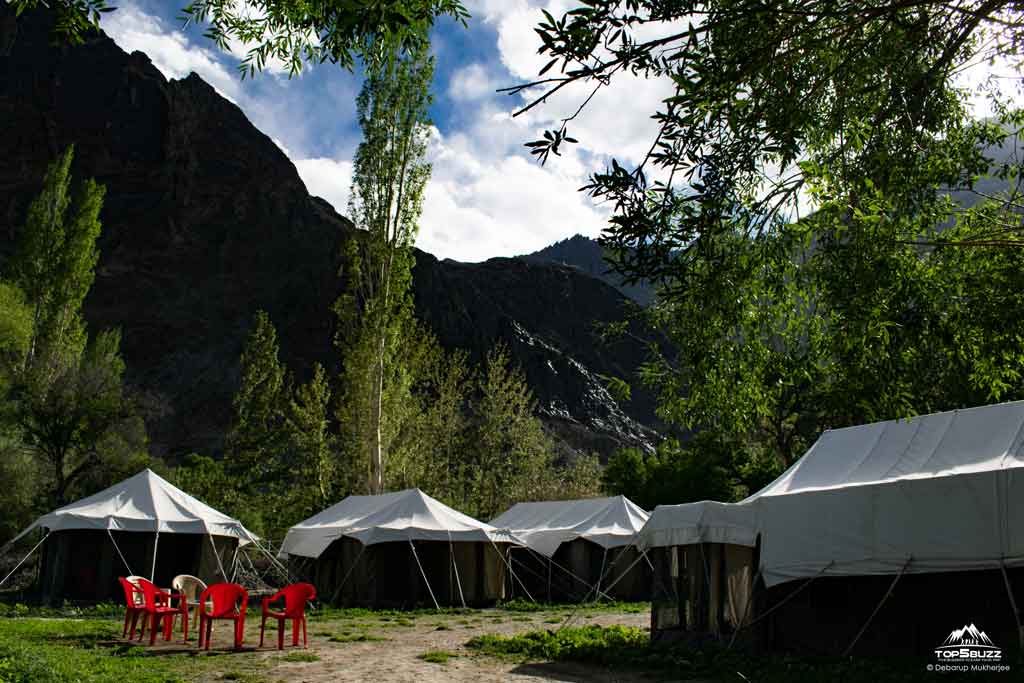 We stayed in Edel Weiss Camp at Nubra Valley. It was one of the most comfortable and well organized camps during our tour. The location is just in the middle of hills and jungles. In the night you can see starry night with Milky Way.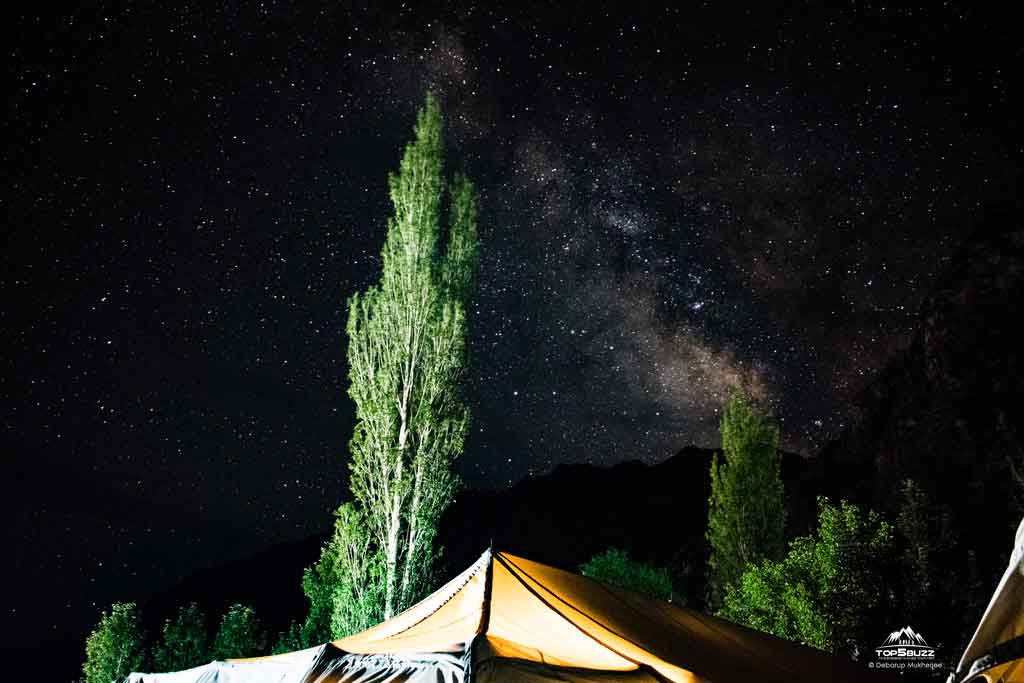 Day 8 (9th July, 2016)
Nubra Valley to Leh
We enjoyed the sand dunes in Nubra Valley, experience the camel ride. The landscape at Nubra is unbelievable.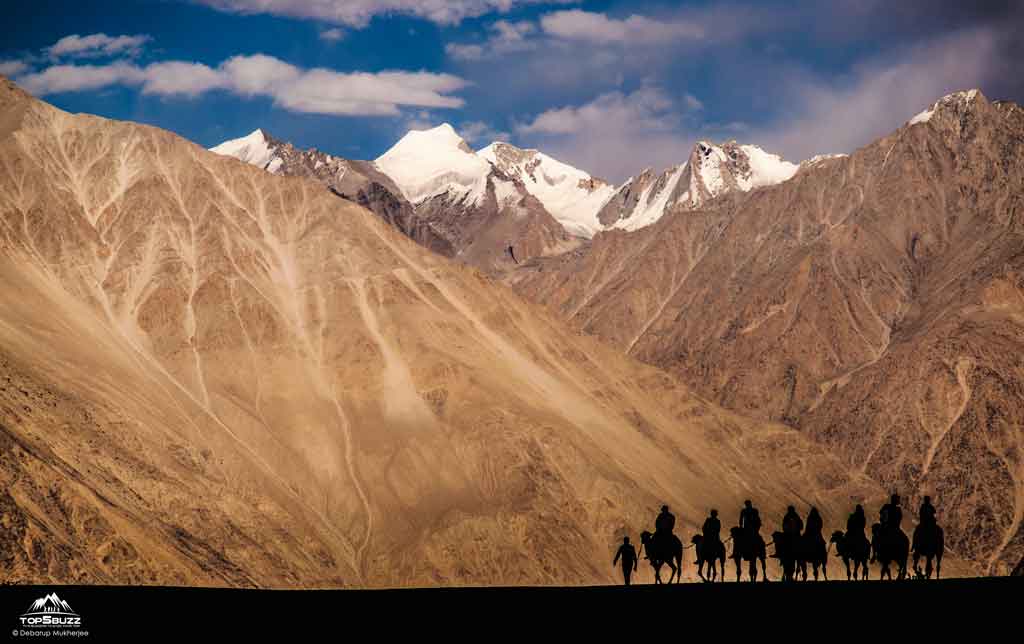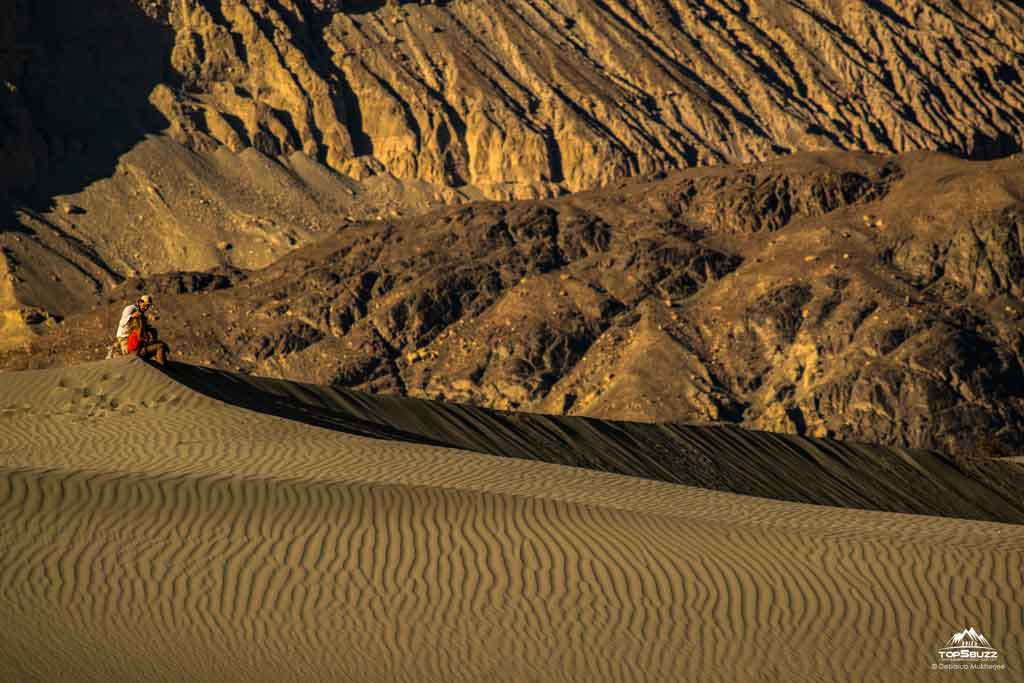 Sumur Village: Next day it was time to go back to Leh again. Finishing our lunch, we began our journey. Our first stop was at Sumur. Sumur is a small village 42.9 km away from Nubra. It is just opposite to the Siachan River. It is a quiet and peaceful stopover near Nubra. You can see the Yarab Tso Lake there. Sumur is situated about 10,827 ft. above the sea level.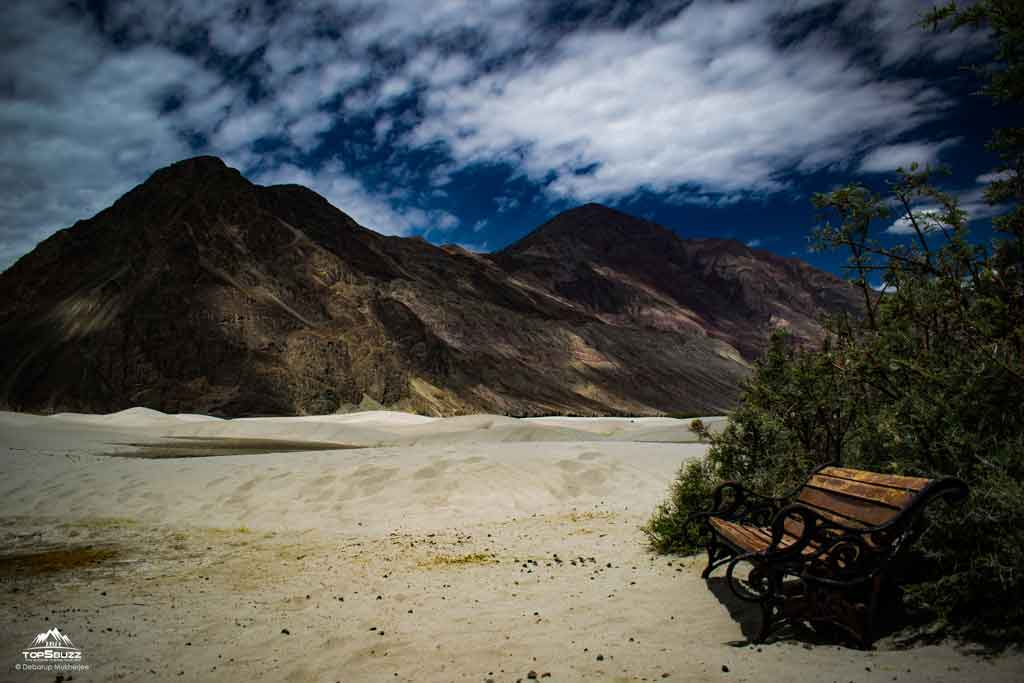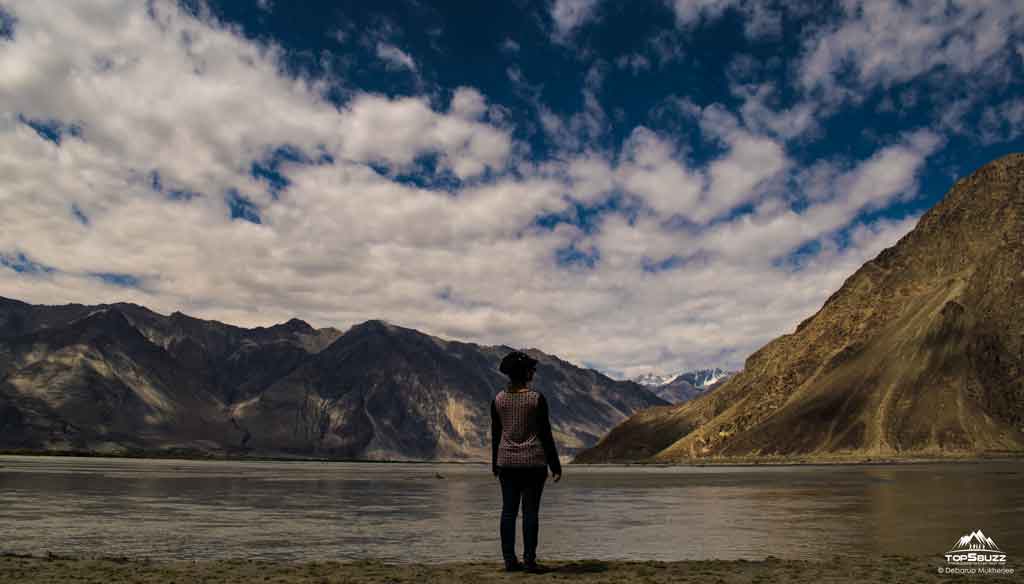 We reached Leh around 4 o'clock that day and took rest afterward.
TIPS: Don't forget to visit Sumur on your way to the Nubra Valley Trip.
Day 9 (10th July, 2016)
Leh to Pangong Tso
Our last destination was at Pangong, which is about 222.9 km from Leh. Traveling from Leh to Pangong will take about 5 hrs to reach. We then headed to Pangong Tso after a light breakfast from our Leh hotel.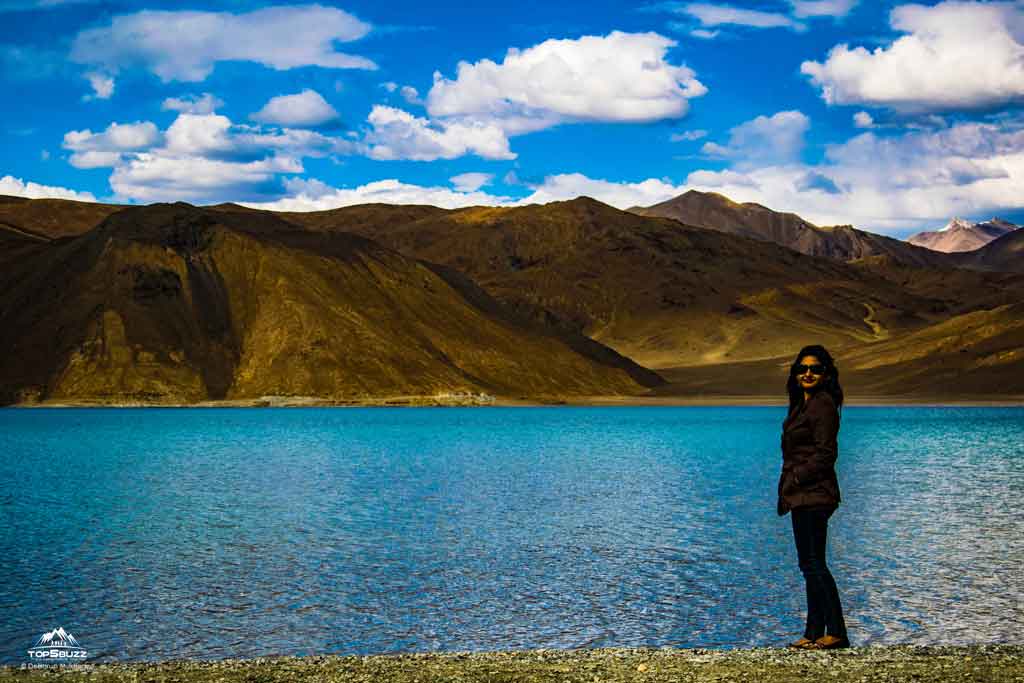 Recommending to read the article: Our journey and experience in Pangong Lake
Start reading this article if you want to learn more about our Ladakh tour. We returned to Leh around 4 pm and took a whole day rest.
Day 10 (11th July, 2016)
Leh to Kargil
As I mentioned earlier, our initial plan was to go Srinagar via Kargil, but we had to change our plan due to political unrests happening at Srinagar.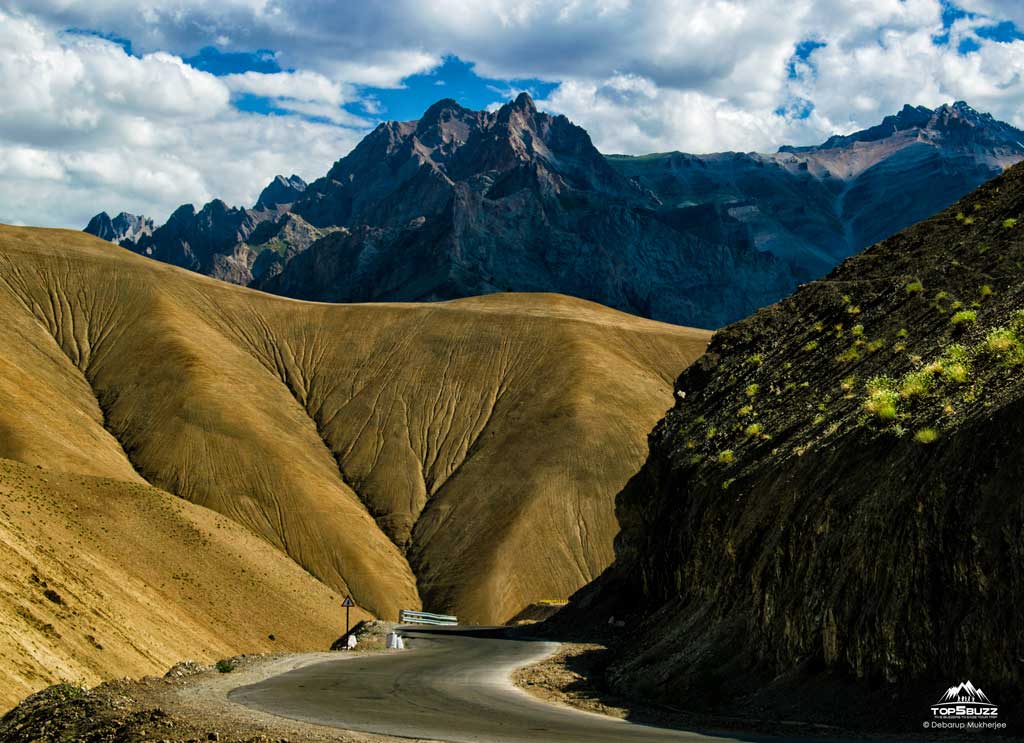 We decided to go up to Kargil and then return back to Leh from where we would catch our flight. It was sheer bad luck that Air India didn't refund our money, which was a major issue for many travellers like us at that moment.
We started our journey towards Kargil and it was a journey to remember. The road was NH1. It is one of the most beautiful roads on earth.
What we have experienced during our journey to Kargil from Leh?
Discover the variations and colors of the hills here. Structures of the mountains are so different if one looks at them from one side.
The attraction points we have seen during our journey:
Magnet Hill
Confluence of the Indus and Zanskar Rivers
Fotu La Pass
Lamayuru, the moonland of Ladakh
Lamayuru Monastery
Mulbekh Monastery
Recommending to read the article: 6 Attractions During Our Leh to Kargil Road Trip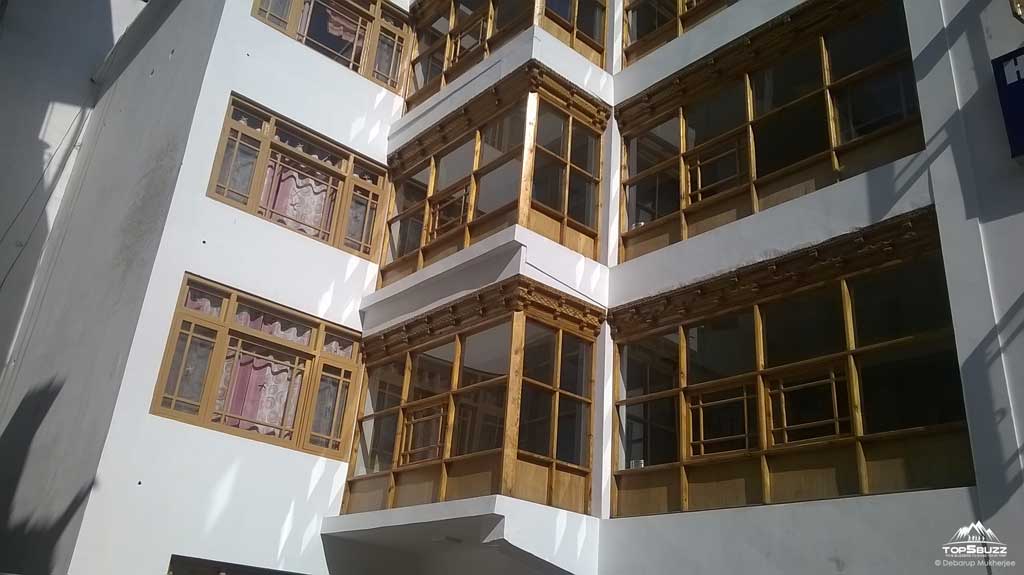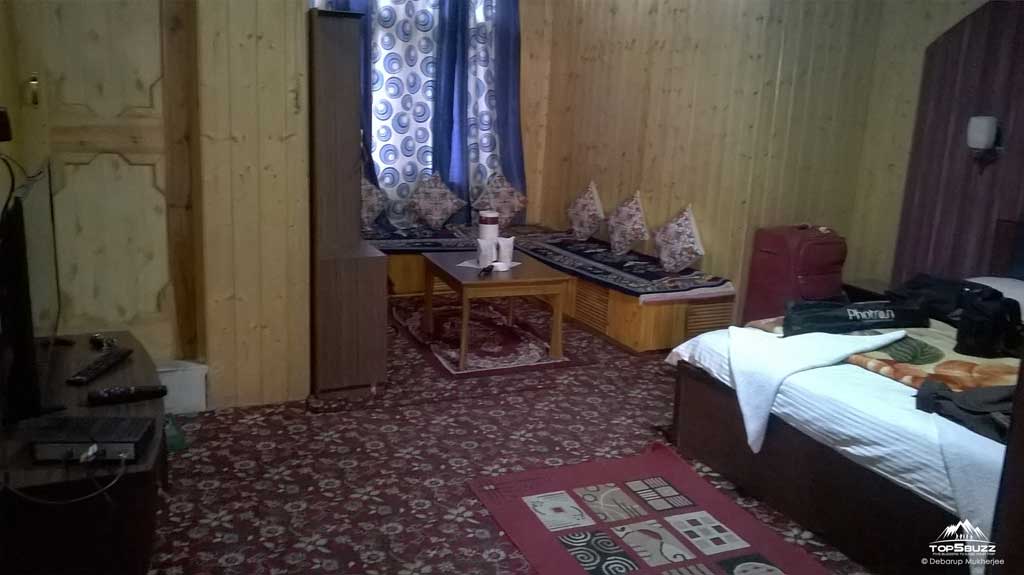 We reached Kargil just before the sunset.  There was nothing to do that day so we decided to please our appetite with yummilicious Tandoori chicken. We booked rooms at Hotel Jan Palace in Kargil.
Day 11 (12th July, 2016)
Kargil to Leh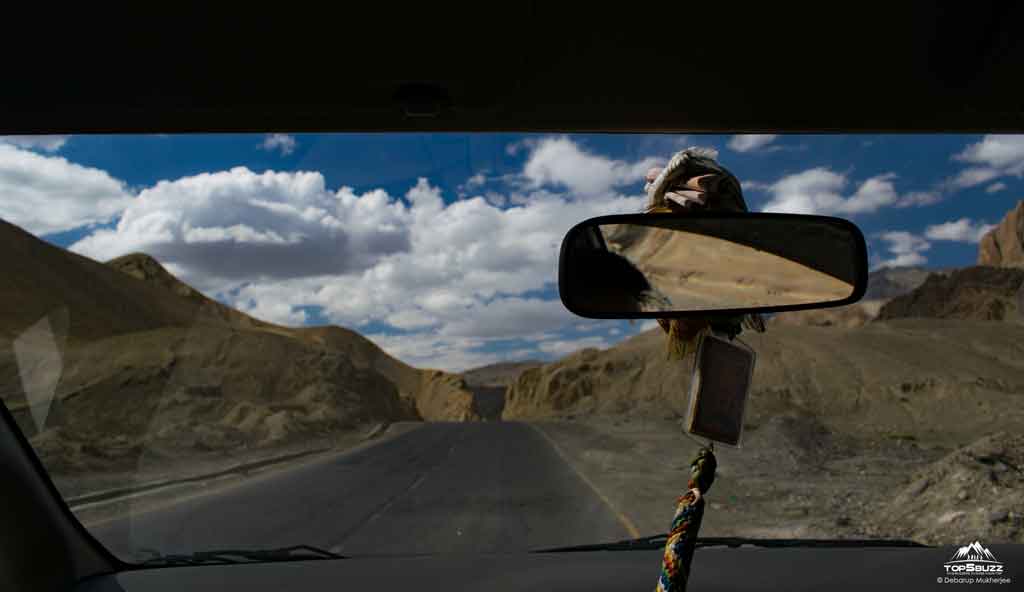 We return back to our Leh hotel the next day and started preparations of leaving next morning. We enjoyed our grand dinner party at Bon Appetit restaurant in Changspa road, Leh.
Day 12 (13th July, 2016)
Leh – Delhi – Kolkata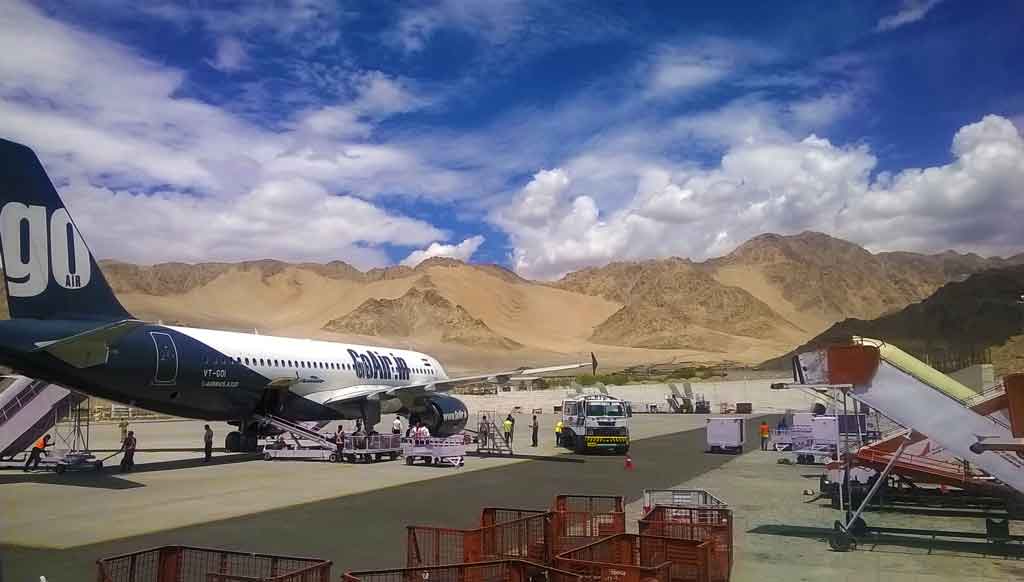 It was time to say good bye to Ladakh – an unforgettable tour which you must take atleast once in your life. But beware for it will make you greedy to visit the place again and again. We boarded our Kolkata bound flight via Delhi.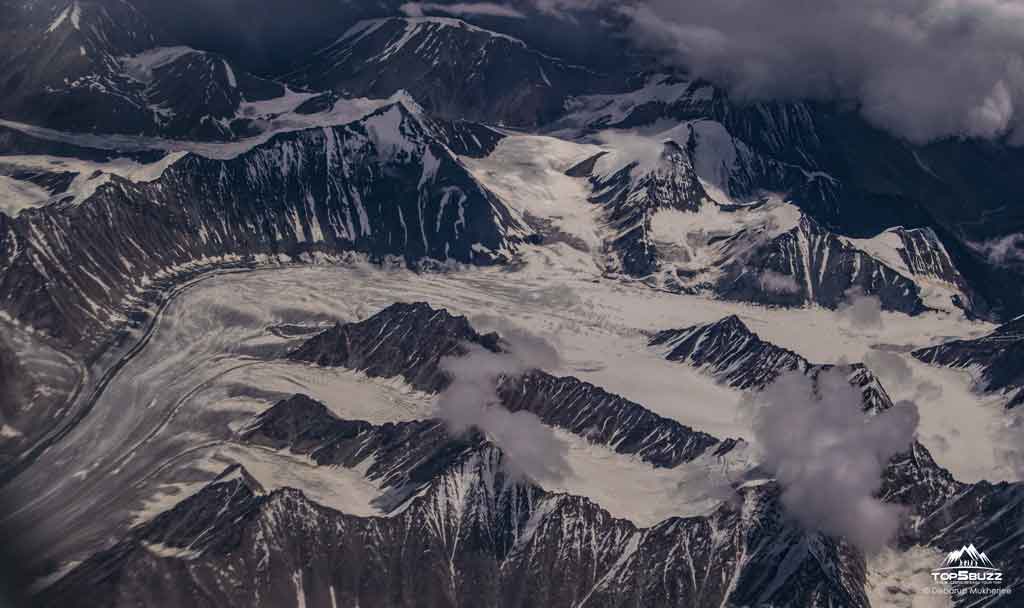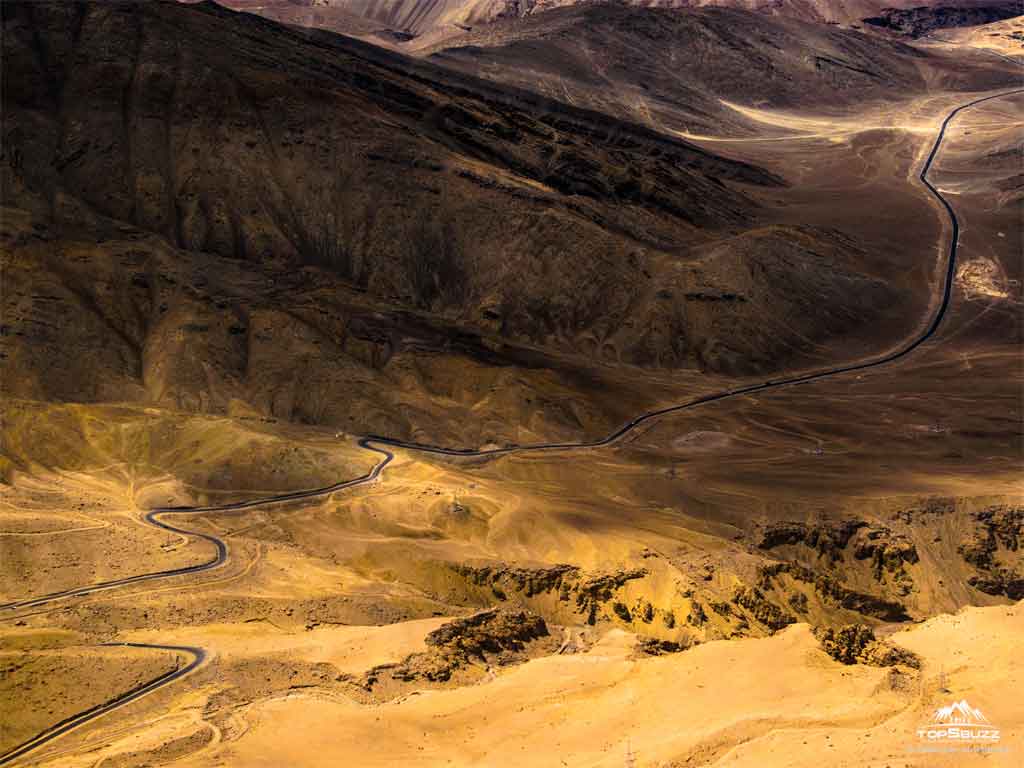 We enjoyed the aerial view of the Himalayan ranges from the flight window side seats, which was a bonus in our trip as our plan was to leave from Srinagar.
Things to be mentioned must: You can do this trip with many other organization like Make My Trip, Yatra and others blah blah blah but believe me you will not get satisfied with the trip which they will provide you. I would like to recommend one person and his company called Ongoz Escapades for this Ladakh Trip. The person who was the backbone of this whole plan, Indranil da (Indranil Kar). I was got in touch with Indranil da via Facebook. He is an awesome guy with full of trekking knowledge and full of travel experience in Ladakh. He organized and guided us for this quality, perfect, A1 trip. This is the only reason why I have planned to go with him again in Sandakphu Trek, Chadar Trek, Gochela Trek and Panchachuli Trek.
Some important notes before you plan to visit Ladakh: 
#1. It is an expensive trip – If you are a true nature lover please don't plan for a rush tour. It will be totally a waste of money for you, as well as energy and health.
Our total expense for two was Rs. 1,25,000 [I have not added the extra air fare which we have given for the changed plan in the last moment].
We started saving our money since January 2016, from 6 months before our trip.
#2. Best Time To Visit – June to September is the best time to visit Ladakh
#3. Don't plan for a short trip – A short trip like for 4 – 5 days trip Fly to Fly mode. It may become very unhealthy for you as you are not giving time to your body to acclimatize with the high altitude.
#4. Do plan for a Road trip – Road trip to Leh is the most adventurous experience among the travellers.  It can be Manali to Leh or Srinagar to Leh.
***I would recommend Manali to Leh as the landscape beauty is awesome in this route. Also the body will acclimatize very good as you are slowly gaining the altitude here.
#5. Take a course of Diamox – If you are not confident about your health condition at the high altitude, then I would recommend you to take a course of Diamox tablet. Take total 6 tablets day and night for 3 day. We started it from Manali. It can prevent the effects of AMS (acute mountain sickness) like headache, breathing problem, tendency of vomiting.
NOTE: Please take advice from your Doctor before you consume Diamox.
#6. Leave Early, Sleep Early – In hill areas, specially in high altitude you need to follow the rule "Leave Early, Sleep Early". That means if you leave early in the morning you can get plenty of day time to reach your destination as in night time it is bit risky to drive in those twist and turns. Sleep early is obviously to get plenty of rests and wake up early in the morning and enjoy the sunrise.
#7. Drink Plenty of Water – Please drink more and more water to hydrate your body at the high altitude. It will help you to acclimatize your body at the high altitude.
#8. Don't throw wastage – During your road trip don't throw any wastage like empty water bottle, biscuits packets, paper, foods etc.  Help to keep the roads and nature clean. This will contribute to reducing the chances of pollution in the Himalayas. This will also reduce the chances of get anything stuck in the wheels or tiers of car and heavy vehicles, leading to unwanted accidents.
#9. Don't pee in Waterfall's water line – Don't pee on the water line of the waterfalls. Because local people use water from those Waterfalls for their daily life.
#10. Don't forget your camera – Don't leave your camera behind. It is a must have thing during your journey.
#11. Be cautious – Be cautious at the army check points. Don't take any photographs when you are crossing any army check posts.
#12. Maintain Silence – Do maintain silence in the monasteries.
#13. Changspa Local Market – You will get very affordable souvenirs from the local market of Changspa Road, Leh
#14. Apricot Juice – Do try apricot juice at Leh.
Hope the above information helps you to plan your next trip to Ladakh. If you like my article, please do share it with your friends and family members in social media.
Till then Keep Travelling!
---
Still Confused!? Need help to plan your Ladakh Trip?
Keep in touch with me here: Facebook or mail me at contact@topfivebuzz.com
How this post make you feel?