Of all the treks that I had gone to, the Kanchenjunga Circuit Trek remains by far the most remarkable of all. And why not? After all, this was a journey to the base camp of the world's third tallest mountain.
Kanchenjunga, meaning the "Five Treasures of the Great Snow" is a journey into the solitude of heaven. Apart from the superb view of the high mountain peaks; the spectacular sight of the wildlife, the flora and fauna, the pristine forests,the friendly locals and their culture…as we walked our way along the trail, we realized that planning this journey was indeed worth of a lifetime.

The Trek to Kanchenjunga Base Camp – The Plan
Planning this trek took us friends nearly six months. Among our busy life schedules, it was a difficult task for all of us to reorganize our calendars and to come to a final date to start this journey. But we managed to do it finally!
Though we were going with a registered trekking company that would take care of our entire accommodations, there were a few things that we had to take into consideration.
The first thing was getting trekking permits
According to the Nepal Government, trekkers should be having two trekking permits for this journey. One, a Kanchenjunga Conservation Area Permit with a validity of one month. Two, a restricted area permit of four weeks.
For more reference visit here: http://www.online.nepalimmigration.gov.np/trekking-permit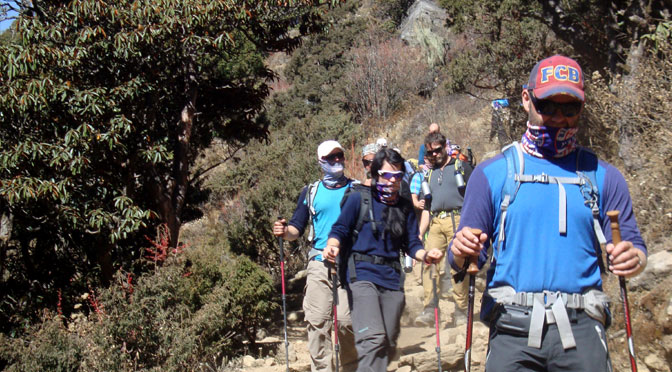 Trekking to high altitudes required some level of fitness and strength.
Therefore, apart from keeping ourselves physically fit, it is generally recommended to carry the least possible weight along the journey.
Nevertheless, there are some equipment and needs that every trekker has to carry, all of which together become enough load that one has to bear. Such as clothing for hiking, gears and other things necessary to be in the trip.Even though we hired a porter who would be helping us carry the load along the journey, I decided to get a lightweight travel bag for the journey.
Luckily, while searching across the internet, I came across Paq bag – a revolutionary travel bag with rotating buckle straps that could be used both as a backpack and as a duffel bag. This assured me that I will not have to carry anything extra other than a small day pack.I'll talk more about this later but now, let's keep talking about the trek –
With everything packed and strapped, it was time for me to board the train and begin my journey to the call of the mountains.
Day 1
At 8:30 PM sharp, I and my friends boarded the Kanchankanya Express from Shealdah Railway Station. It was a eleven hour journey. However, we lost track of our time as the train took us past terraced farmlands, pocket-sized settlements, distant valleys, landslides and greenery. We arrived at Shiliguri Junction at 8 AM, from where we hired a car to reach Kakadvitta.
Kakadvitta is a small region that is situated in Mechinagar Municipality in the Jhapa Distric of Mechi Zone, in the South eastern Nepal.It took us 30 to 40 minutes to reach the place, where we joined the other members of the group. We had our breakfast at Kakadvitta and after which, we changed vehicles for Taplejung.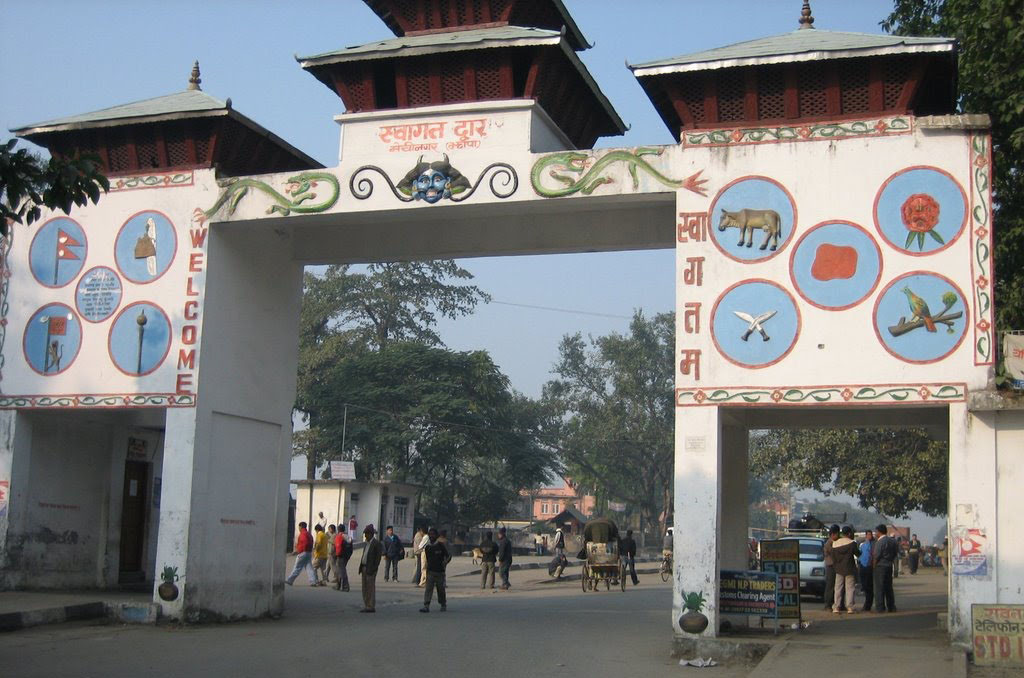 It's a seven to eight hours long journey to Taplejung and here we took rest for the day. The best thing about travelling with a travel organization is that we did not have to worry about our hotel and meal arrangements. All were done by the organization itself.
Day 2
On the second day, after breakfast we began our trek to Simbhu. It's a four hours long trek, where for the first three hours we climbed a gentle uphill that took us to the Lali Kharak.
At Lali Kharak, we had our lunch, consisting of dal and bhaat famous in Nepal. After that, we trekked downhill to the village of Simbhu and it is here that we rested for the night in our tented camps. There are other types of accommodations as well like tea houses and Home stays that you can opt for. Before that, you will need to talk to the organization that you are going with.
Day 3
Our next destination was to Khesewa village. After breakfast, we began our journey downhill. It was a five hour journey during which we crossed a suspension bridge over the Phawa Khola followed by a hard climb to Kunjari Danda. This can take a couple of hours to tackle as was in our case. But for experienced climbers it could be a cake walk.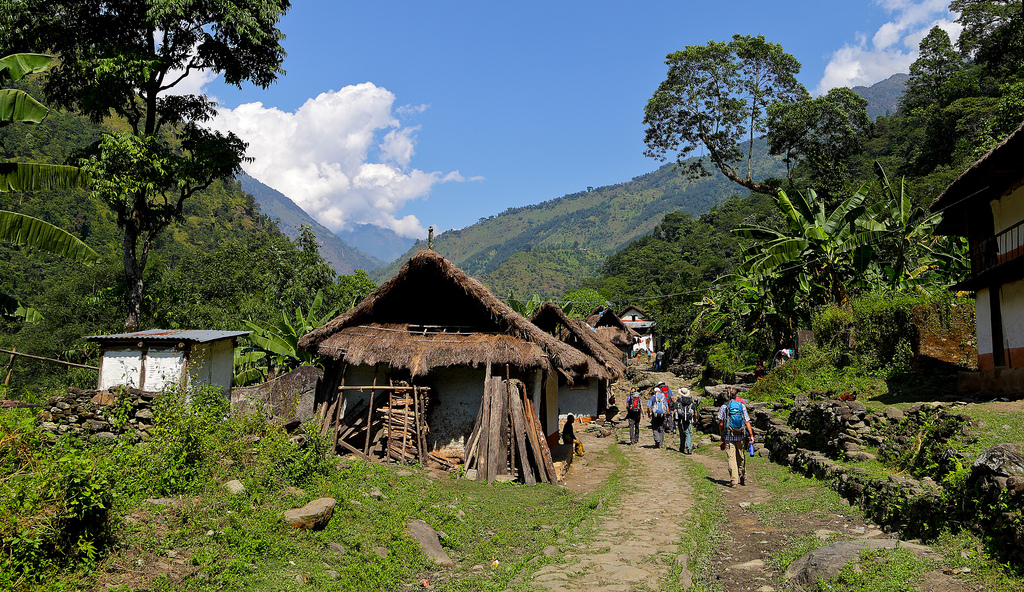 After the Kunjari Danda climb, we passed by the Sinchewa Bhanjyang to reach Kande Bhanjyang. Here we took a break to have some lunch, after which we began our journey to Khesewa village. It took us about an hour and a half to reach the camp. Finally, we reached our camp for the night.
Day 4
The fourth day began with a gentle walk to Phumpe Danda followed by a three hour climb to Mamangkhe.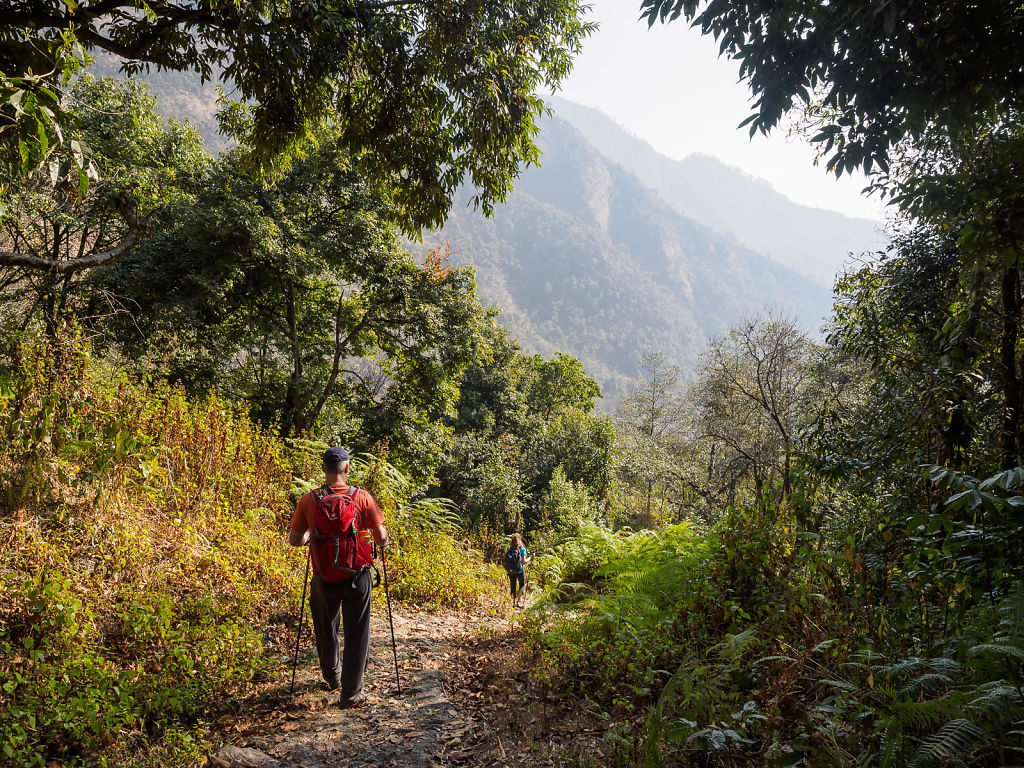 Day 5
Our morning began with a six hour flat walk to the Yamphudin village that brought us bigger village settlements along this route.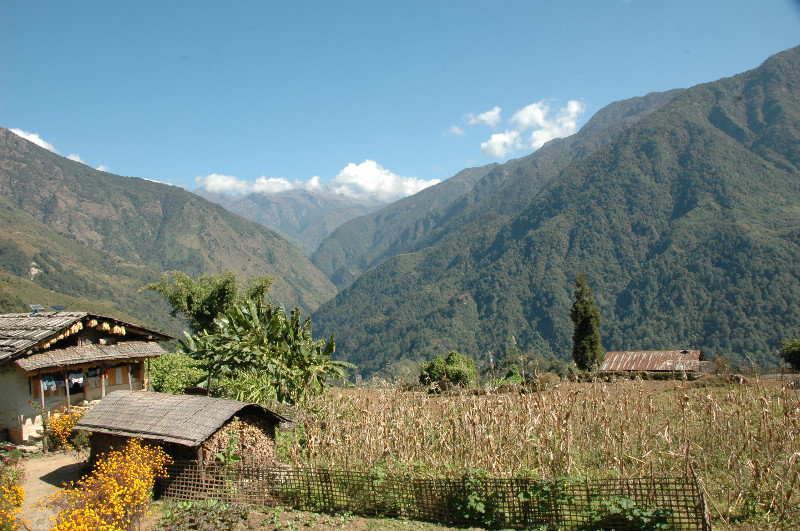 Situated at an altitude of 2080 metres, the Yamphudin village is the last settlement on this route after which we returned to Ghunsa.
Day 6
Our trail ascending from Yamphudin was a steep spur from the village settlements, introducing us to the pleasant forest, the fine view of the meadows and the steep descend of the river.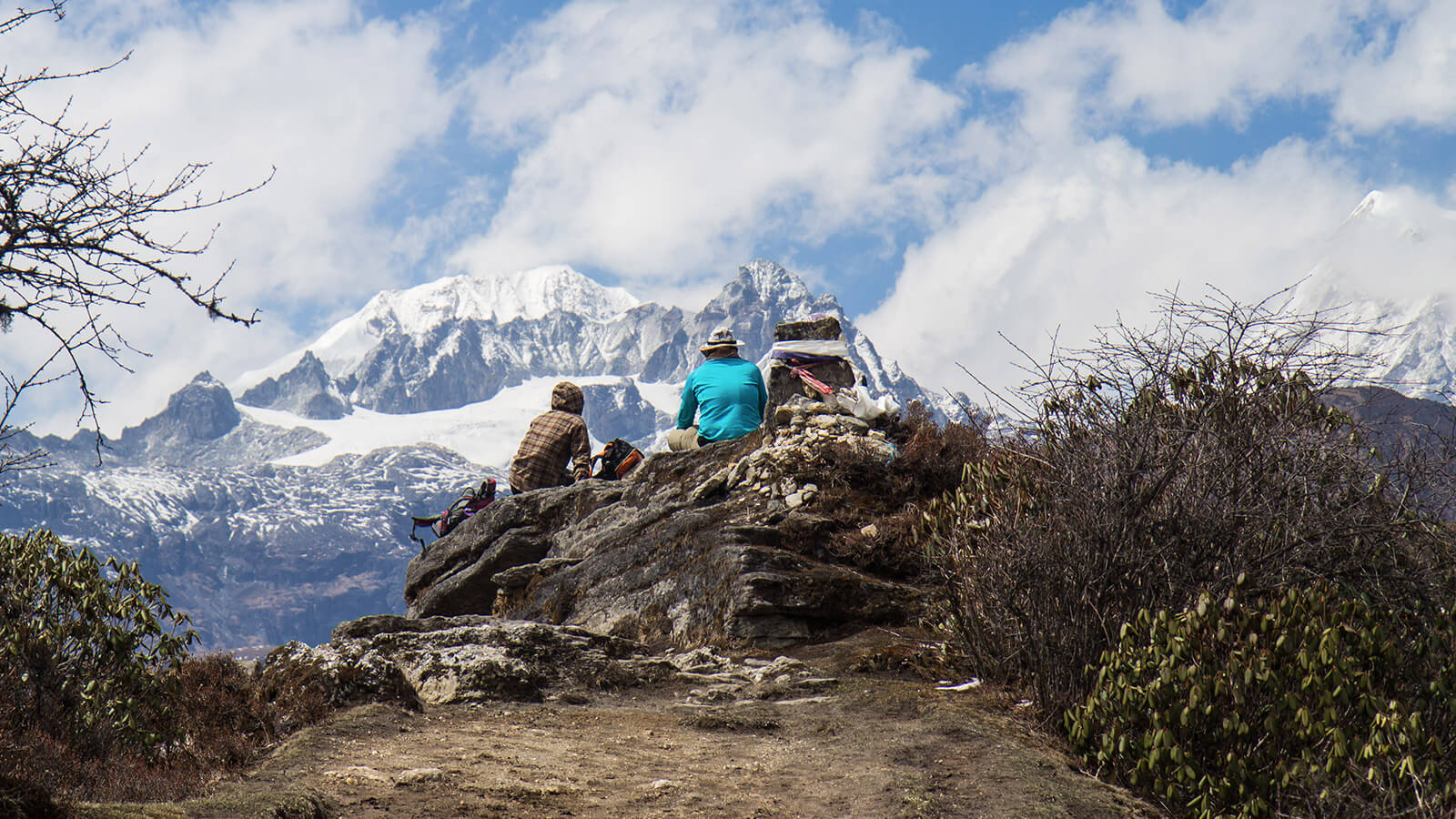 On our journey, we had to cross a dodgy bridge that took us from Omje Khola to the Chitre campsite. We stopped here for the night.
Day 7
Our trek to Tseram continued through beautiful forests, with the conifers giving way to rhododendron forest and continued until we came across the steep valley.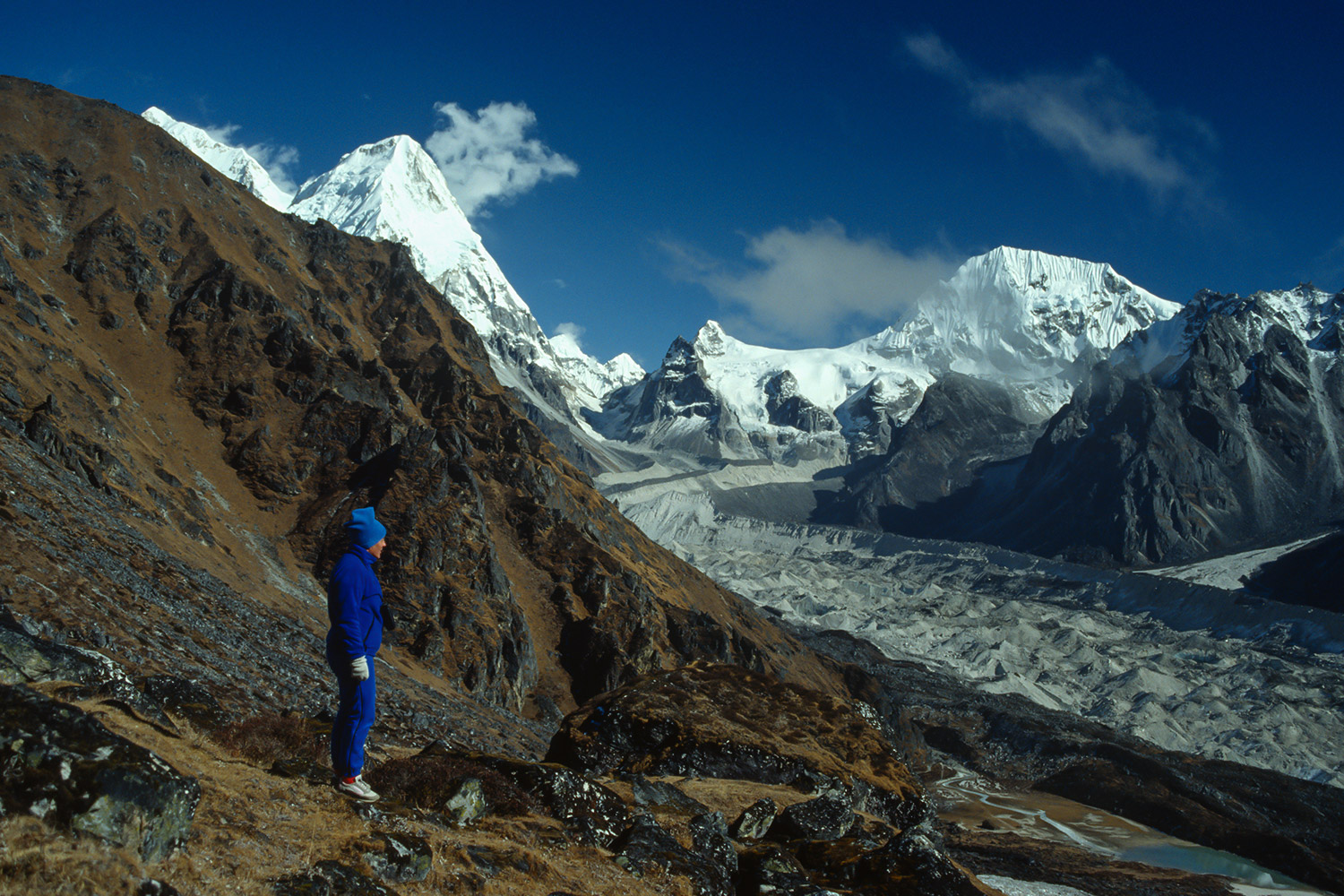 As the day progressed and our journey advanced, glimpses of the Yalung Glacier with its snow capped giants and massive snout came into view. And before we could reach our destination Tseram, the towering heights of the Kabru and the Rathong peak came out from their hiding from behind the moraine. Finally we reached Tseram and here we camped for the night.
Day 8
The following day we headed towards Ramche, which sits at an altitude of 4580 metres. It was one of the most thrilling part of our entire trek since we had to begin our journey cross the snout of the Yalung glacier.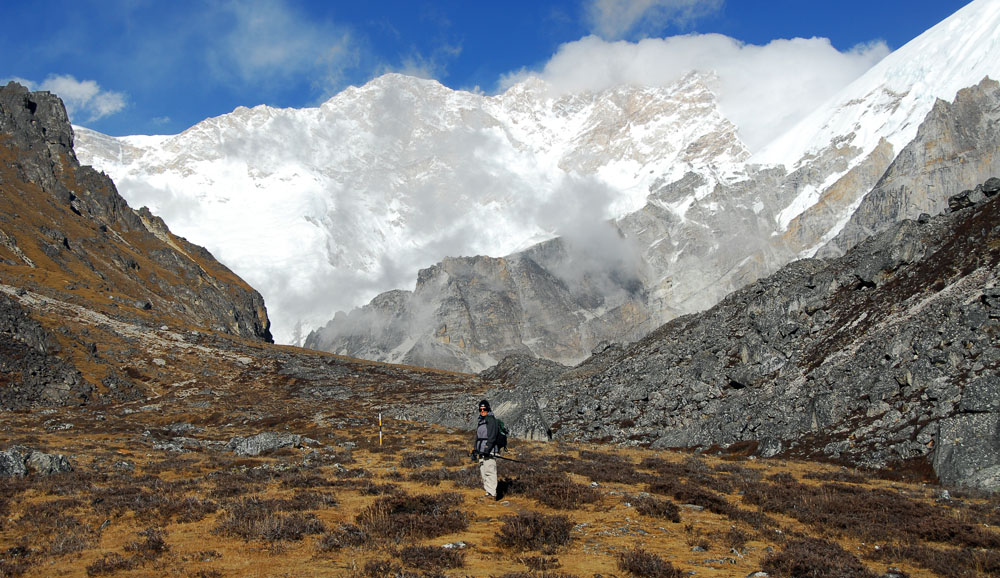 As we concentrated on crossing the snout of the Yalung glacier, we could not help taking momentary glimpses of the majestic Rathong, Koktang, Kabru and a high altitude glacier surrounding the lake. It was a four hour trek and we finally reached Ramche before evening.
Day 9
On the ninth day, we began our exploratory trek to Oktang, which is situated on the southern side of the Oktang. We walked alongside the moraine of the Yulung glacier. The trek offered great views of the southern side of the Kanchenjunga and other peaks like the Kabru, Rathong and Koktang. We then headed back to Ramche.
Day 10
We trekked down the valley, taking the Labsang La route to the Ghunsa and the northern side of the Kanchenjunga. Because of the roughness and danger of the pass, we were taken to the southern set of the passes beginning with the Mirgin La. The climb was steep and which demanded full movement of my arms and legs. Thanks to my Paq bag, I had no problem with that. I will let you know about this unique Paq bag at the end of my article.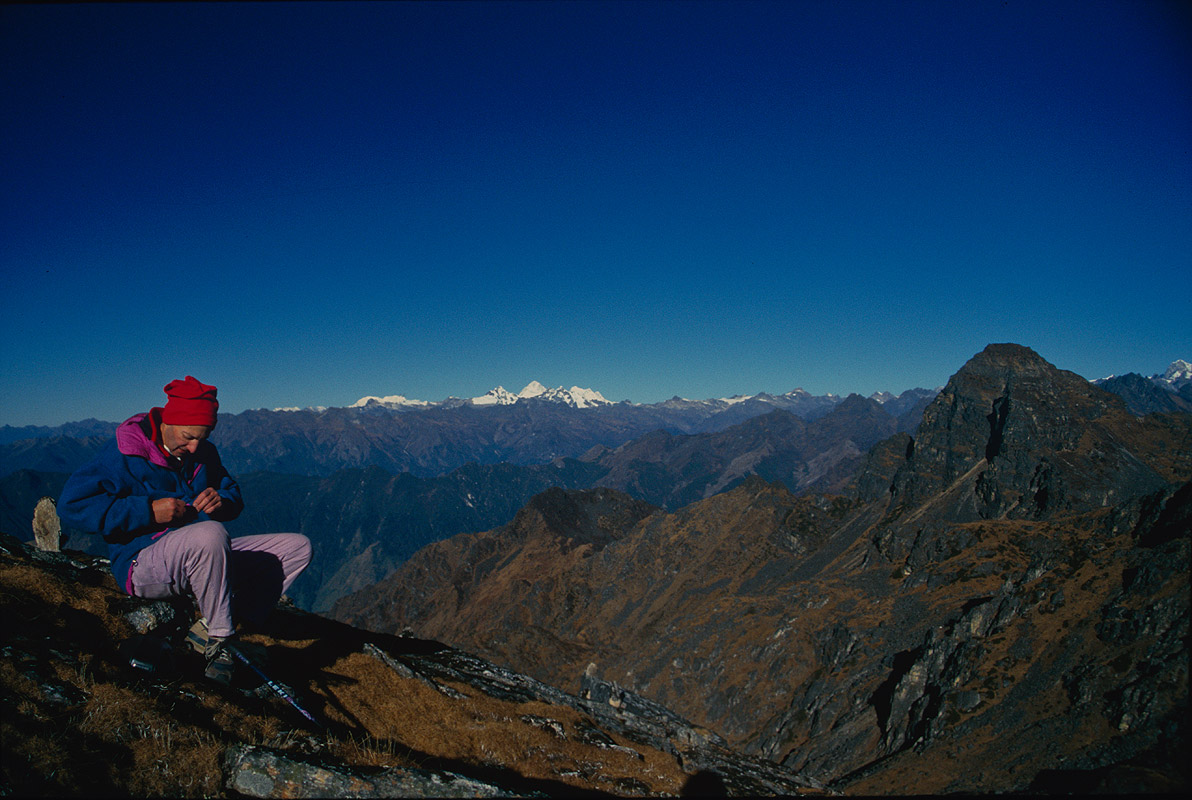 After crossing several false summits, we finally reached the Mirgin La. Here we stood silently, viewing the magnificent Makalu, Everest, Gyakung Kang, Lhotse, Chamalangand panoramic Terai down to the South.
After that, we headed towards campsite that was located beyond the pass. We trekked for some six to seven hours until we finally reached the campsite.
Day 11
Our trek to Ghunsa required us to pass through four more passes. It was a highly scenic stretch, where there was little descent between them. In between we stopped only to take lunch, after which we continued to descend to the Lamba Sumba Kharka.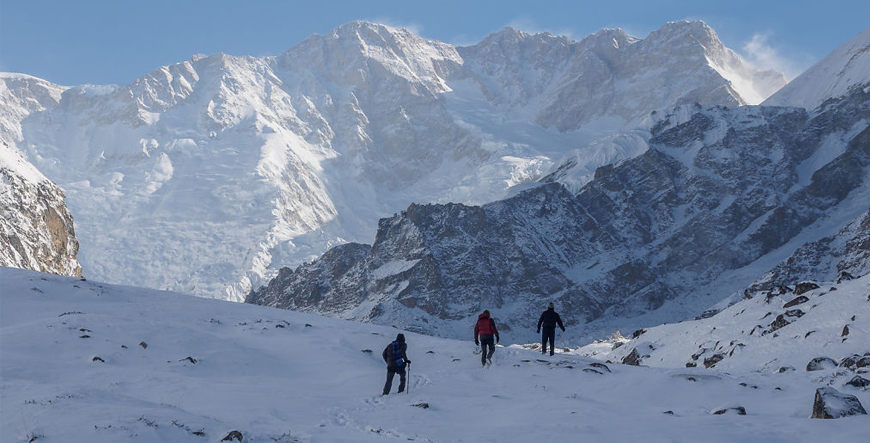 After Lamba Sumba Kharka, the going became easy again as we descended into the pleasant forest trailing towards the village of Ghunsa. This is a Tibetan village where, after days of wilderness we were welcomed by the picturesque sight of prayer flags fluttering from wooden houses and two beautiful monasteries. We set down our camp here.
Day 12
The next day, our trail ascended to the south of the Ghunsa Khola that crossed the flood plains and emerged into a pasture situated on the northern side of the river. We had to climb a steep slope, which crosses a slide and then descends towards Lakepo. A short climb from here before we finally reached the village of Kampuchean.
Day 13
The trail here crosses through the open rocky fields towards Ramtang after which, it moves across north-west moraines of the Kanchenjunga glaciers. The Lhonak is situated at an altitude of 4790 metres.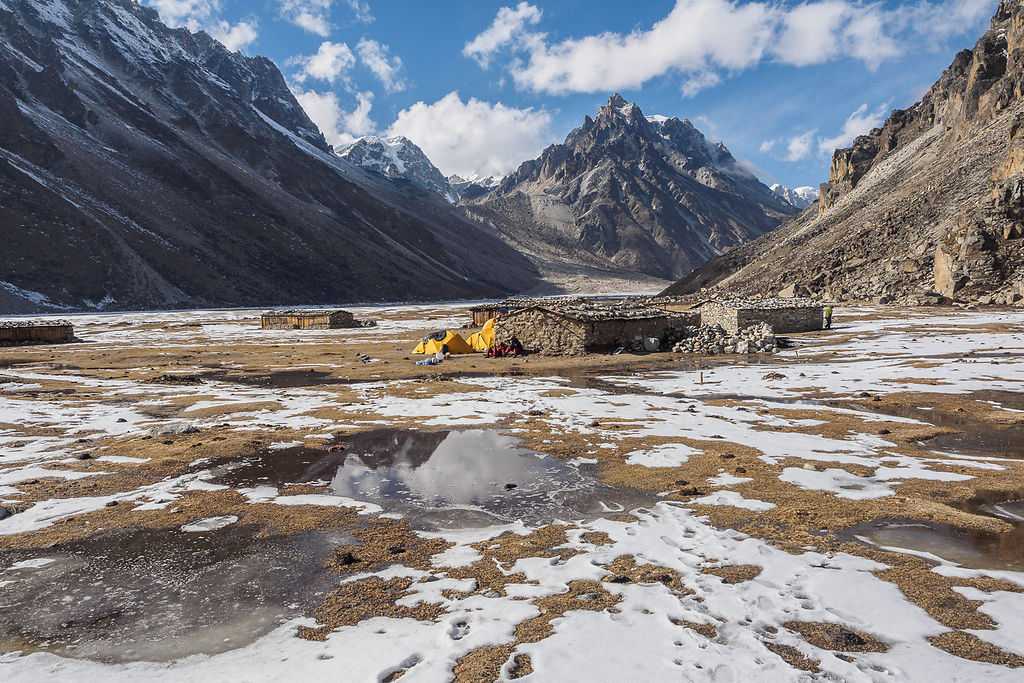 It is nearly dry and sits on an open sandy plain. Though there are no settlements to be found here, we managed to camp among the large boulders that helped to cut out of the strong wind. We got some stunning mountain views here.
Day 14
On day 14, we finally reached the base camp of the Kanchenjunga. Here exploring the upper end of the valley was well worth it. The place is abounding with some of the largest mountain masses in the world.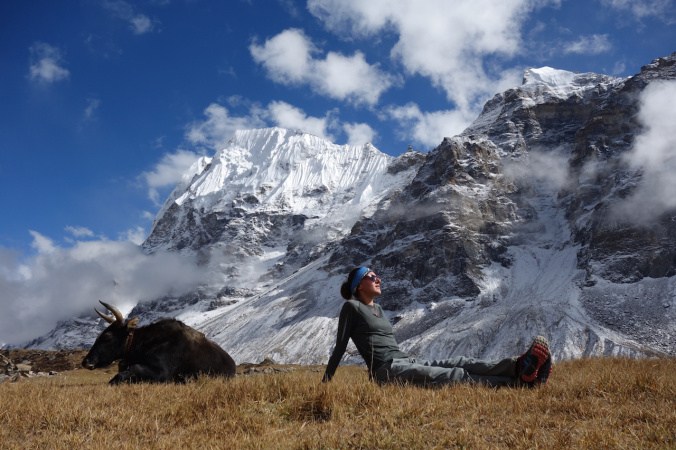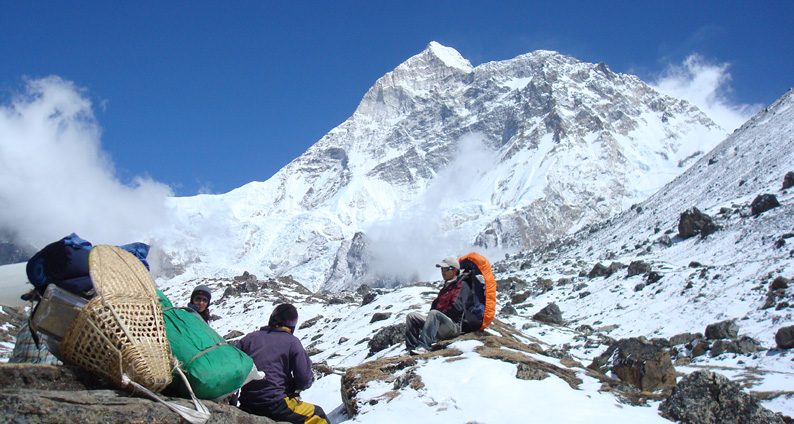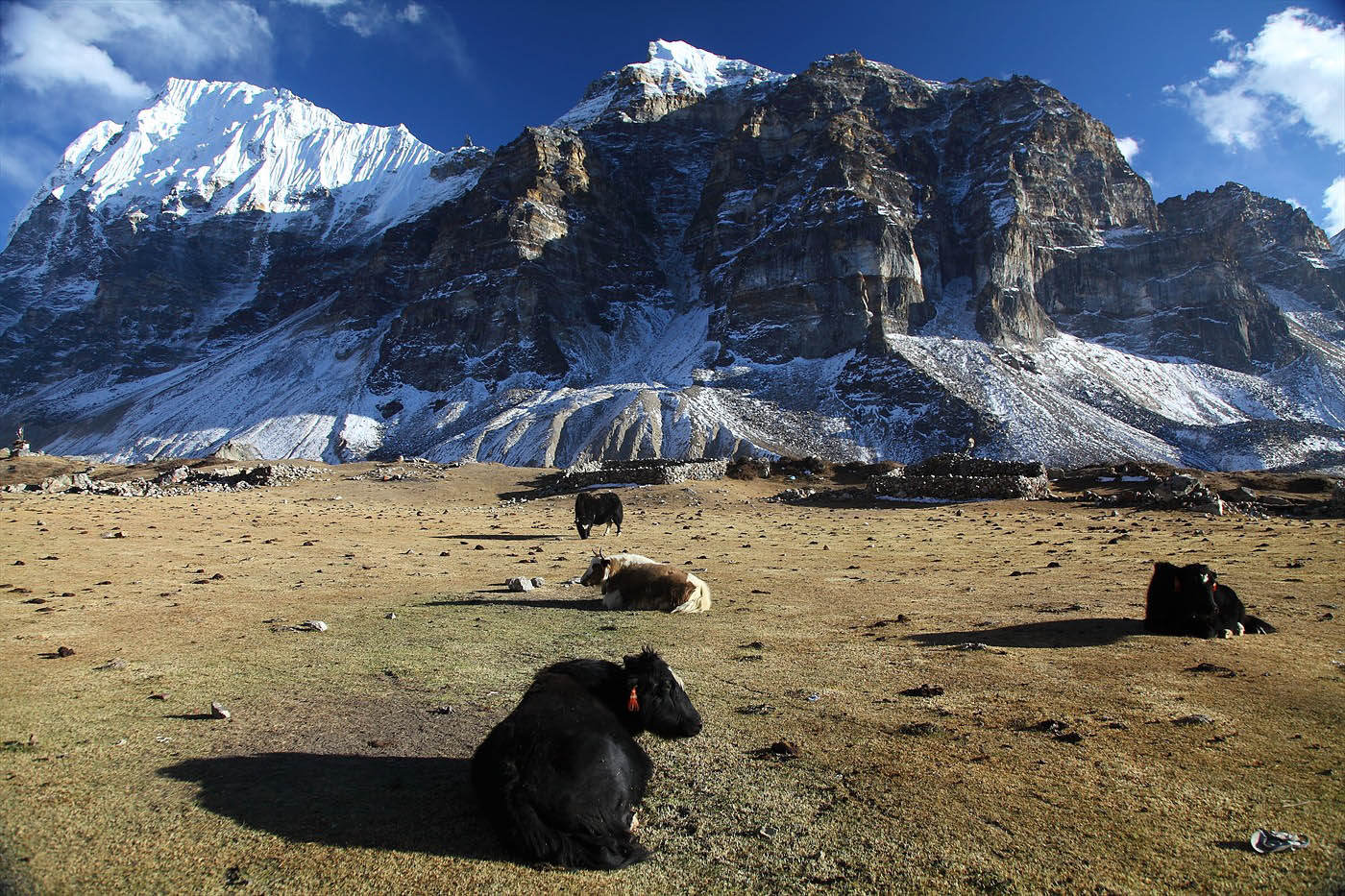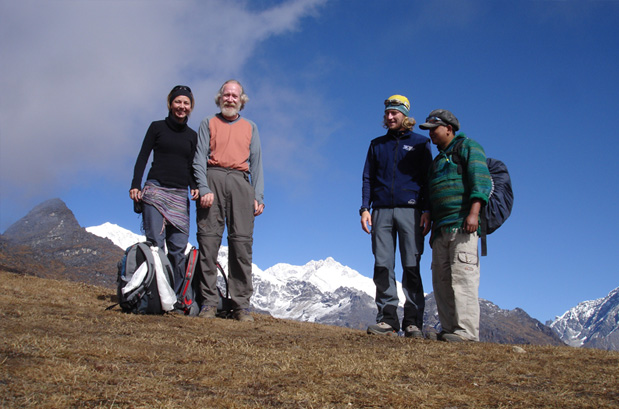 We did not have a good view of the Kanchenjunga and the Wedge Peak though. To get a good view of these two peaks, we had to reach Pangpema, which is situated at an altitude of 5140 m. Since the weather condition was good, we stayed there overnight to get a better view of the mountains.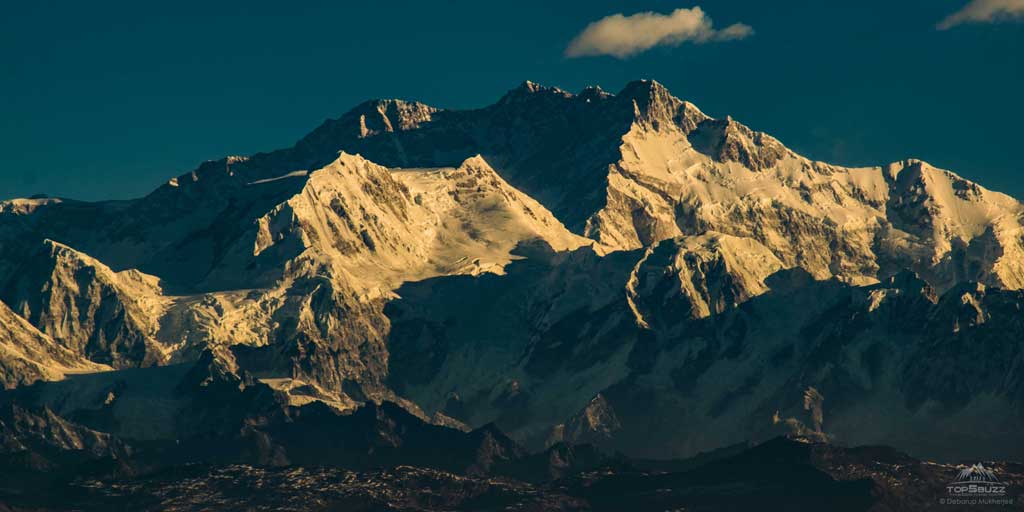 Oh!…what a breathtaking view of the Mount Kanchenjunga, blanketed in snow and misty clouds. Love at first sight it was for sure!
Day 15 and 16
The following two days, we prepared for our return trip. We trekked for six hours until we reached Ghunsa and on the sixteenth day, after four hours we reached Amjilosa.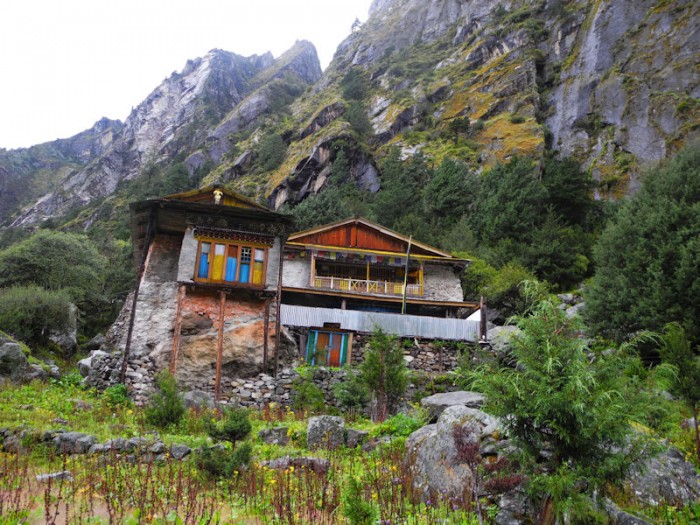 Day 17
Our trek down the Simbhu Khola was pleasingly warm after which, we crossed many tributary streams to reach Chhirwa, a village that is set among large boulders.
Day 18 and 19
We finally reached the end of our journey as we trekked across the Suketar, which took us approximately seven ho. From here we bid farewell to the members, some of whom became very good friends. After hugs and promises that we would all be back together for a new adventure, we took a car and drove to Shiliguri, from where we once again boarded a return train to Kolkata.
This one was no doubt one of the longest treks and of course one of the most costliest trips that I had gone on. But it was well worth it at the same time.
Equipment to carry on Kanchenjunga Basecamp Trek
A lot of people trekking to the Kanchenjunga Basecamp on are on their first trek. Naturally many of you don't know what to carry along with you and what not. While you may find many shops in Kathmandu from where you can rent or purchase equipment, you can also prepare your own homemade kit too.
To help you out, here is a list of things that you need to carry while you are on an expedition to the Kanchenjunga Base Camp trek –
1. Rucksack / Duffel Bag
You need a duffel bag because you will need to carry some extra set of clothing in Kathmandu.
2. Day Bag Pack
A small pack of 2,500 to 3,000 cubic iches in volume can help you to carry all your personal belongings like money, passport, medicine, etc. It's important to carry a day bag pack because while trekking, the porter might not be always ready to keep up their pace with you. In that case, a day bag pack is what you need to carry the most essential things without which, the journey is tough.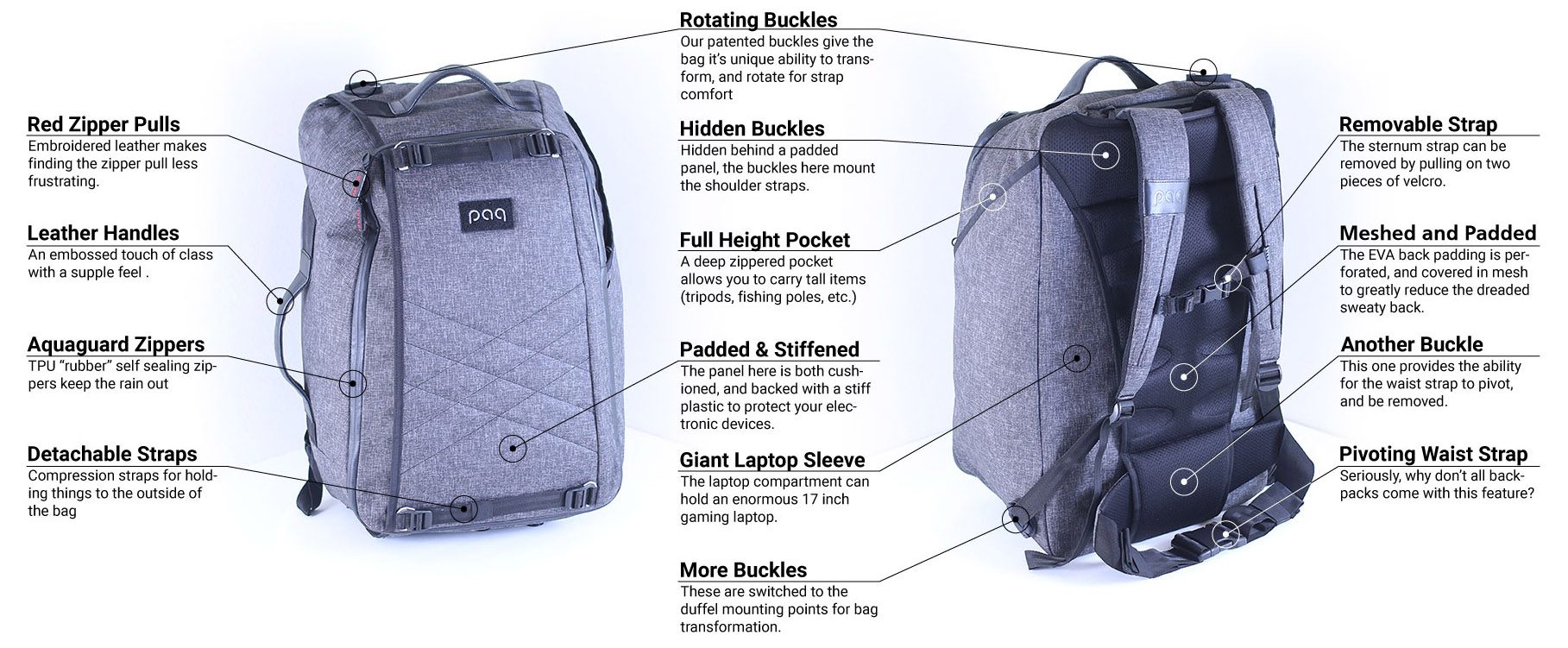 If you are trying to find a duffel bag then search for bags with multitasking features that would give you complete control in your journey. I came across a new kind of travel bag while searching one for myself. It's called the Paqbags and the best thing about these bags is that they are spacious, have multiple compartments, and comes customized with padded and detachable straps and rotating buckles.
It made my journey comfortable and hassle-free since I did not have to carry anything extra. Besides, it's adjustable straps and the rotating buckles, helped me to continue my journey with ease without having to carry anything additional. Sometimes a great trekking bag is all you need to make your journey comfortable. You can visit the website and check out this great trekking bag.
3. Sleeping Bag
Carrying a sleeping bag is a wise decision since blankets are not much available during peak seasons. You can get a good down bag rated to minus 15 degrees Celsius.
4. Down Jacket
Make sure that the jacket you are going to carry is warm enough to keep you comfortable down to 10 degree Celsius.
5. Gloves
There are three type sof gloves that you can carry. Thick warm gloves, light gloves and waterproof outer gloves.
6. Boots
When buying boots, make sure it is well-worn, comfortable, light weight and has a good ankle support. Your feet will love you for it.
7. Toiletries
Toilet facilities are very poor in Kanchenjunga. Here are a few things that you will need to carry –
Tooth brush and paste
Toilet paper
Multipurpose soap
Small towel
Shaving equipment, small mirror and nail scissors
Want to share trekking story like this? Write and share your experience, travelogue with us. Send your article here contact@topfivebuzz.com
How this post make you feel?