Huascaran is the highest point in Peru with the height of 6768 m  /22,205 ft above the sea level. The mountain found in Cordillera Blanca is the highest tropical Mountain range on Earth and most popular climbing spot in the Peruvian Andes. The Cordillera Blanca is a national park and of you intend to climb you need to get a written permission from park official or go with a guide. The permit is free, but you have to prove that you have enough climbing experience before been given. One of the easiest way to get your permit is to tender your alpine club membership card; with this card it is assumed you have the required experience.

Part of the following is providing the details of your insurance policy. However, rescue operation is not guaranteed in case of mishaps because helicopter may not even be able to fly high enough to save you if by chance there is any. Huaraz is the largest town in the arday renowned as a place majorly used as a base for tourists exploring the surrounding mountains. There are also several camps at different heights on the mountain where you can relax and spend some hours or days before you proceed on your journey.
There are tens of trekking and climbing companies in Huaraz through which you can get suitably experienced guides, hire equipment and also help plan your trip appropriately. If you are from Europe and prefer a complete arrangement, you can book a complete Peru round trip including Huascaran also from there. One of the most famous addresses is the German tour provider Intakt-Reisen, prepared to book your entire Peru / Huascaran round trip but also an Huascaran tour as a package.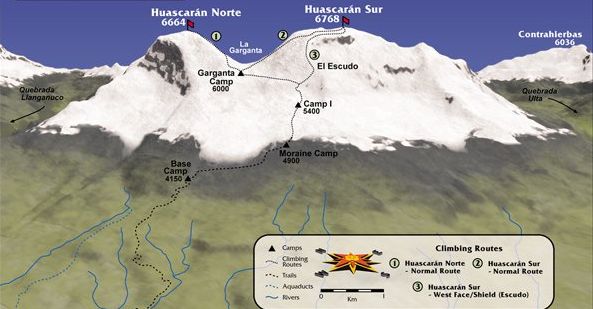 Depending on the conditions, the difficulty of the normal route to Huascar√°n Sur (via Garganta and the NW-face) varies from PD (Peu difficile / not very difficult) to AD (Assez difficile / fairly difficult). In some years, the hardest part is to get to Garganta, in others the icefall higher up, on the NW-face, is more difficult. Few years ago, only relatively minor difficulty was present on route to Garganta. That year, the crux was a steep section high on the NW-face. Up to Campo Dos, the normal route is the same for both Huascar√°n summits. The W-face (the shield, D+) can be gained from the ascent to Garganta, too. Moreover there are lots of very hard TD (Tres difficile /very difficult) and ED (Extremely difficult) lines on the NE and E face of Huascaran.
Huascaran is averagely easy to climb centuries ago but the changes to the glacier in recent years have made the climbing of Huascaran more technical in combination with the wonderful altitude which makes it physically demanding. Different difficulties are experienced everytime, some years there are large crevasses on Huascaran which may not be easy to pass, or which demand an alternative route to be found. There can as well be some sections of steep climbing on hard ice in certain conditions. It's of utmost importance you have good basic climbing skills before embarking on this herculean climbing. Huascaran is not a for amateur climbers. Climbing is however best done during the dry season (June to September) with the most favorable conditions usually in July and August. Acclimatization necessary therefore spend at least 4 days or 1 week getting used to the environment due to on the difficulty and height of the mountain before embarking on the ascent.
How this post make you feel?