We started our journey from Leh at 8 o'clock Morning. Already crossed almost 170 km. But it was amazing that we never felt this tired as the road and the landscape of Leh – Pangong was just awesomely beautiful.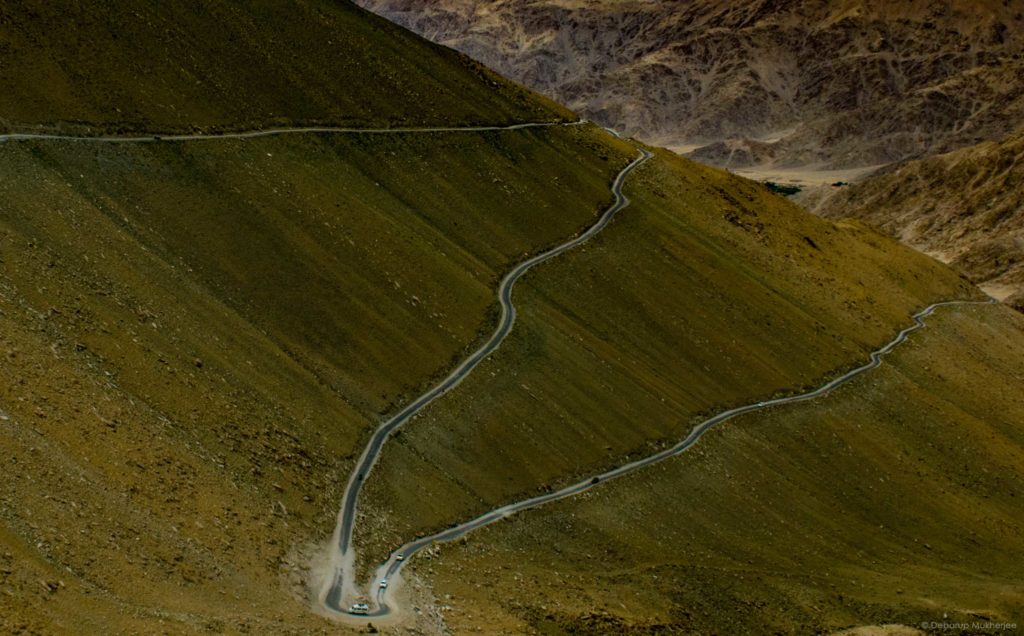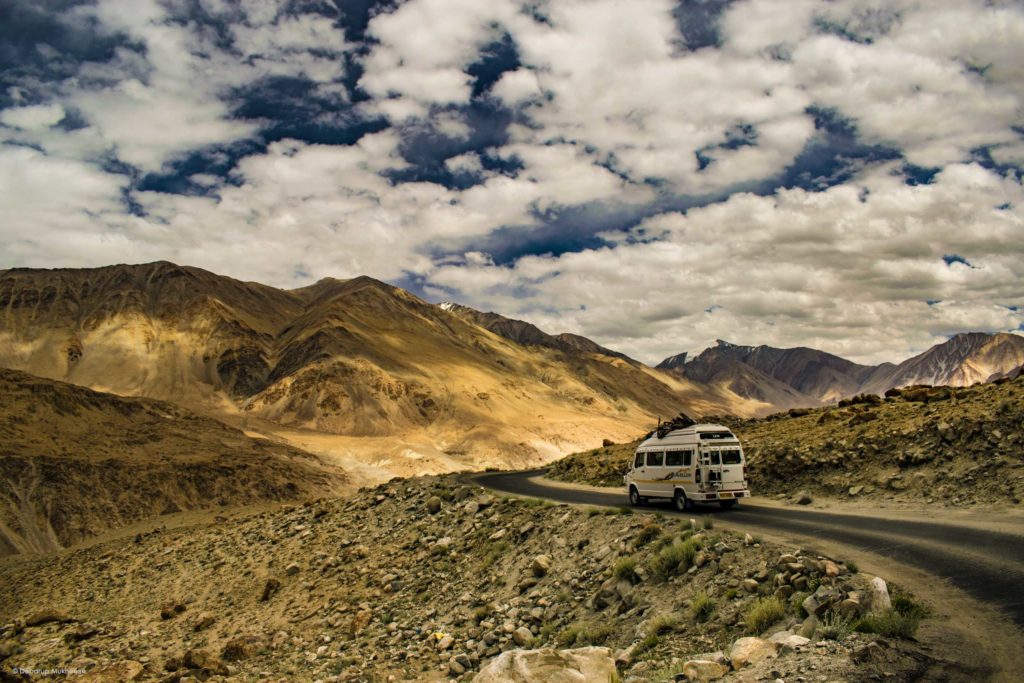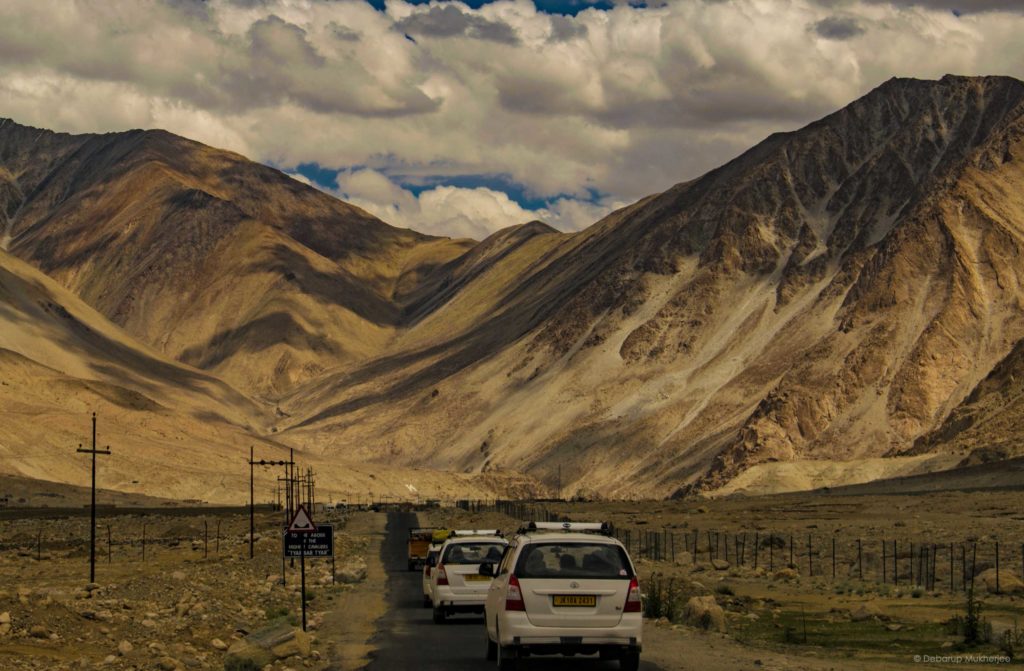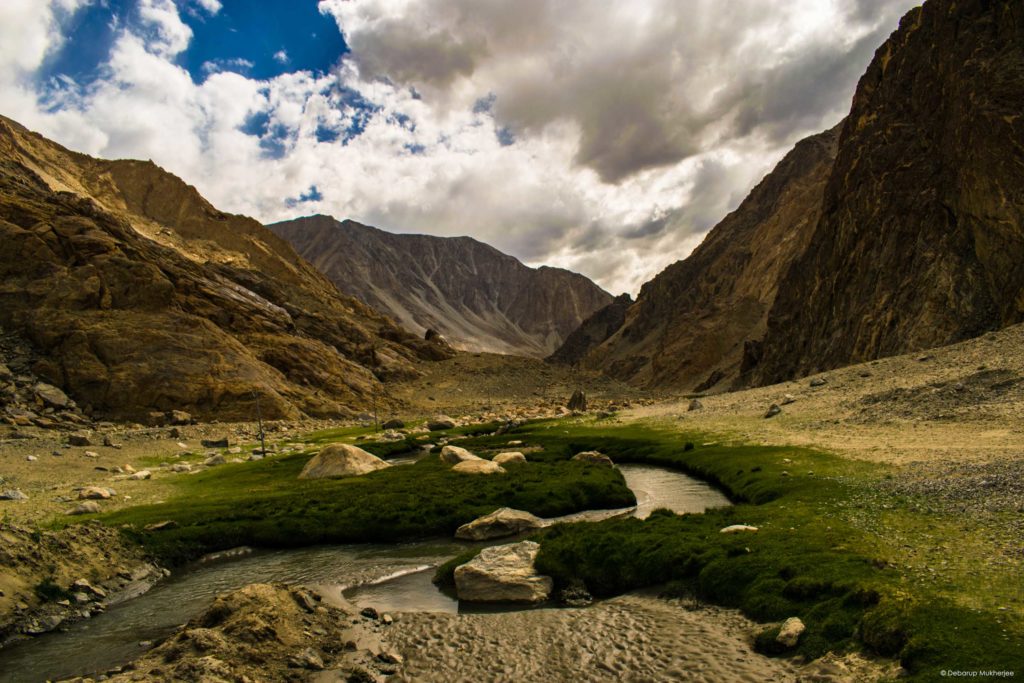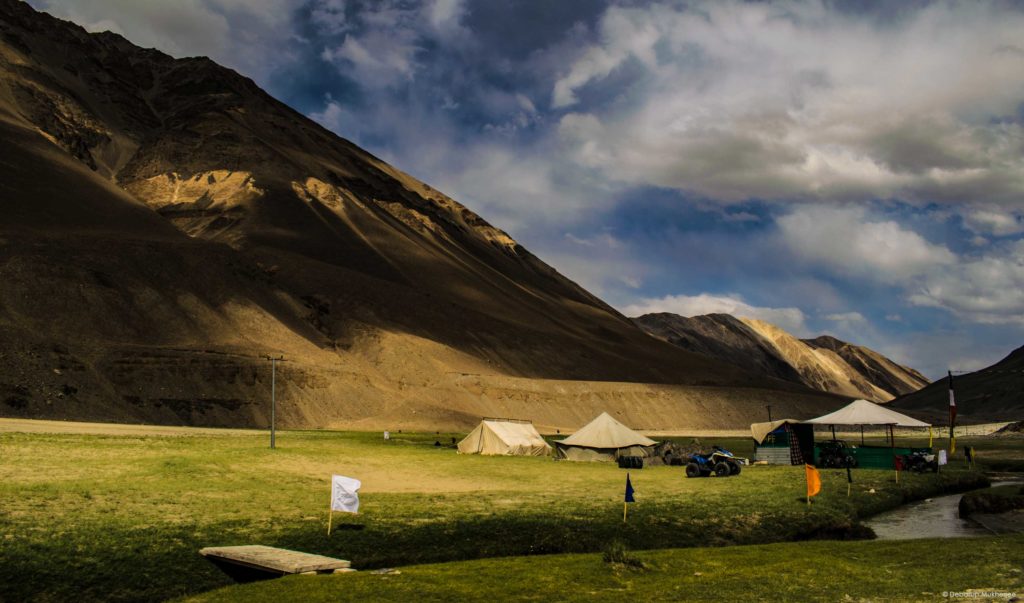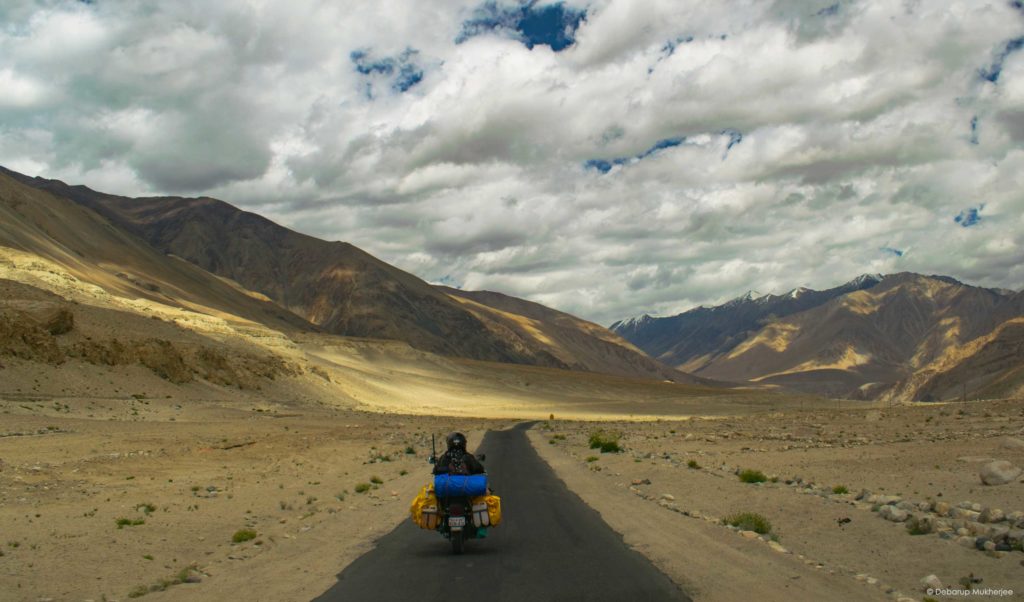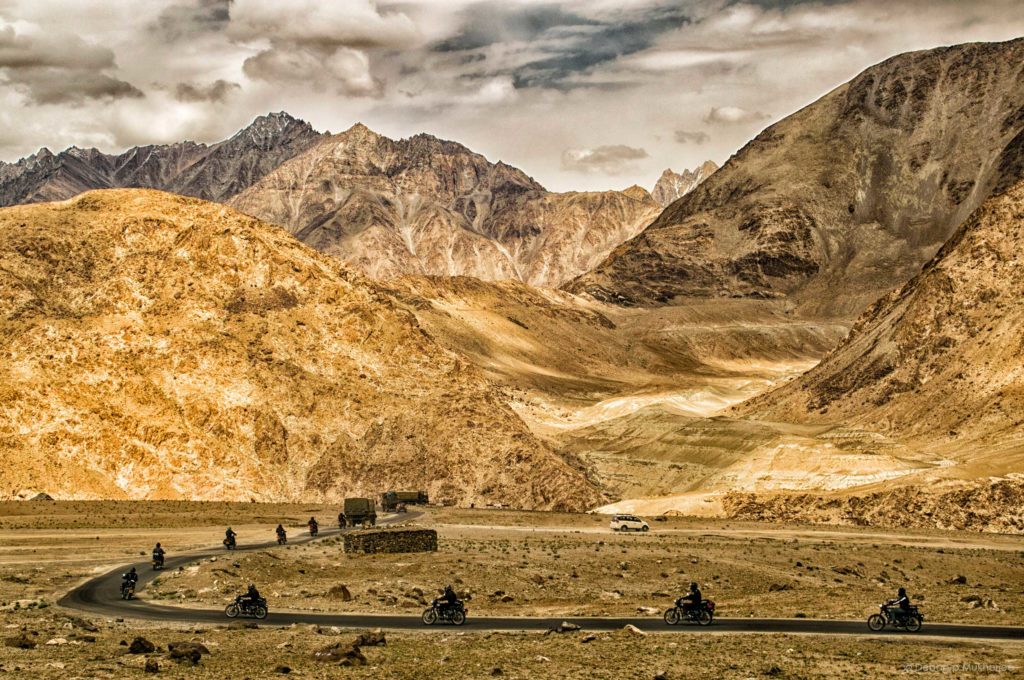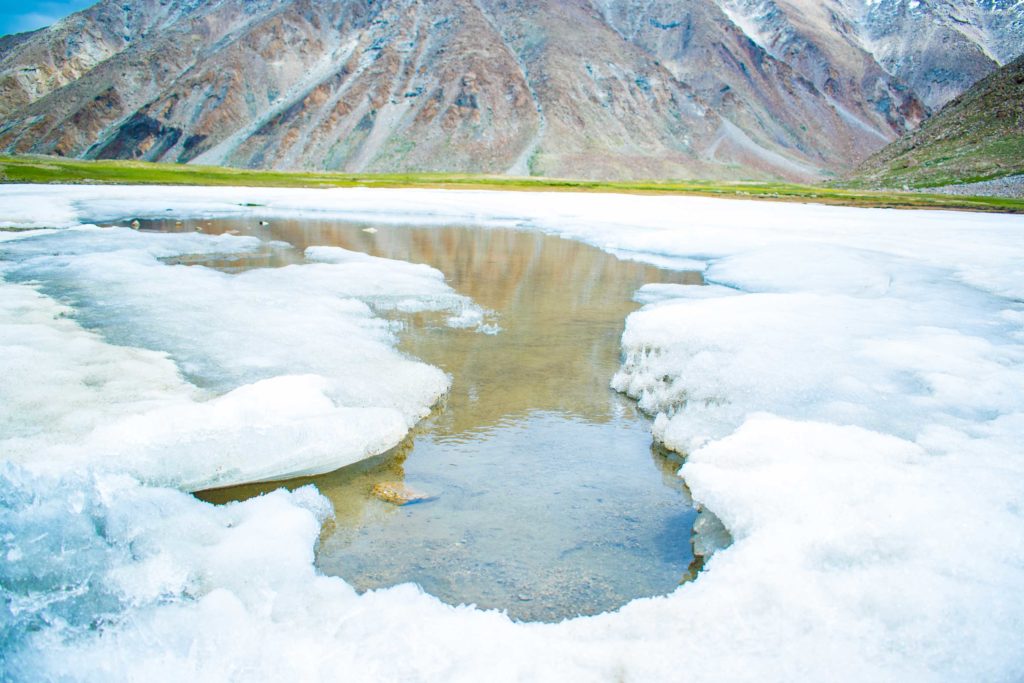 At 4:30 pm we reached near the milestone from where we can see the first sight of the World greatest high altitude water body Pangong Tso. In Tibetan language "Leke" means "Tso". After taking some photographs of that place we moved towards our destination. While the car was going down gradually, the view of lake was opening in front of our eyes slowly.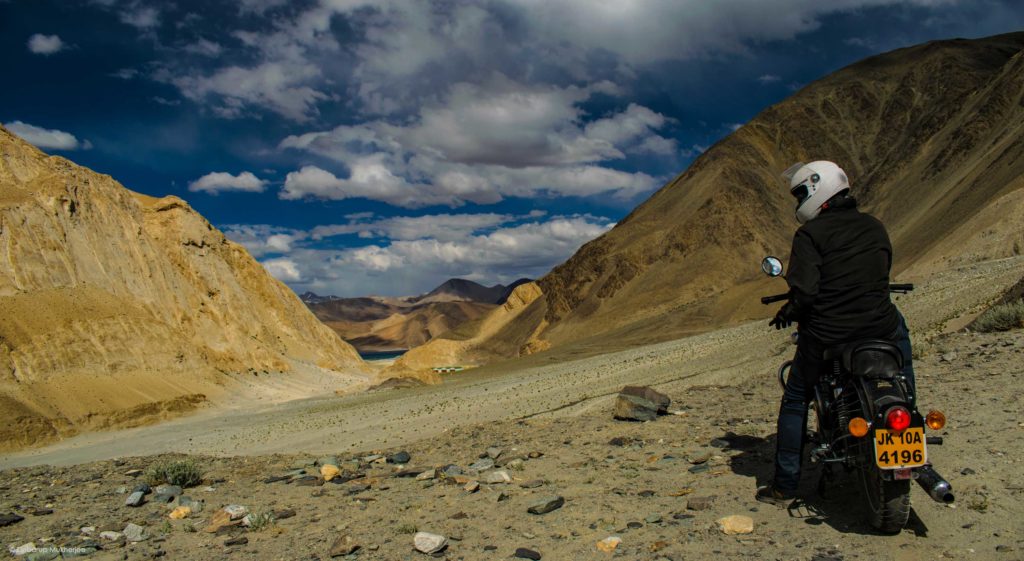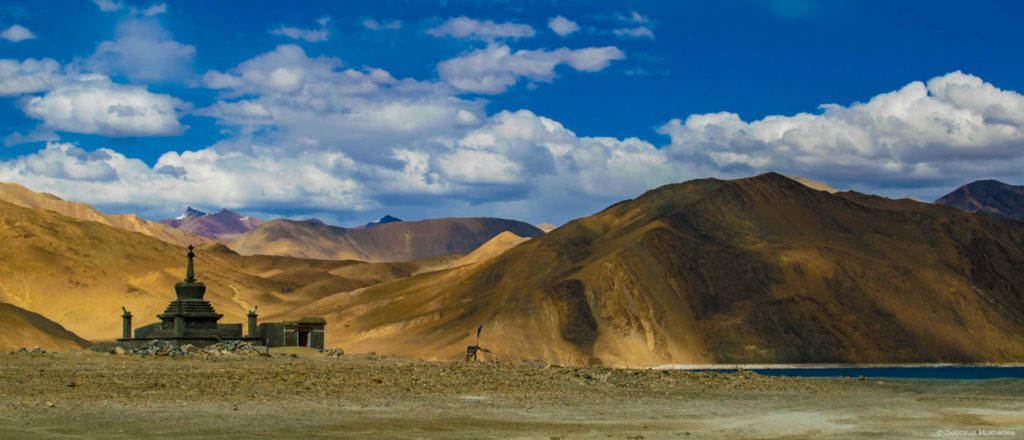 The most amazing thing was there were no living plants and life into the water of Pangong Lake. The 40% of this salt water lake is under India while the rest of it extends into China. It is laying 14,270 feet above the sea level and 134 km in length. The ethereal unreal beauty of the Pangong lake lies in rich deep blue color of its water. Not only us but everyone fall in love at the first sight of this lake.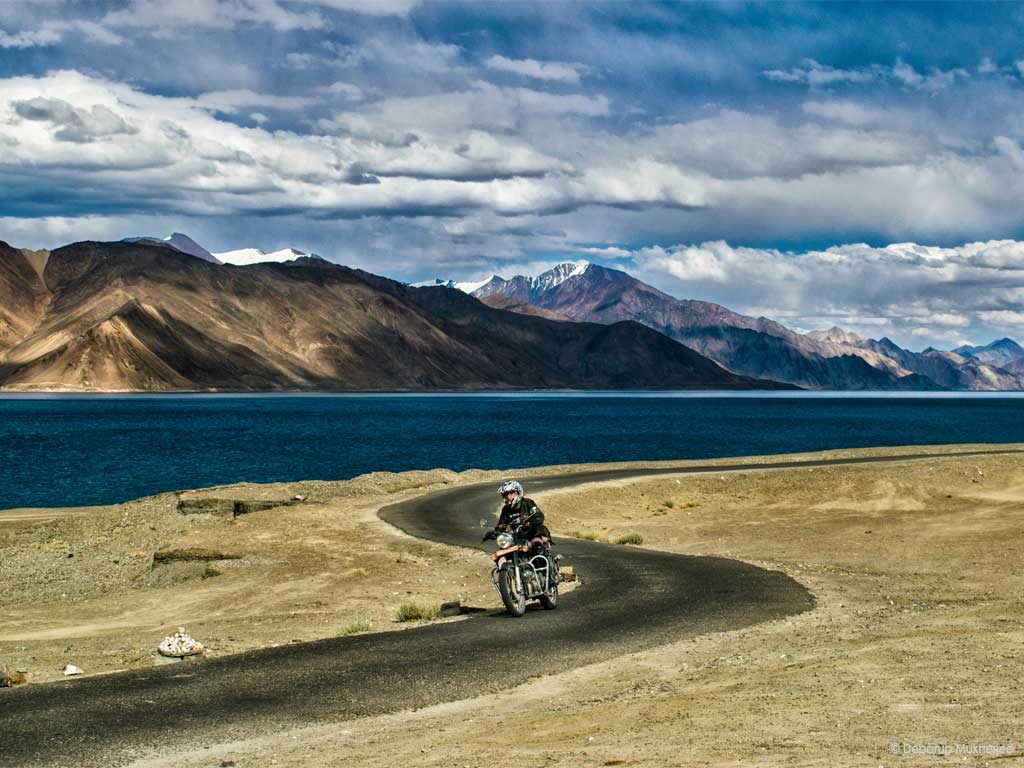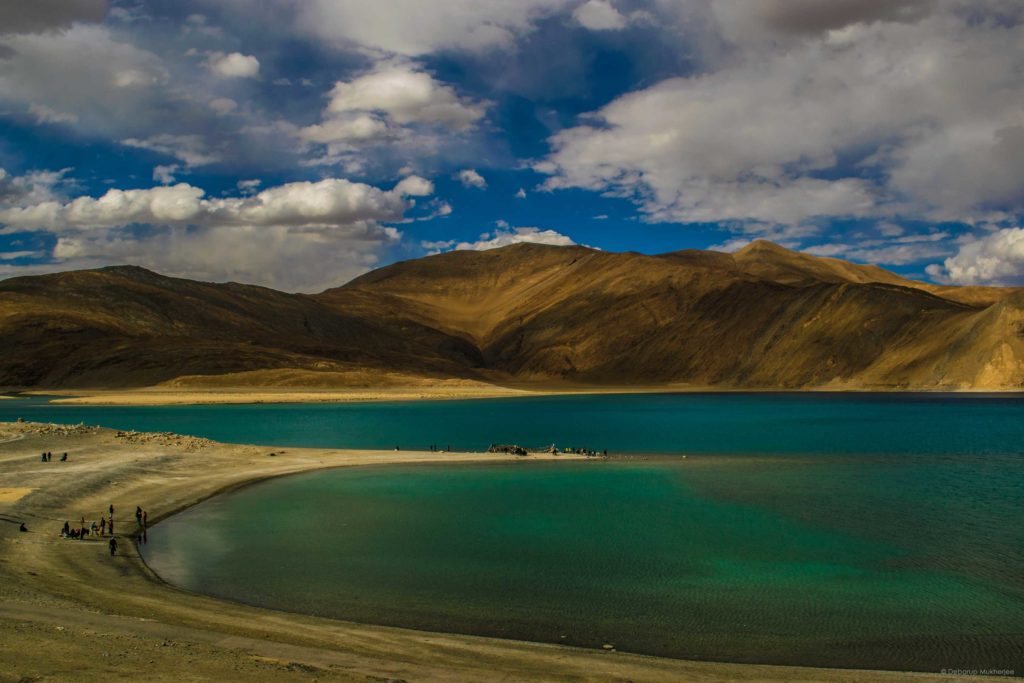 The pitch dark road is going just beside the Pangong lake and our car was going on it. We reached at our camp at 5:30 pm but the Sunlight was there and it seems like noon time. For your information, in Ladakh region the Sun set at 7 PM but the light stay almost next 2 hours. After reaching to our camp area we went to our tent and relaxed for Sometimes.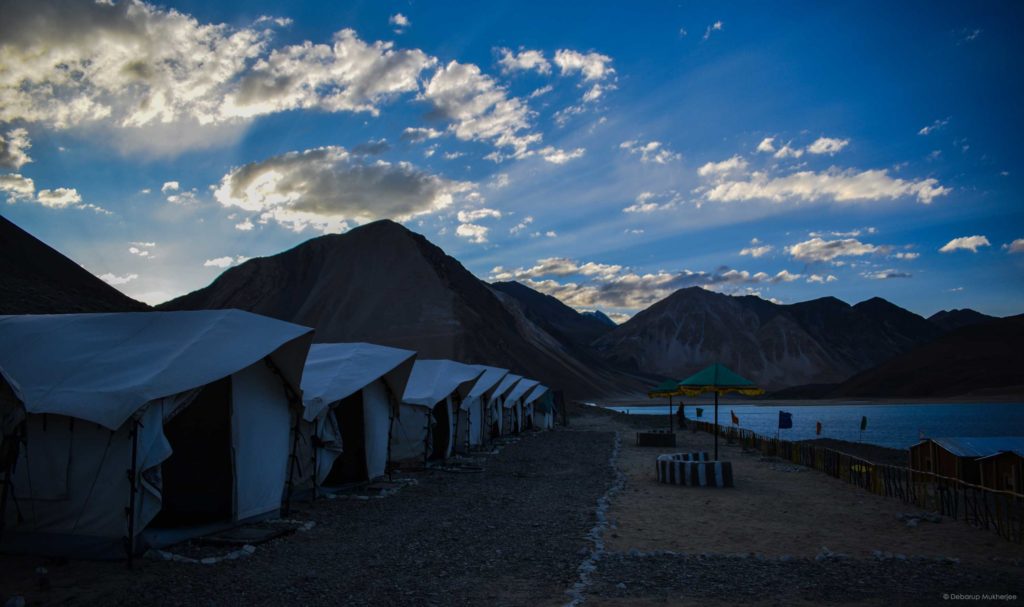 After half an hour we headed to 3-idiots point. It was around 2-3 km from our camp. The last scene of Amir Khan's superhit movie 3-idiots was shot at this breathtaking place. We came to know from our driver that this place was almost unknown to Indian travelers before the movie 3-Idiots. Mainly few foreign trekkers used to come here sometimes previously.

We reached at the 3-Idiots point. But this place was too much crowded.  Over hundreds travelers were busy to take pictures and making too much noise. We wanted to go in a quiet place where we can enjoy the nature peacefully. As per our request Aachu, our driver (In ladakhi language "Brother" means "Aachu" and "Sister" means "Aachi") took us at a comparatively quiet place and there were enjoyed the magical Pangong Lake fullest.
The cold breeze of Pangong water and the perfect changes of light and shadows over the mountains in front of the lake bound us to think about this unbelievable creation of the mighty nature.
We spent almost an hour at there and came back to our camp. The camp was just beside the lake so we were little bit afraid about the chill wind of the lake at night time. But Pangong is different from the other lakes of Ladakh. Pangong is quiet at night time and stay calm like a sleeping giant over the palm of the nature.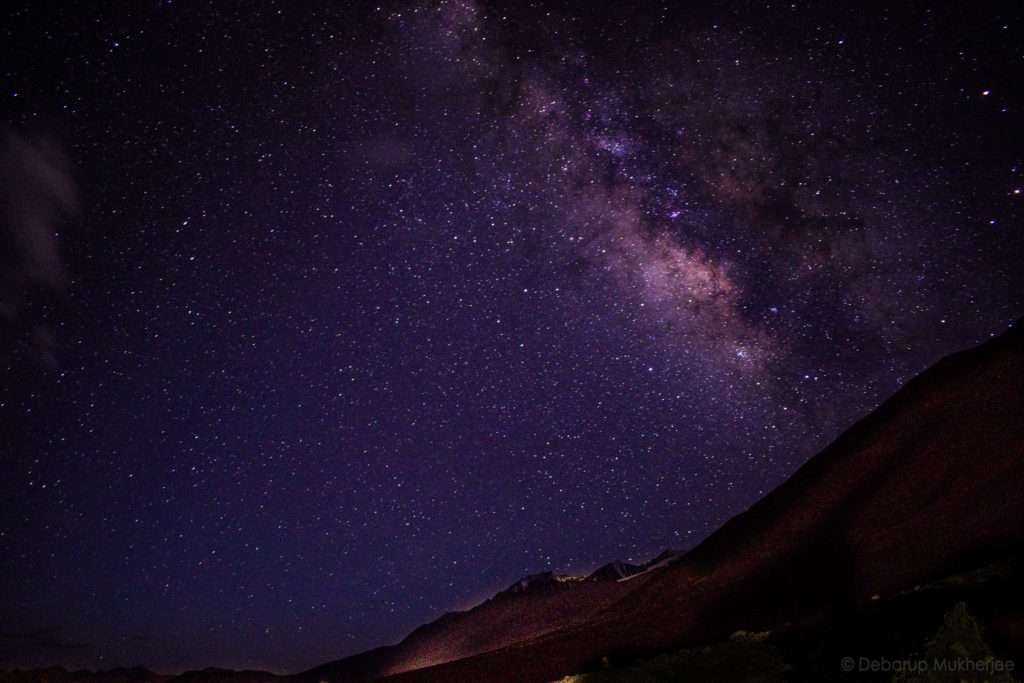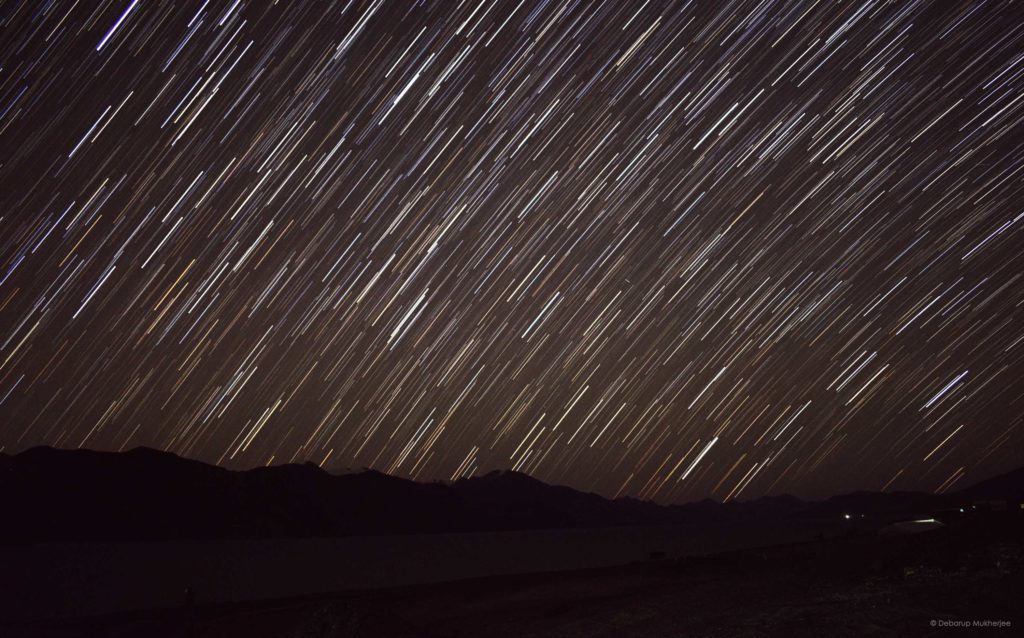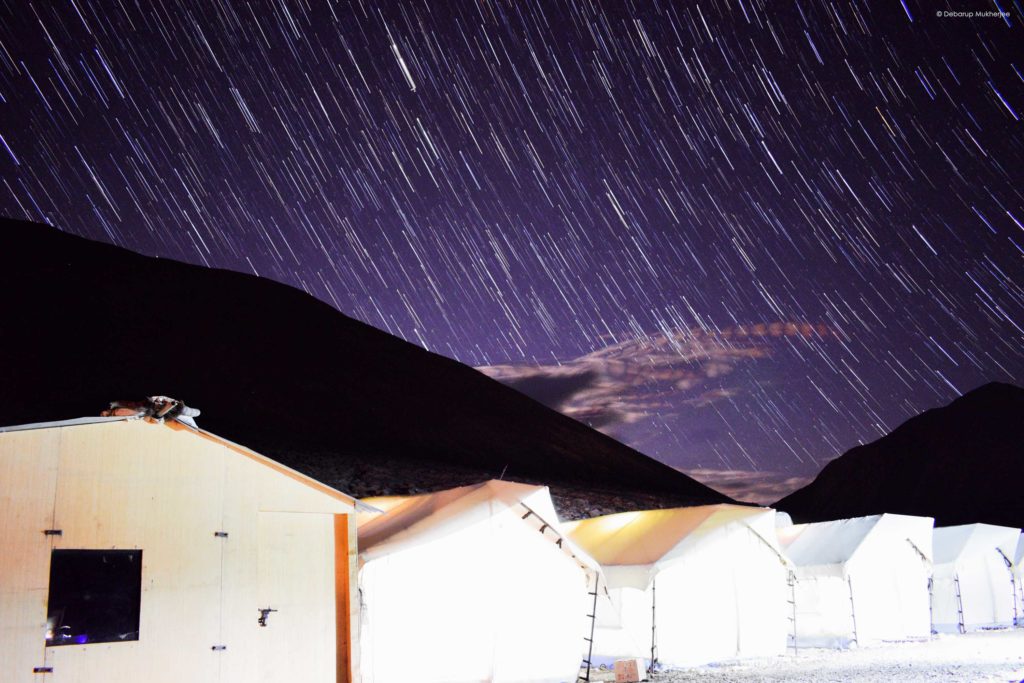 When I was coming back from the dinner hall of our camp, I looked up at the sky and suddenly felt very lonely. It was a feeling like I was the only man, marooned in this universe and all the stars starring at me. As the pollution is none in this place, you can see billions of billions stars and some of the planets of our solar systems.  The sky is so clear, so you can see meteors showers and earth's own galaxy milky way also with naked eyes. I have taken some of the night sky time lapse photographs at there and you can see those in my timelapse video called Incredible Ladakh in Timelapse.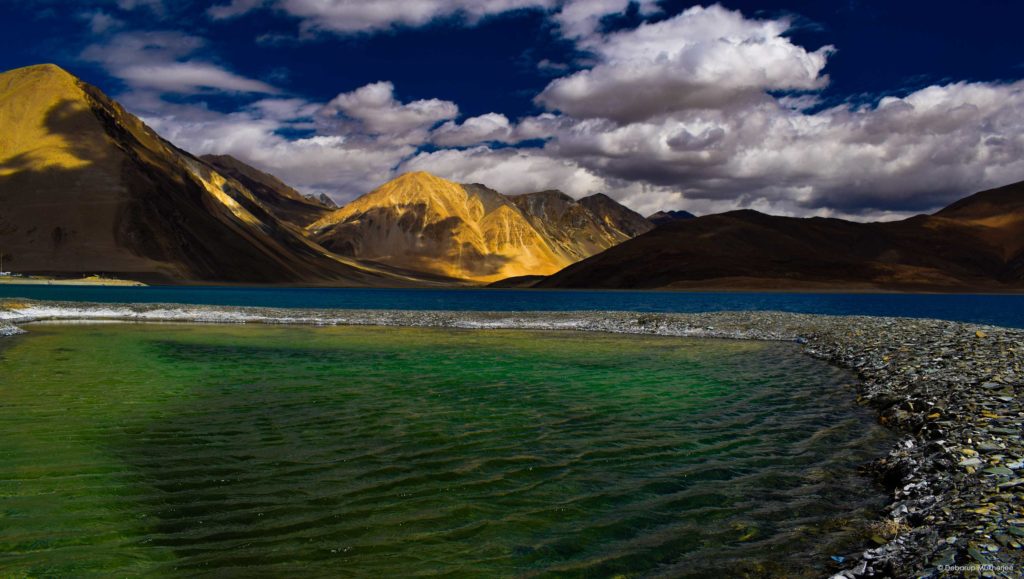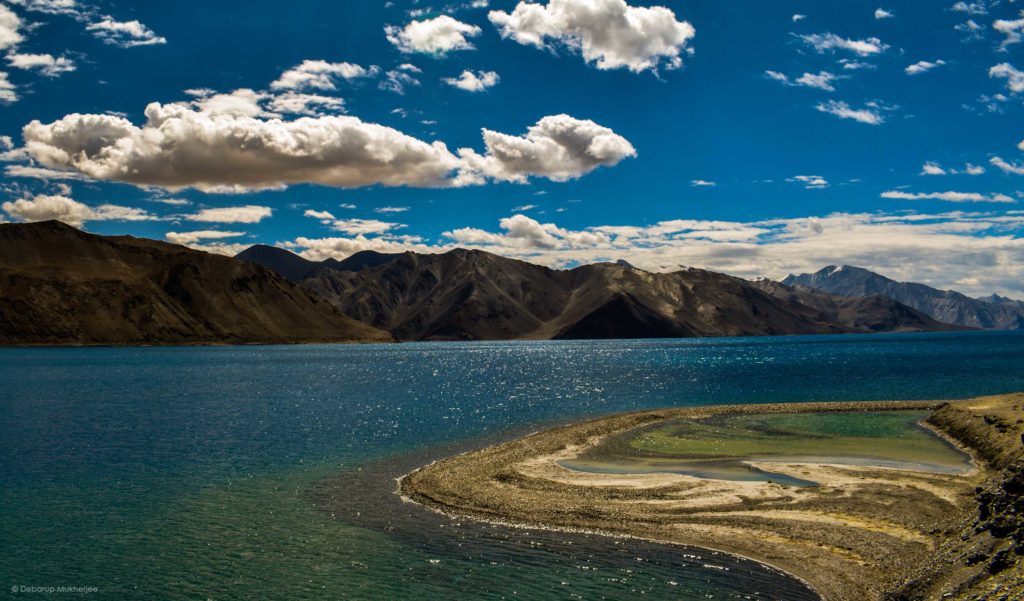 In the morning we woke up at 7 o'clock. Now it was time to go back. But I wanted to stay sometimes more. So, I took my camera and walked down near to the lake water. When I was getting down and came almost at the edge of the lake water, I saw a green water body just in front of the blue Pangong Lake. It was nothing but a beautiful Lagoon. The contrast color of green and blue was giving a exotic looks of the lake. I took many photos of that and came back to our camp. Within an hour we got ready and started our journey again to Leh with lots of memories. We reached to our hotel at 4 pm. We were too much tired for this hectic return journey but still our mind was at the heavenly blue Pangong Lake.
How to reach at Pangong Tso?
There are many way you can reach there. You can go by car or reach to this lake by trekking. The easiest way is taking a car from Leh. It will take almost 5 hours to reach there. You have to cross World's 3rd highest motorable pass which is called Chang La (5320m). Starting from the Leh, you can see Indus River goes parallel with the road, but the road turn to left from Karu village. On the way you can see many popular monasteries like Shey, Thiksey etc.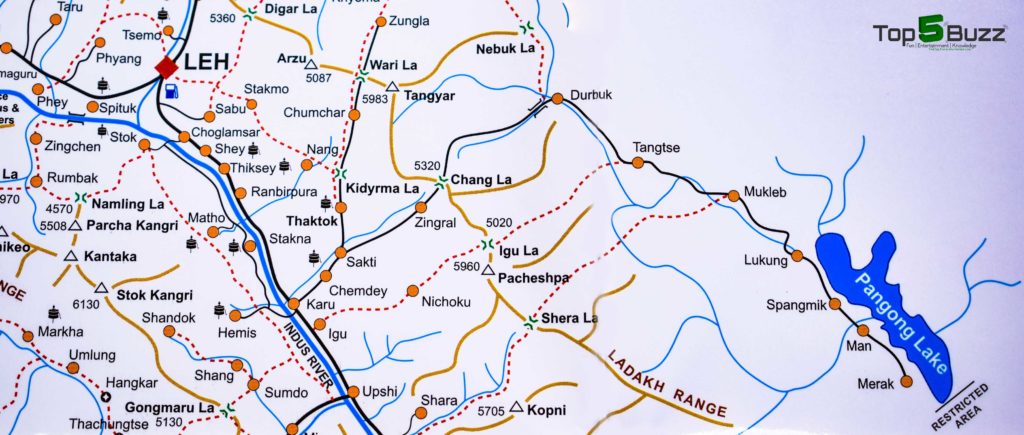 There are many trekking paths to reach Pangong. One of the trek routes is starting from Igu village to Tangtse. You need to cross a pass called Igu La (5020m). You can see a great view of Pacheshpa peak (5960m) from that pass. Another trek route is from Funa village to Mukleb and for this route you need to cross a pass called Shera La. It is on Ladakh Range. From Shera village you can see the view of Kopni peak (5705m).
Perfect time to go Pangong Lake?
May to September is the ideal time to visit Pangong Lake.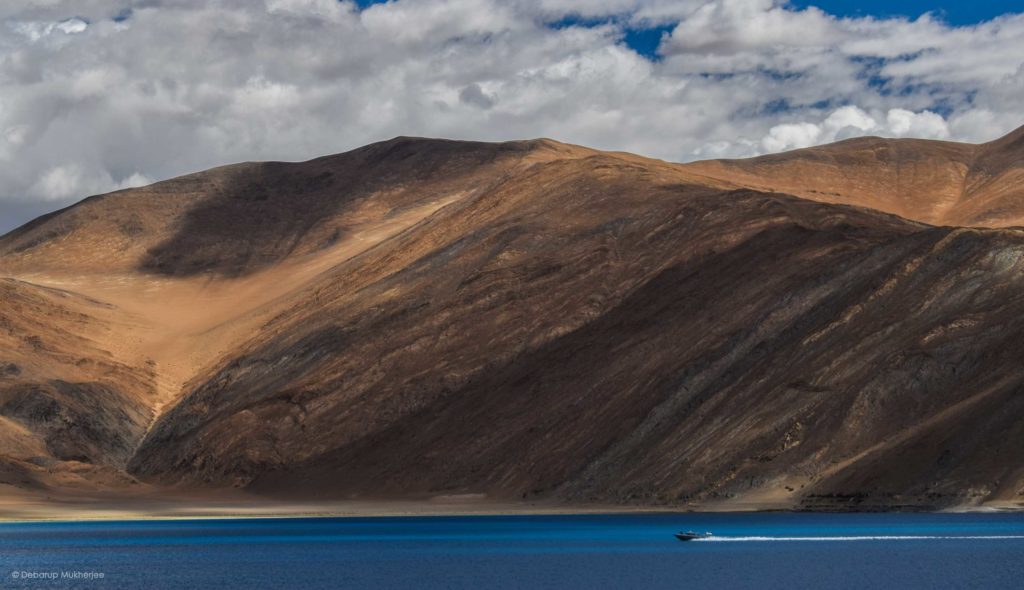 Where to stay at Pangong Lake area?
Most of the travelers go there for one day visit. They start their journey in the early morning, stay there for 3 – 4 hours and come back to Leh in same day. But it is too much hectic schedule. It takes 5 hours up and down means almost total 10 hours of journey. So if you really want to enjoy the nature, want to enjoy the spellbound night sky from the lake side, you need to stay there at least for one night. You can find many private Camp stay at there. All tents are well organized with attached bath and has dining hall with delicious foods for breakfast, lunch and dinner.
We stayed at Highland Camp & Restaurant at Pangong
It has 12 deluxe tents with attached bathroom, serving Ladakhi, Tibetan, Chinese and continentals Dishes. The stuffs are very very friendly.
For booking you can contact:
Chotar Tsering
Mob: +919419819078 / +919622979159
Email: chotsering100@yahoo.com / chotsering1000@gmail.com
How this post make you feel?