Gone are the days when travelling was considered to be an indulgence of the rich and the rebels. With travel topping most of our To-Do lists, we all aspire to take time off from our mundane routine at least once a year and lose ourselves in a completely unknown place, maybe just to rediscover ourselves. These days all it takes is a little bit of gumption and your smartphone.
Here is a list of top 10 must have travel apps that make your journey easier, more efficient and just so much more complete.
1. GPS Travel Route Finder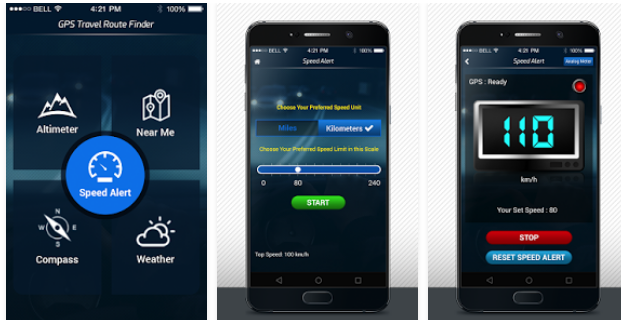 Allow us to shoot ourselves in the foot by suggesting this app upfront. This app is the one stop shop for a number of travel needs for the young and restless these days. Combining traditional features that one would look for while travelling such as the weather of the area, places to go to near me, with modern features like a compass and altimeter, this app is truly a traveller's companion. It even comes with an inbuilt speed limit monitor! The 'Near Me' feature helps you locate a number of essentials such as hospitals, ATMs and police stations to name a few, other than the usual 'should know' things when travelling. And yes, the app comes for free!
2. Cerberus Anti Theft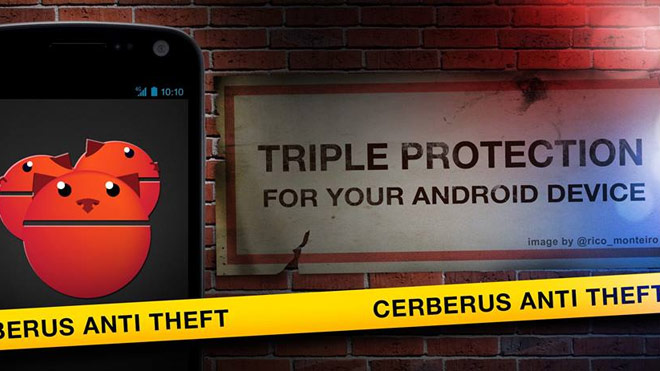 Let's not be selfish here. The security of your companion also matters. The Cerberusis the one stop shop for all of your apprehensions regarding how to manage things and get back your phone once it has been stolen. The app has features that allow you to keep tabs on the thief simply by messaging you details via sms.
3. Tripigator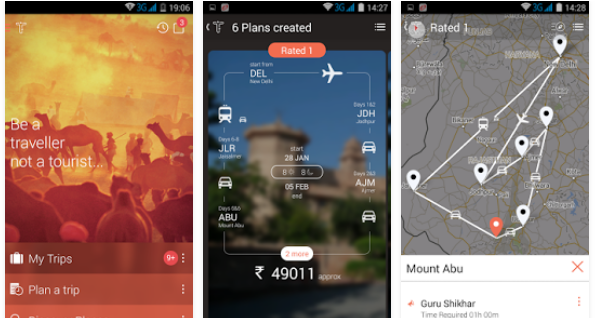 This is an app which is a government of India initiative to promote tourism in India as a part of the Incredible India initiative. The best part of the app is that despite being the government of India initiative, it gives a run for its money to the next app we have listed. The app takes care of your travel needs from booking of hotels to what to see around you. One of the best features of the app is its comprehensive database of things to do in the seven sisters of India i.e., North East India along with maps.
4. Tripadvisor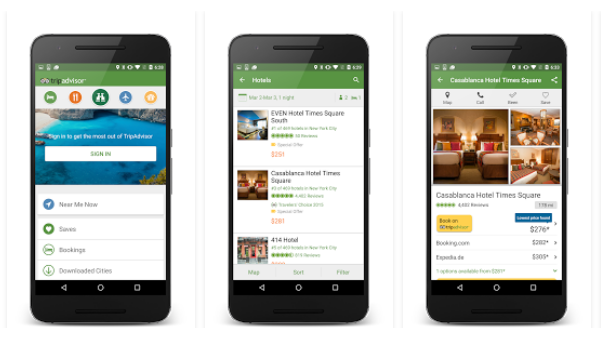 Though this company is headquartered in Needham, Massachusetts, it is among the first companies to adopt user generated content as its mainstay for information gathering. Over time this app has acquired a very good database of first hand experiences of popular destinations. This app is a must have for the novice travelers who don't want to risk it much but yet get their money's worth.
5. IRCTC Rail Connect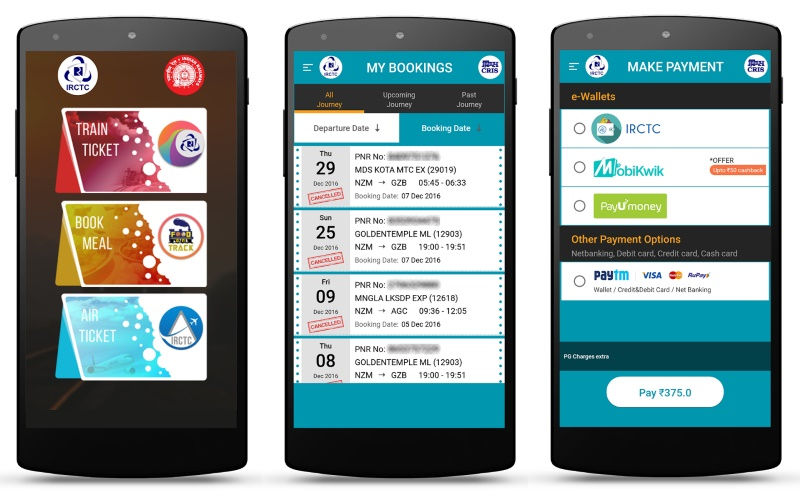 India has one of the largest rail networks in the world. Travelling by train is one of the cheapest and fastest ways to get from point A to point B in India. The IRCTC app, which again is an official app launched by the railway department, is a blessing. The app gives comprehensive coverage of train schedules, route maps and other facilities such as changing boarding point etc. to its users.
6. RailYatri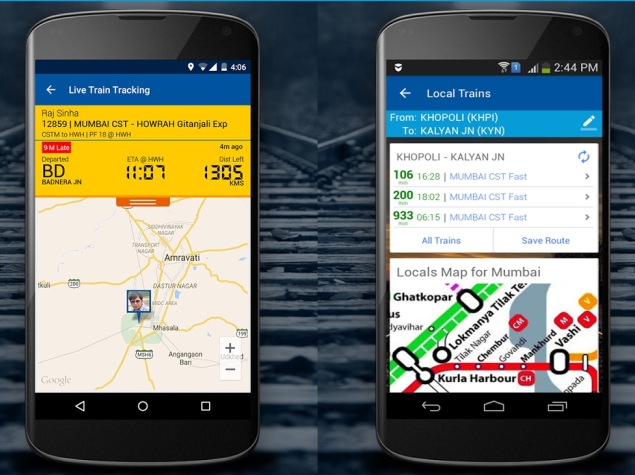 Keeping in mind that some of you based on your past experiences with IRCTC may not trust the IRCTC connect app, we provide you with an alternative to it. The app has an added advantage of easier access to check live train running schedules, PNR status etc. After its latest update, it also allows users to book train tickets and gets one an additional 20% discount on bus tickets (at the time this list was compiled).
7. MakeMyTrip

One of the most trustworthy and widely used apps in India for booking flight tickets, MakemyTrip with its dedicated support staff and 24*7 customer service cell, gives one of the best user experiences for booking domestic and international flights. The app now also offers other travel solutions like train, bus and hotel bookings but its forte still remains with airline reservation.
8. redBus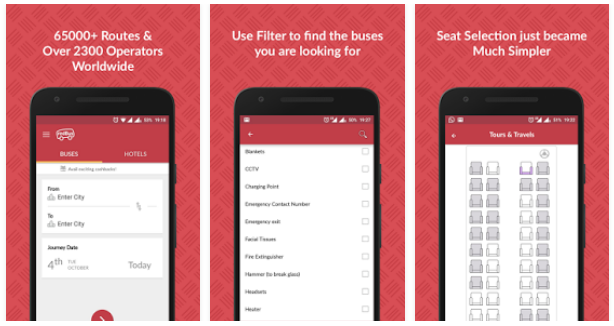 Since we have covered the trains why should the bus service be given a step motherly treatment? The Redbus app is to buses what IRCTC is to trains. This app allows you to book a ride on over 70,000 routes and choose from over 2,300 operators in India. Even many state owned bus operators such as UPSRTC and HRTC use the services of this app to sell their tickets. The app even has options to accept payments from virtual wallets like Paytm.
9. AudioCompass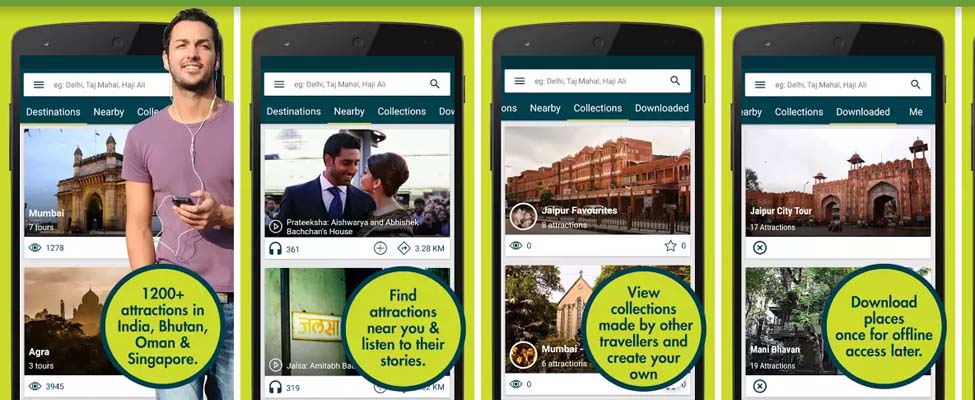 You might have gotten to where you are by doing your research, but once you get there, it's always preferable to have someone do the talking and explaining rather than you figuring out stuff. Audio Compass is the official audio guide launched by Ministry of Tourism, Government of India, so rest assured that the information you get through it is authentic.
10. Trivago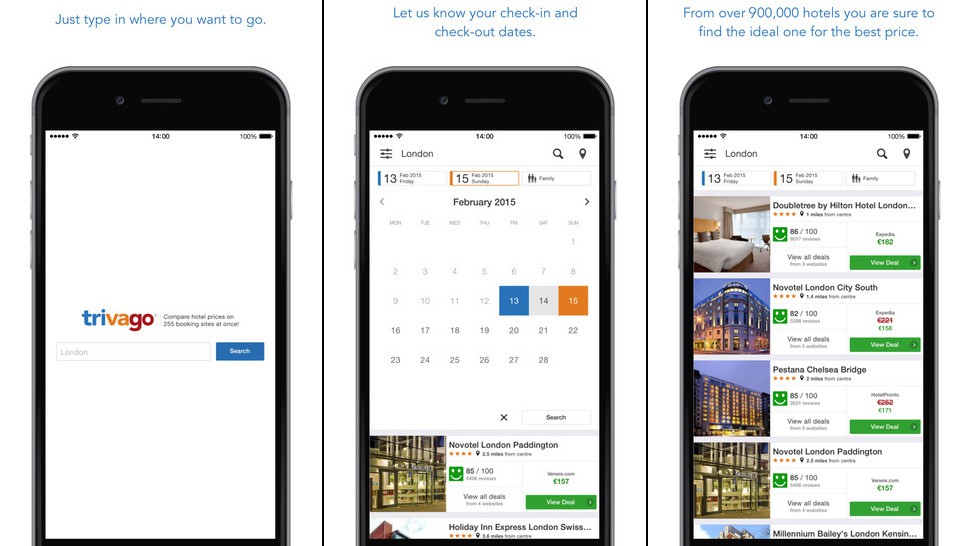 This is one of the best apps available if you are looking for a place to stay. The app takes in your preferences of your room and then searches the web for the best deals that you can get on it. It's a search engine which goes through search listings of other travel sites and presents you with the results. It's then up to you to choose the best bargain for yourself.
Planning a tour? Make your travel easier and more fun with a travel app among the ones mentioned above. Do you know other travel apps that can serve as great companions to travellers? Share them with us by commenting below.
How this post make you feel?