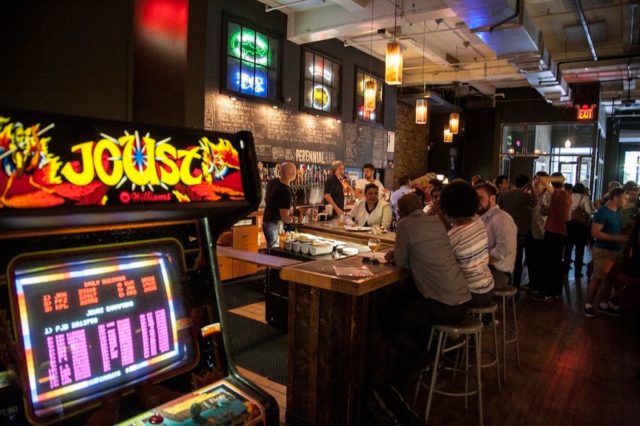 When it comes to entertainment and fun, New York has plenty to offer, including arcade bars that may come with a foosball or air hockey table.
If you want to play pool while listening to bands playing in the background, you will also find such scenes in and around New York City.
Nightlife in this side of town is definitely colorful and the blinking neon lights are just one of the reasons.
Best table game and arcade bars in New York City
As the name suggests, this particular joint is both a bar and an arcade. Here, you will find more than 30 classic arcade consoles that let you go all nostalgic with games from the 70s and 80s, including Ms. Pac-Man and Donkey Kong. To make nostalgia even more poignant, you get to choose from a rotating selection of more than 20 beers on tap. How about that for a night out of town?
Want to battle it out with friends and find out who is better at everything? At the Ace Bar, you have several options for a competition – a game of pool, darts, Skee-Ball, and pinball. While waiting for your return, you can sample draft beers, such as Shock Top Belgian White and Yuengling. During happy hours, draft beers will only cost you less than $5.
Dubbed as the best-equipped gaming center in NYC and named the best pool hall by the New York Magazine, Fat Cat is every foosball lover's kind of heaven. It has 3 foosball machines and holds foosball tournaments every Tuesday. The bar also has pool tables, ping-pong tables, shuffleboards, and lots of board games, such as Backgammon, Checkers, and Chess.
This bar could be one of the best sports bars with 2 Skee-Ball lanes, a mini basketball hoop, and a spot for the Big Buck Hunter game. With a homey vibe, friendly staff, lots of seating, and a choice of light or dark house-made beer, locals and tourists alike would feel right at home in this place, There are also plenty of whiskey cocktails on offer.
Are you a die-hard pinball fan? How about Spider-Man or Attack from Mars arcade game? At the Mission Dolores, you will definitely find your mission for the night. What makes this bar even more interesting is that the selection of top-notch draft beers are rarely the same, giving you an opportunity to sample as many draft beers as what NYC has to offer.
Billiards may be displayed prominently with the bar's name but it has plenty to offer adults for good entertainment. It's not an adult playground for nothing. Apart from pool tables, the bar also has equipment for ping pong, hoops, darts, foosball, and vintage arcades. As for drinks, you can choose from a rotating selection of 18 beers on tap and a full range of cocktail options. The bar is also popular for its delectable spread that goes well with beer, such as burgers, sliders, and dips & chips.
Apart from beers on tap, this bar has 17 tables for ping-pong, which is a lot safer to play with than darts and more fun to watch when players are drunk. Have you tried playing table tennis when you already have double vision?
With that much table to choose from, you and a group of friends may not have to wait long to get your turn. Table rates vary between weekend and weekdays but are free on Tuesdays and Wednesdays when the clock strikes 11 p.m. Drinks you ordered will be brought to your table, along with a refill of your bucket of balls. When in SPiN New York, make sure to order Mario Batali's Meatball-tini for a different drink experience.
Unlike other bars in NYC that keep physical activities to a minimum with ping pong, darts, Billiards, and the like, The Gutter Bowling Alley and Bar takes it to another level with 8 bowling lanes. Can you imagine hurling those bulky bowling balls when you're intoxicated or has enough beer in your gut that your ball takes to the gutter more times than you can make a shot? At this bar, it is more than possible.
How this post make you feel?