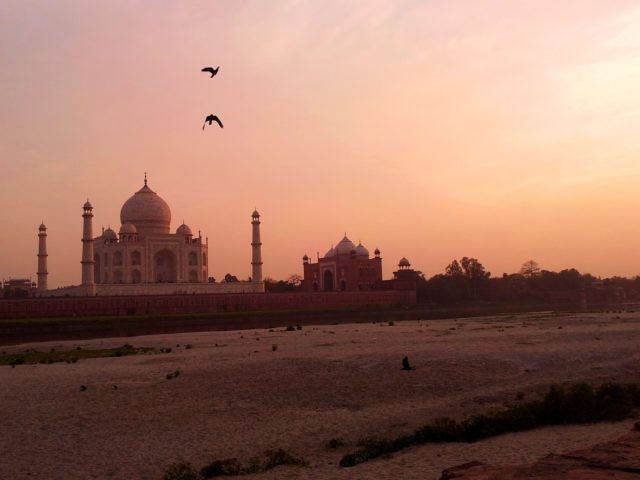 Agra! It was the capital of Mughal empire and it is the most famous and desirable place to visit because of The Taj Mahal, other monuments. Winter season is much better than any season. Because all monuments are built by red stone and marvel what's why summer season is not good for trip. It can be harmful for those tourists who live in cold regions. But a reason can be change your mind that is very cheap tour packages, because of lack of tourists. So tour operators reduce prices on their tour packages and also hotels.
They give attractive offers on tour packages. But I will prefer winter. When you went for sightseeing you should book a cab for whole day not for hours otherwise you can choose auto rickshaw as your pocket or convenience or your comfort zone. And another important thing is you should collect information about monuments opening timing for visitors. Than make your city tour planning.

(First thing we should understand that everyone have a different level of enjoyments according their choice. I can't say that if you do these things here you get enjoy. I can only suggest. So I am writing here something like this.)
If you are coming here from different region and culture than firstly go for see the TajMahal. I can say surly that any tourist or traveler will feel here awesomeness of its beauty. It is a Tomb of Mumtaj Mahal and emperor Shahjahan. Shahjahan built this Tomb in memory of his wife MumtajMahal. It is not matter that what, you think about this monument. Main thing is grandiosity of its architecture. Its beauty increased in full moon night. And looking at it, you can take photos with other tourists. If you are foreigner or Indian whatever, you can take photos with Indian tourist or foreigner because youwill see here a little India and a little world. Tourist comes here from whole world not just from India. Here I said "all India" because India's cultural diversity. You can see it by their clothes. But remember give respect ladies. Without their permission didn't take their photo.
The best time to see Taj Mahal is sunrise and sunset, so you can choose Taj Mahal sunrise tour packages by car with many good travel agents.

After watching the Taj Mahal you can go to see other monuments for example Agra Fort. It is very close to TajMahal and another historical place. It is very large and vast. You can see here Diwan-i-Am or Hall of Public Audience, Diwan-e-Khasor Hall of Special Audience, Jahangir Palace, Moti Masjid (also known as Pearl Mosque), Nagina Masjid. Interior of all these buildings are very beautiful and artistic.
After watching it you can go to seeing Tomb of I'timād-ud-Daulah. It is situated other side of Yamuna river. You can reach there by auto rickshaw or cab. After watching it you can go for seeing Sikandra. It is Tomb of Akbar.
And you can also go Fatehpur Sikri. You can see here Buland Darwaza, Tomb of Salim Chishti, Jama Mosque, Jodha Bai's Palace, Birbal's Palace and PanchMahal. To explore the beauty of historical monuments, you can get assistance from tour guide by booking at Agratourguide.com
After watching all these main tourist attraction you should return your hotel or guest house wherever you were stay. Because it is a very famous city so you can get hotel or guest house as your choice 3-5 star rating hotels are available here. If you want to see beauty of taj in fool moon then you can book Taj Mahal overnight tour by car to watch it in the night time.
Next day you should go for visiting local market. You can see here local life. If you come here from another part of India then you will see a different lifestyle or if you are a foreigner then you will see a totally different lifestyle and totally different language. Before going there you should hire a local guide who can help you to explore this city if you want. Sadar market is a better option for starting. Here you can buy leather goods, handicrafts, Indian ethnic clothes (for male-female both) and enjoying Indian street food. Agra is very famous for its leather shoes industries, handicrafts and food also. You can visit other markets also: Sanjay place, kinari bazaar, raja mandi market and other if you want to explore more things about Agra.
And if you are a foodie than it is a paradise to you. Non-vegetarians have great choice of their foods. They can choose Mughalai, Avadhi and other. Also can vegetarians.
Its connectivity is so good because of its location. It is well connected from Delhi and also other parts of India by road and by train both. You can reach here by Yamuna express very easily by bus, AC bus or cab. And flight services available only for VIPs by chartered plane. So tourists can choose any medium from both.
How this post make you feel?