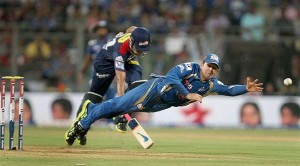 IPL 6 right now is buzzing all over the world. Many many runs, wickets, catches, sixes fours already scored in this tournament. We can see many talented, sporty young players in this tournament. But this year, some old players are also giving 100% into the field like Ricky Ponting, Rahul Dravid. The catches which was taken by them was stunning. So here is top 5 list of best catch in this IPL 6 – 2013 T20 cricket tournament till now.
1. Ricky Ponting
[su_divider top="no"]

This is one of the best catch of IPL history and as along IPL 6. Mumbai Indians Team captain Ricky Ponting took this catch on the first ball of Mumbai Indians v Delhi Daredevils in Mumbai on 9th April, 2013. Young Unmukt Chand faced the first ball of the 2nd innings, bowled by Harbhajan Singh. Ricky Ponting was in extra cove position n and jumped like superman and grip the ball with his right hand.
Mumbai Indians won the match by 44 runs.
2. Gurkeerat Singh Mann
[su_divider top="no"]


This catch was taken by Gurkeerat Singh of Kings XI Punjab in the 6th match of IPL 6. Ross Taylor of Pune Warriors was batting and his shot was in deep fine leg where Gurkeerat Singh Mann jumped with one leg and took the catch amazingly near to boundary line.
3. Ajinkya Rahane
[su_divider top="no"]


Delhi Daredevils vs Rajasthan Royals, it was the 4th match of IPL 6. Ajinkya Rahane of Rajasthan Royals took an awesome catch in this match. Ajinkya Rahane was standing at cover point and took the catch of DPMD Jayawardene. Rajasthan Royals won this match by 5 runs.
4. Kieron Pollard
[su_divider top="no"]


Kieron Pollard took a stunning catch of MS Dhoni in the match Chennai Super Kings v Mumbai Indians, IPL 6, Chennai, April 6, 2013. This outstanding catch was the tuning point of that match. Mumbai Indians won the game by 9 runs.
5. Rahul Dravid
[su_divider top="no"]


Old is Gold, Its again approved by Rahul Dravid. He took an extra ordinary catch in 13th match Pune Warriors v Rajasthan Royals in IPL 6. He took the catch of Robin Uthappa from Mid on or near short mid on. Pune Warriors won this match by 7 wickets with 8 balls remaining.