London is a mecca for foodies from across the globe. Its diverse dining scene boasts everything from rough and ready street stalls to some of the most highly regarded fine dining restaurants to be found anywhere on the planet.
If you can't decide whether you want rustic grub or top-end tucker, check out the city's gastropubs.
These increasingly popular establishments offer an array of delectable dishes in the warm, down-to-earth atmosphere of a pub.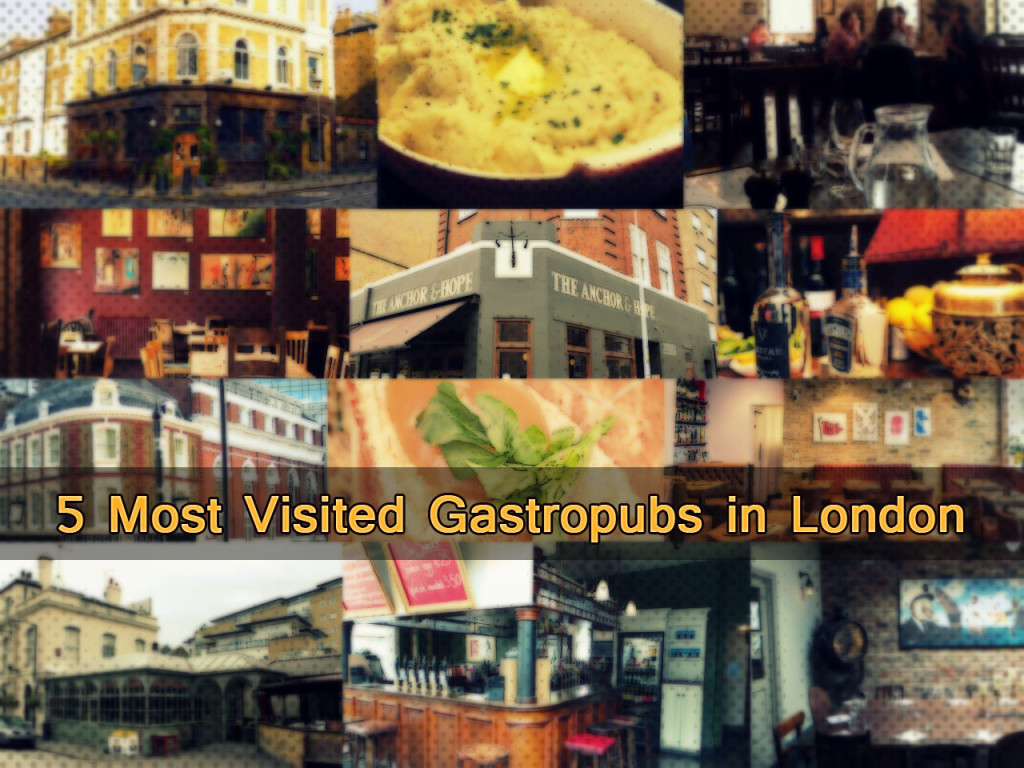 You can find out all you need to know about these eateries by checking out resources like Square Meal. Meanwhile, to whet your appetite, here is an introduction to –
Five of the English capital's most visited gastropubs
#1. The Harwood Arms
---
Located in the Fulham area of the city, the Harwood Arms is hugely popular among discerning diners. Described by its owners as a 'rural haven' in the middle of London, it offers up a host of sumptuous dishes prepared using the best British produce. If you want to get a seat in this swanky pub-come-restaurant, expect to book. Also, because it's so popular, you'll be given a two-hour time slot.

As soon as you step through its doors, you'll see what all the fuss is about. With its large windows and elegant decor, the Harwood Arms is the perfect place to tuck into some tasty bites. You can expect a variety of seasonal dishes, such as roe deer served with beetroot and pickled mushrooms or halibut with shrimp sauce and samphire. Meanwhile, there are real ales on tap to help you wash it all down.
#2. Bull & Last
---
In Highgate, you'll find the Bull & Last. More low-key than the Harwood, this eatery has a reassuringly traditional interior. With solid wooden furniture, old prints on the walls and even a few stuffed animals for good measure, it sets the perfect ambiance for a relaxing meal. It also features an upstairs dining room, which is quieter than the ground floor bar area.

The establishment has proved a hit with locals and visitors alike, and it's no surprise given the eclectic range of edible delights on offer there. It serves up intriguing and mouthwatering dishes such as pig's cheek with a watermelon pickle or king scallop carpaccio with pink grapefruit. It is also a dessert-lover's paradise, offering up indulgent puds like peanut butter parfait with peanut brittle and caramelised rum banana.
#3. Anchor & Hope
---
The Anchor & Hope in Waterloo is another of the most visited gastropubs in the capital. In operation for over a decade, this eatery features a pub section and a dining room. The two areas are separated by a heavy curtain. You can't make bookings to eat there and most evenings there's a waiting list of eager diners. Expect to be kept in suspense for around 45 minutes on a typical midweek evening.

While your appetite's building, you can stand at the bar supping a pint of beer or a glass of wine. Rest assured, the wait will be more than worthwhile. The culinary concoctions on offer in this laid-back eatery include the likes of rabbit served with fat chips and béarnaise sauce or, for a lighter option, goat's curd salad with a hint of mint.
#4. The Ship
---
Another superb dining option in London is The Ship. Perched on the banks of the Thames close to Wandsworth Bridge, this establishment has a long history. It was founded as a waterman's inn in the late 18th century and has been hosting local revellers ever since. It consists of a quiet front bar and a large conservatory looking out over the water.

During the summer, it runs a barbeque until 10pm each evening. Meanwhile, its kitchen team cook up a storm year-round using fresh, seasonal produce. On Sundays, you can tuck into an indulgent roast lunch, taking your pick from beef, pork and chicken – plus all the trimmings of course.
#5. The Jugged Hare
---
Last but by no means least on this list is the Jugged Hare in Moorgate. This is the place to come if you want to see masterful chefs show off their skills. The long, elegant dining room is flanked down one side by an open kitchen featuring an eight-spit rotisserie and a charcoal grill.

Unlike many other gastropubs, its drinks menu is wine-focussed. You can sup on a selection of wines from a special 'by the glass' machine. Of course, you won't go hungry either. You can take your pick from a variety of dishes featuring British game, shellfish and wild fish.
Of course, reading about London's gastropub scene is one thing. To truly experience the magic of these dining and drinking venues, there's no substitute for actually visiting them in person.
Let us know which pub do you like most?
---
[polldaddy poll=8426574]
How this post make you feel?