Thousands of travellers, culture enthusiasts, photographers and wanderers have been waiting for December! It is this time of the year when Nagaland celebrates the "Festivals of Festivals", called, Hornbill from December 1 to 10.
About Nagaland and Hornbill Festival

The exotic land of the Nagas is situated on the Indian Myanmar border. It is a place where wilderness is still alive and thrives with several headhunting tribes. Nagaland is well knit in folklore, soulful music-dance, traditional art, brave warriors, unabashedly colourful spirit, and deep rooted in rich cultural heritage. Several tribes and sub tribes of Nagaland get together to celebrate Hornbill. Each of these tribes is unique in their own way of culture, food, costumes and jewelry.

What they are celebrating?
It is organised by the State Tourism and Arts and Culture Department of Nagaland. The prime objective of this festival is to revive and protect the rich culture and to cherish various traditions. This festival is named after Hornbill, one of the dearly admired bird species in the state. Its importance finds an artistic impression in a number of tribal cultural expressions, songs and dances.

Where are they celebrating?
The Hornbill festival is held at the Naga Heritage Village, Kisama. It is situated just 10-12 kilometers away from the capital of Nagaland, Kohima.

How are they celebrating?
Hornbill is called the "Festivals of Festivals" for a reason. The participating states belonging to various tribes and sub-tribes, celebrate various festivals throughout the year. However, it is in the Hornbill Festival that all these states get together to celebrate, revive and protect their cultural richness.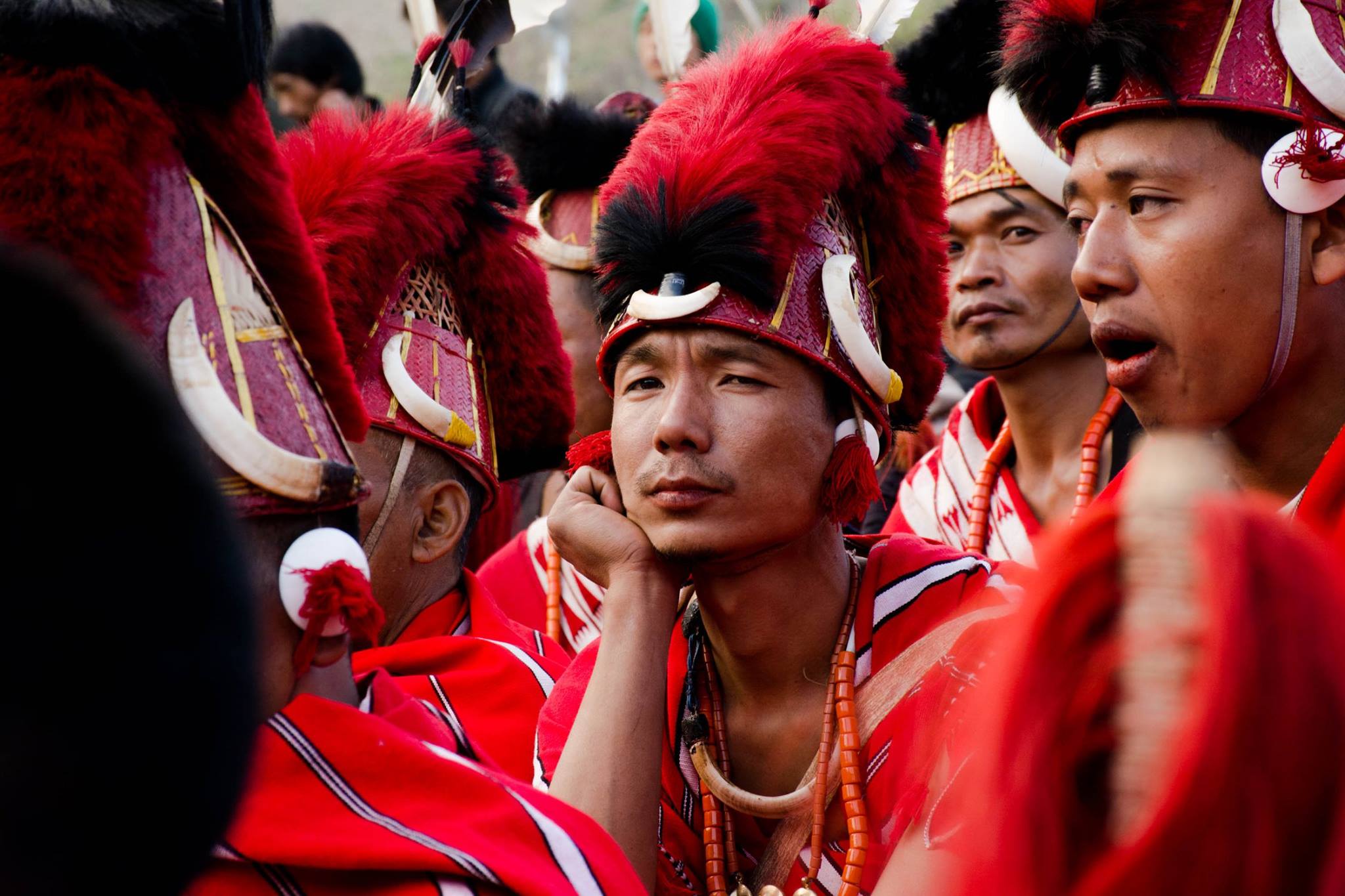 A quirky mélange of colourful performances, rituals, art and craft, sculptures and painting, multi- cuisine, local food stalls, amazing rice beer; make this celebration an absolute delight. Beyond this, one can also enjoy a professionally organised fashion show, wrestling competition, beauty contest, chilli eating competition, pork eating festival, kids carnival, Naga chef competition, international photo fest, greased bamboo pole climbing, tug of war, and the fun just doesn't seem to end here!

Talk about a perfect evening and the main attraction of the festival is the Hornbill National Rock Concert, held after sundown. Bands from all across the country gather to compete in this concert. This is followed by a night market, where travellers can indulge in shopping exquisite handicrafts, handloom, tribal jewelry, wooden carvings and more.
It's all about enjoying, drinking, singing and dancing, need I say more?


How to Reach

By Air:
Kohima does not have an airport. The closest airport is Dimapur. It is approximately 75 km away from Kohima. It is well connected to Kolkata and Guwahati. One can also, choose to fly to Imphal in Manipur or Guwahati in Assam. Manipur is around 5 to 6 hours away from Kohima and Guwahati is around 8 to 9 hours away. Both Imphal and Guwahati airport are well connected to the rest of India.


Please note: International travelers will first have to get off at either Kolkata or Delhi international airports and then catch a connecting flight to Dimapur.
By Train:
Nearest railway station to Kohima is Dimapur. It is well connected to Kolkata and Guwahati.



By Road:
National Highway number 39 links Kohima to its neighbouring states like Meghalaya, Arunachal Pradesh, Tripura, Mizoram and Manipur. Several private buses operate back and forth from the capital and charge a nominal price. Private taxis are also available. Or one may choose to hire an SUV that is easily available in Kohima.


Alternatively, one could take a shared taxi from Dimapur railway station and reach Kohima. Direct buses also run daily between Guwahati and Kohima.
Please note: It is recommended to make the required bookings in advance to avoid any last minute bumps!



Pro Tips:
Entry tickets can be purchased at the entry gate. However, given the ever growing popularity of this festival, it is advisable to make an online reservation in advance
Citizens of India, will need an Inner Line Permit to enter Nagaland. You can get the permit in Dimapur or Guwahati
Foreigners needn't possess the Entry Permit to visit Nagaland. However, it is crucial that they register themselves with the Foreigner's Registration Office (District Superintendent of Police) within 24 hours of their entry into Nagaland
Make the hotel / homestay booking at least a couple of months in advance
ATMs are available. Though it is advisable to carry cash
Hospitals and medical stores available
Feel free to contact the Information Center located near the carnival location. You can attain brochures related to events in the festival and Nagaland
Do not miss the rice beer

Since you are there already, also check out
1. War Cemetery – Kohima: For those who love graves. At this cemetery rest 1400 British and Indian soldiers, amidst diligently manicured lawns.
2. Kohima State Museum: There is a lot of cultural buzz at the Hornbill festival, for those who want to head out on some local exploration, we recommend that you should check out the tribal artifacts, jewelry, and "hunted"human skulls
3. Central Market: A tiny tribal market dedicated to local delicacies. We recommend that you must try "borol" and the fascinating range of meats
4. World War II Museum: This is a delightful experience for history lovers, niched in the Kisama Village, this museum is a powerhouse of war archives
5. Northern Nagaland: This is the relatively unexplored part of Nagaland. If you really wish to get off the grid and travel footloose then start by exploring the Konyak settlements, near the Mon district
6. Dzukou Valley: It is known as the "Switzerland of the East". It is a trekkers' paradise and popular for the The Dzukou Valley Trek
Concluding
I'd like to take you back to the spirit of the Hornbill festival. It is important to remember that Hornbill is about the heartfelt gesture of keeping the traditions alive, protecting the culture in this ever evolving modern world. Wearing the ancestral costumes, adorning the dyed goat's hair, colourful spears, exotic headgears and ivory jewelry! It's a tribute to the culture of the Nagas!
In a world where we are usually stuck in traffic jams, chasing schedules, keyboard smashing, glassdoor conference rooms, delayed email responses, cascading meeting, here are a few tribal communities, painting a different way of life, isn't that wonderful?
All Images are Copyrighted to Anirban Malick who attended Hornbill festival in 2015
How this post make you feel?