What are your plans for this summer? Are you going on vacation overseas? Heading to another country to party at your favorite festival or going to have fun with friends at the local concerts? Seems like summer season of 2017 has so many interesting events of any kind you don't even know where to look first – music, film, fashion and even food festivals all around, every and each person can for sure find a gig for their liking!
June starts with broadly known Primavera Sound Festival in Barcelona and is a heaven for all the fans of indie music. Once Primavera ends, there is another huge party with numerous famous headliners for us to visit – 2-day independent music festival Parklife starts on June 11th in UK.
Electronic music fans are heading to Belgium for Tomorrowland that will be on July 22rd and on July 23rd the Tomorrowland's Belgium scene will become only a main stage, the other stages will be located in 7 other countries – Mexico, India, Japan, Colombia, Germany, South Africa and Israel. The bridges between counties will be build across the whole world with a live stream connection! At the same time in UK will start another wide-known music festival – Glastonbury. It'll appeal not only to those who like to dance to favorite tunes live, but also entertain people with cabaret, circus, theatre and comedy performances!
July 28 – 31 are important dates for film geeks as at this time Cannes Lions takes place. Brand new awards, honored hosts, the best movies of the year and of course celebrity guests are in!
The end of July commemorates with Lollapalooza music festival and it's lineup can easily mind blow any melomaniac:
Want to find yourself on the photographs from the festival and get them to your computer in high resolution? It's simple!
Can't go to the gig but want to save fun pictures of partying people and favorite artists? No problem!
You can share and download photos from any of the mentioned events by special Instagram hashtags and even by location with the help of 4K Stogram.
Basically, all you need to do is download and install the app, type in the hashtag, location name or the name of the official festival's account in the special field, then click 'Subscribe' and photos will immediately start downloading to your computer: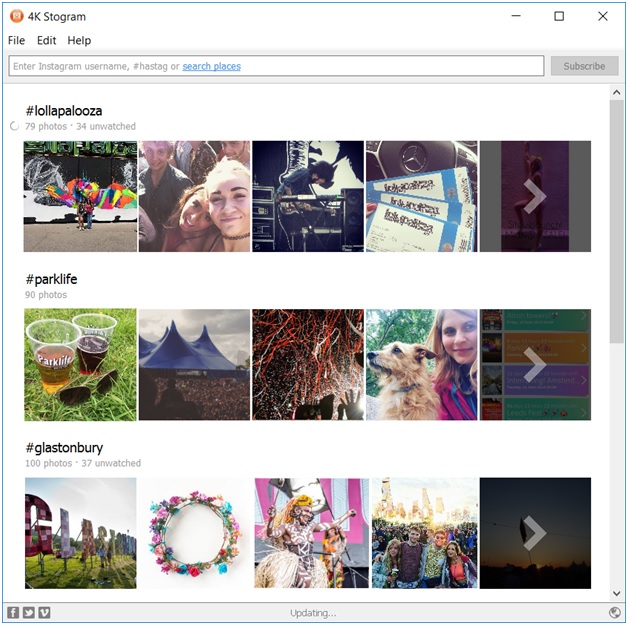 Don't hesitate, give it a try now!
How this post make you feel?