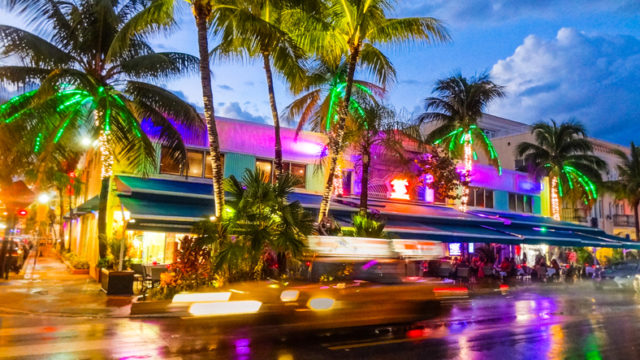 Miami is World famous for it's colorful nightlife. When you are traveling to Miami, you must visit this following nightclubs. Here are the list of 5 best nightclubs of Miami.
1. E11even
If you want to get the most out of the nightclub scene in Miami, go straight to E11even, no questions asked. They are one of the grandest and hottest clubs in the area. Be prepared to party with the best DJs, enjoy elaborate light shows, watch Cirque de Soleil styled performances while drinking fantastic libations and even gastronomically pleasing food choices! They are open 24 hours so there is no limit to your fun and festivities. I suggest however to reserve your table or book your tickets early as they have different big named personalities every night; a small thing to do for a night you will never forget! Visit their website here
2. Blackbird Ordinary
Five words: you will love it here! The Blackbird Ordinary is one of the top to go to nightclubs when you are visiting Miami. It has all the elements that can guarantee you of a good time and an incredible fun experience. It has an enclosed outdoor courtyard which gives you a warehouse-type setting and a terrific indoor bar. Get your drinks from a wide selection of craft cocktails concocted by their highly skilled bartenders. Don't miss out on their specialty drink – the Blackbird, a wonderful harmony of sweet tea vodka, blackberries and fresh lemonade that would leave you asking for more.
3. Ball & Chain
For a laid back place with history and outstanding outdoor patio, Ball & Chain may be the perfect nightclub for you. As an affordable spot to have a good time with a Caribbean feel of the place, exceptionally good mojitos, upbeat live music and great service, Ball & Chain has been catering to both locals and tourists alike since it first opened in 1935. To maximize the fun, be there at their happy hour from 4PM to 7PM. Enjoy the performances from the front tables, which normally gets filled fast, to the seating areas near the stage.
4. Club Space
Partygoers swear by the quality of fun that Club Space has to offer! You can see by the long lines outside the club long before it opens on a normal weekend night. Though there are many clubs in Miami, Club Space takes the cake when it comes to clienteles who just want to dance the night away – you can just feel the energy! With great house, hip hop, latin and expertly curated music to dance to, loyal customers keep on coming back. They are especially famous for hosting unforgettable VIP birthday packages partnered with superb service and exquisite high end drinks.
5. Shots Miami
With more than a hundred carefully concocted shots ranging from layered, fire, sour to sweet, the Shots Miami definitely lives up to its name. Aside from the impressive drink choices, their service is highly regarded by partygoers as well. Their music includes a wide array of selection that you can dance to, or just relax with while sipping some fine cocktails. As for the food, they have recently added a kitchen that caters to whatever your lunch and delivery needs. Definitely a must visit when you are in Miami!
How this post make you feel?